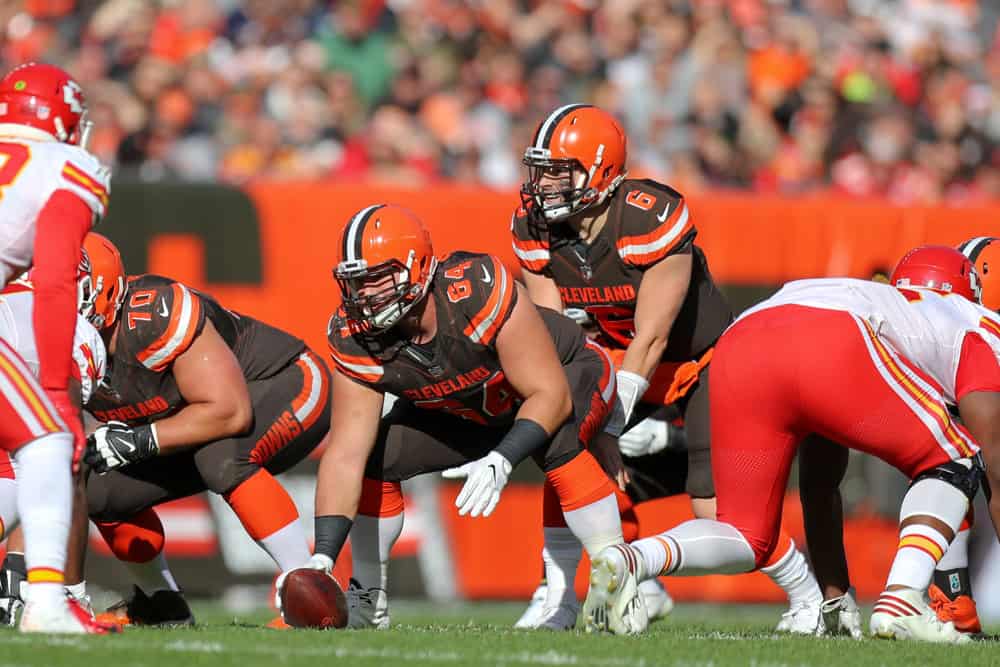 It's fair to say that the Cleveland Browns exceeded expectations last season.
They went 11-5, but somehow finished in third place in their division.
Despite that, the Browns were able to overcome the odds and beat the Pittsburgh Steelers in the first round.
They were handed a loss in the next round, but it was an overall successful year for the Browns.
That being said, fans should expect the Browns to be better heading into the 2021 campaign.
3. Mayfield Continues His Magic
The expectations were through the roof when the Browns selected quarterback Baker Mayfield with the No. 1 overall pick in 2018.
He came out and put together a record-setting rookie campaign, which quickly silenced the critics.
After that, Mayfield experienced a sophomore slump, but came out to prove a point in 2020.
Last season, Mayfield finished with 3,563 passing yards, 26 touchdowns and eight interceptions in 16 games.
He looked much more comfortable in the pocket and was making smart decisions with the football.
Baker the touchdown maker 😏@bakermayfield pic.twitter.com/oCDqgL0I5b

— Cleveland Browns (@Browns) February 24, 2021
It certainly appears that head coach Kevin Stefanski has found a system that helps Mayfield succeed.
There is no reason that Mayfield shouldn't be able to do it again in 2021.
He is protected by one of the best offensive lines in the entire league.
Mayfield has a handful of Pro Bowl weapons on offense, so there is no excuse if he doesn't play well.
Stefanski has found a way to get the best version of Mayfield and it's unlikely going away anytime soon.
Last season, Mayfield was a borderline Pro Bowl caliber quarterback, so fans shouldn't be surprised if he does get his name called his time around.
2. The Secondary Steps Up
It was difficult for Browns fans to watch this secondary last season.
To be fair, it wasn't for a lack of talent or a failure by the front office to address the issue.
Cleveland lost two starters in Greedy Williams and Grant Delpit during training camp.
Neither of them took a single snap during the regular season.
However, both players are expected to return at full health for the 2021 campaign.
That's not all, the front office went out and made a big splash during free agency.
They added multiple players to the secondary to help Cleveland's defense.
Browns defense is already going to be radically different in 2021.

-Return of Andrew Billings, Grant Delpit, and Greedy Williams, plus Myles Garrett post COVID.

-Additions of John Johnson, Takk McKinley, Malik Jackson, Troy Hill, and Anthony Walker.

— Johnny Kinsley (@Brickwallblitz) March 20, 2021
This secondary was seemingly unable to stop any offensive unit in 2020.
39-year-old Ben Roethlisberger threw for over 500 yards in the Steelers playoff loss to Cleveland.
The front office is making sure that this issue doesn't happen again.
The additions of John Johnson III and Anthony Walker should have a major impact.
It's also worth noting that the 2021 NFL Draft hasn't happened yet, so more reinforcements could be on the way.
1. Browns Win The AFC North
Obviously, winning the Super Bowl is the goal, but we shouldn't get ahead of ourselves.
The Browns don't exactly have an easy division, so winning the AFC North is quite an accomplishment.
They need to get through former MVP Lamar Jackson and the Ravens.
Plus, Big Ben and the Steelers are an organization that never seems to struggle.
Young stud Joe Burrow and the Bengals are not quite on the same level, but cannot be taken lightly.
As already mentioned, the Browns went 11-5 and finished third in the division in 2020.
It's time for the Browns to take over the North in 2021.
They have a revamped defensive unit and will get superstar Odell Beckham Jr. back on offense.
Cleveland has all the pieces to end up being the top dog in the division.