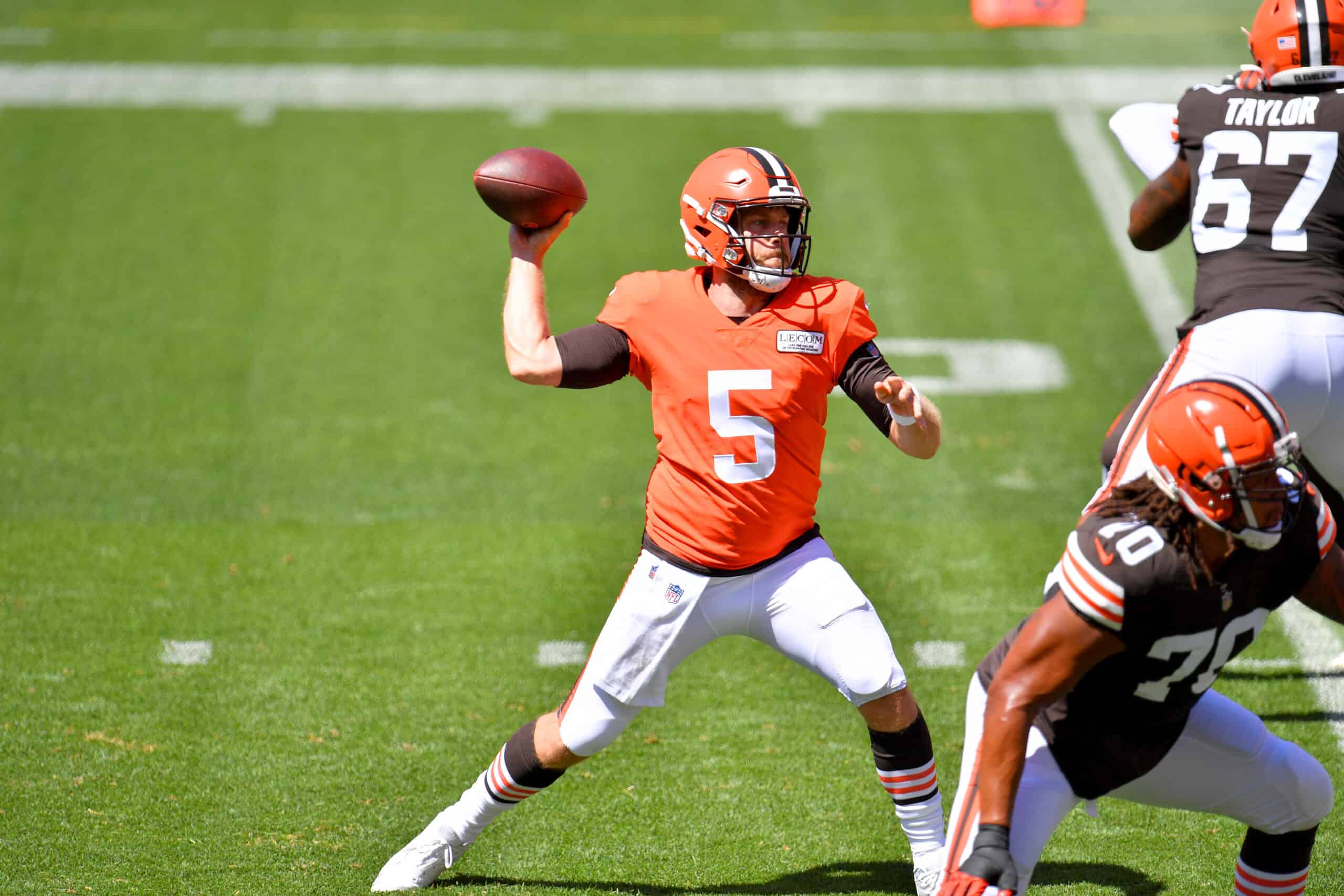 The Cleveland Browns are in the second week of voluntary Organized Team Activities (OTAs).
OTA's have been somewhat controversial this year.
After they were cancelled last season due to the COVID-19 pandemic, NFLPA President (and Browns center) JC Tretter urged players to boycott OTA's because of safety and injury concerns.
OTA's went on as scheduled, and here are some of the highlights of the two weeks.
This Week
The second week of OTA's is from June 7 through June 10.
Again, the majority of players attending were on defense, but there were some offensive players who trickled in for the second week including left tackle Jedrick Wills Jr.
New Browns John Johnson III and Troy Hill also participated in this week's OTAs.
Media counts had 58 Browns on hand at OTAs, 3 more than last week's open media session.

— Tony Grossi (@TonyGrossi) June 9, 2021
Other teams like the San Francisco 49ers had a much larger turnout, 89 players in total.
Kyle Shanahan said the #49ers have cut OTAs short.

Said they had a big turn out with 89 guys and 7 practices and he feels good about where the team is at.

— Keiana Martin (@KeianaMartinTV) June 9, 2021
Pretty good turnout at Wednesday's OTAs. #Browns pic.twitter.com/dznFalNWNc

— Camryn Justice (@camijustice) June 9, 2021
Some WR drills at #Browns OTAs today. pic.twitter.com/D3NxVFsCPN

— Camryn Justice (@camijustice) June 9, 2021
Case Keenum has been present this week while Baker Mayfield is home in Austin hosting some of the wide receivers and tight ends for workouts and throwing sessions.
Case Keenum throwing at OTAs while Baker gathers guys in Texas #Browns pic.twitter.com/gj82gl3Slm

— Orange County Browns Talk (@OCBrownsTalk) June 8, 2021
Last Week
Coach Stefanski was excited to kick off last week's OTA's.
All players are welcome, but Stefanski understands the voluntary nature of these sessions.
55 #Browns players at OTAs today. Five of whom are watching. That leaves 35 not at the voluntary session.

— Scott Petrak ct (@ScottPetrak) June 2, 2021
#Browns Kevin Stefanski on who's at OTAs pic.twitter.com/5RC8jaIsI9

— Fred Greetham (@FredGreetham) June 2, 2021
Observations from #Browns OTAs yesterday:
_ No offense: Fullback Andy Janovich most notable player at voluntary workout.
_ Rookie RB/WR Demetric Felton was with wideouts (had couple early drops).
_ Delpit and Williams not doing much.
_ Revamped defense taking early steps.

— Tom Withers (@twithersAP) June 3, 2021
Myles Garrett was one of the high-profile returning Browns players at OTAs.
He believed it was necessary to get early work in with the new defensive members of the team acquired through free agency and the draft in the offseason.
#Browns Myles Garrett on why he felt it was important to come to OTAs. pic.twitter.com/2D5RbxfiG7

— Fred Greetham (@FredGreetham) June 2, 2021
Good News For The Browns
The biggest piece of good news from the Browns OTA's thus far is that no one has suffered significant injuries.
This is not true league-wide as the San Francisco 49ers already had two players suffer season-ending injuries at OTA's this week.
Horrible news for the #49ers this week during OTAs:

Safety Tarvarius Moore sustained a torn Achilles during practice, and offensive lineman Justin Skule sustained a torn ACL. Both injuries occurred on Monday.

— Matt Maiocco (@MaioccoNBCS) June 8, 2021
This is why OTA's are viewed as carrying both risks and rewards.
Mandatory Minicamp Is Next Week
Next on the Browns calendar is mandatory minicamp running next week from June 15 through June 17.
No one has indicated that he plans to hold out so the whole roster is expected.