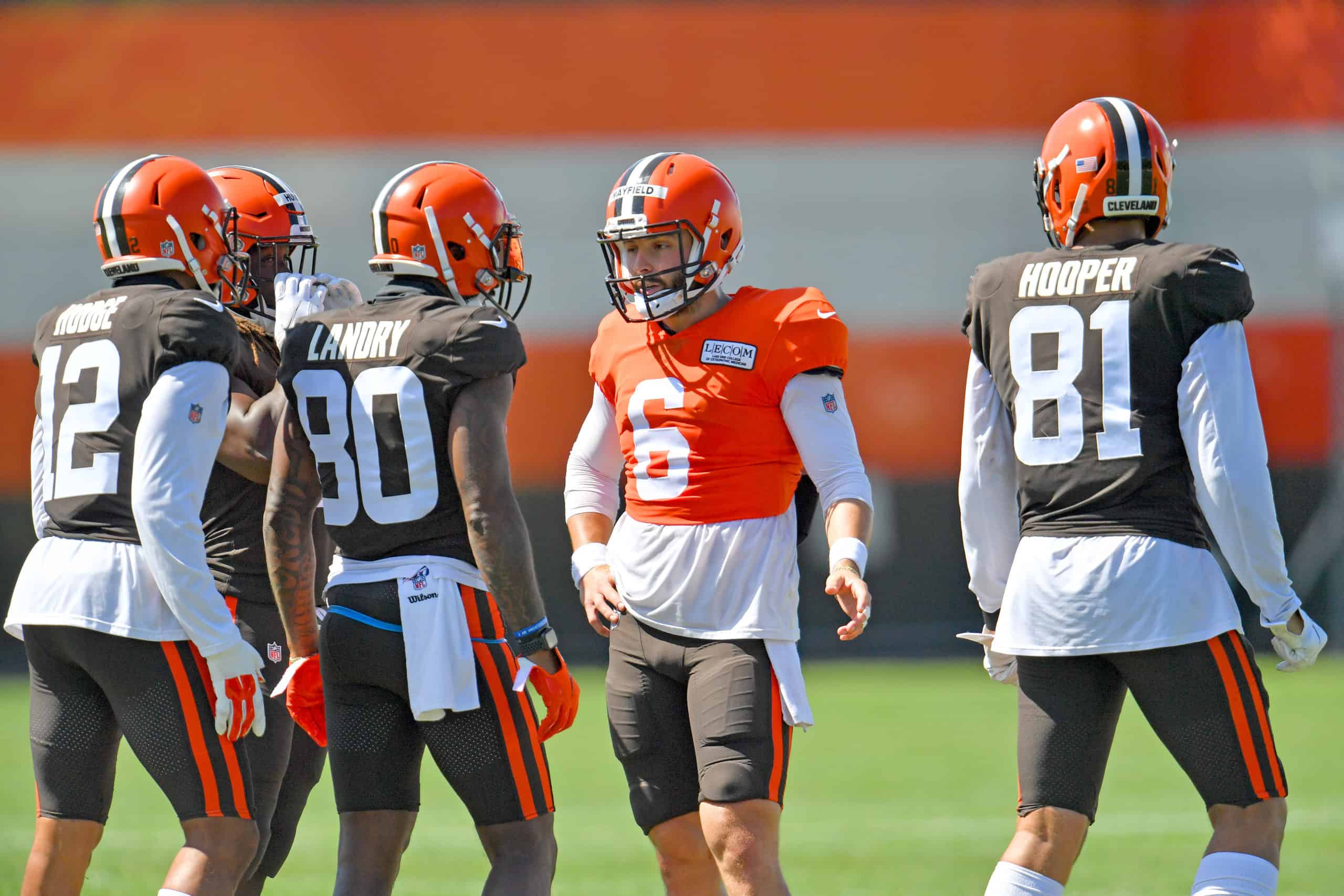 Nothing signals "back to normal" like joint practices in the NFL.
With most COVID-19 protocols in the rear-view mirror, the Cleveland Browns will once again be able to host two joint practices during training camp.
This time, it will be the New York Giants who come to town.
#Browns HC Kevin Stefanski: "We're going to have two joint practices against the Giants ahead our Week 2 game. They're coming to us to practice."

— 92.3 The Fan (@923TheFan) June 9, 2021
Last Time Around
The last time the Browns were a part of a joint practice was in 2019 with the Indianapolis Colts.
I know it's just practice but Nick Chubb has over 1,000 yards against the Colts today #Browns pic.twitter.com/FedrPSPpZ6

— CleWest (@erjmanlasvegas) August 15, 2019
Green Bay tried to set something up with Cleveland last season, but with COVID-19 in the background, nothing came to fruition.
For those who may not recall, the Colts and Browns stirred up some physicality when they practiced in 2019.
#Browns and #Colts get in minor fight. Browns safety Tigie Sankoh pushing and shoving Indy RB D'Onta Foreman. Couple punches thrown that didn't appear to land. Freddie Kitchens on the other field with offense, so no sprints.

— Scott Petrak ct (@ScottPetrak) August 14, 2019
Is it even a joint practice if the two teams don't fight? Sounds like the #Browns and #Colts are going 12 rounds…I think everyone is ready for the regular season to kick-off.

— Nick Camino (@NickCaminoWKYC) August 15, 2019
While fans should love that kind of intensity leading up to a season, full-on fist fighting during that time (or at any point for that matter) is a bad idea.
There were no major injuries that came of it, but plenty of folks tried to point the finger at those practices when Cleveland became one of the most penalized teams in the league that season.
A silly connection to make, but there's worse reaches that get attention too.
The Browns don't have to "play nice" with the Giants when they come to town, but avoiding a 20-man brawl would be ideal.
Odell vs. New York
Extra eyes always turn when Odell Beckham Jr. and the Giants match up.
Even if it's just two practices over the summer, people will be tuned in.
Unfortunately for those expecting drama, there shouldn't be any with OBJ still on the return from his ACL surgery.
Nothing has been made official as to whether he will even participate in the practices or not.
There's also a former Brown who will be making his way back to northeast Ohio with the guys in blue.
That's safety Jabrill Peppers, the rear end of many jokes regarding his deep alignment in coverage just about every snap.
He's had a solid stint with New York though, recording at least 75 tackles and one interception in each of his two seasons there.
He logged two and a half sacks last season and a pick-six in 2019.
Dwayne Haskins throws a #PickSix for #HTTR as Jabril Peppers goes 32 yards for TD for #GiantsPride #WASvsNYG pic.twitter.com/s3jxEmeRid

— SportsRadioAmerica (@SRANetwork) September 29, 2019
Expectations
Getting to host another team for a joint practice will benefit both sides here.
The Giants, who have young talent in need of developing, will appreciate the reps against a quality club in Cleveland.
For the Browns, it's all about getting geared up for a year with high expectations.
"I think the practices are great and I think you can get a ton out of them," Head Coach Kevin Stefanski said per Browns.com. "It certainly ramps up the intensity, but guys take care of each other knowing they're getting good work ahead of the game. I think it's a great time to control the environment and give guys different schemes other than their own".
The joint session will lead into the teams' week two preseason battle.
Knowing how preseason games typically go, the practices may very well be more physical than the game.
That's fine by the Browns, as what Kevin Stefanski holds true, it's a controlled environment.