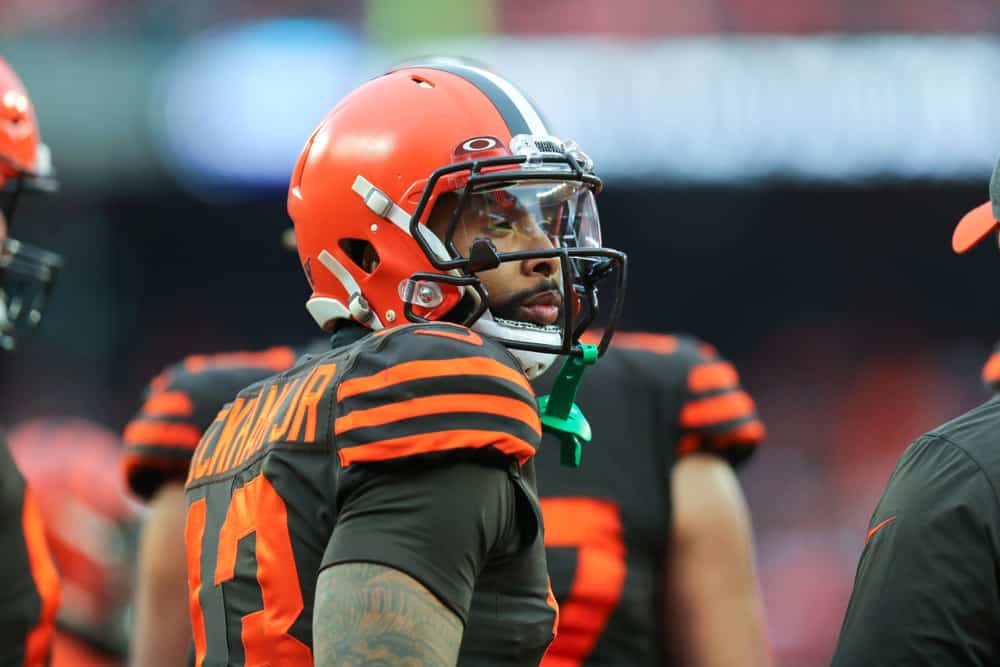 "It's not a threat, it's a promise…. im comin back on my worst behavior," Odell Beckham Jr. wrote on one of his latest Instagram captions.
The post features a dark background with a small light up in the corner.
In the foreground stands the Cleveland Browns receiver, wearing the new uniforms for the franchise that have rekindled a more traditional feel for longtime fans in northeast Ohio.
The photo finally gives Browns fans their first taste of OBJ in the new uniforms.
Fans have long awaited a return to more traditional-looking uniforms after the whole "orange is oranger" marketing schemes among other failed tactics.
OBJ gave followers of his Instagram page not just one photo in a new jersey, but two.
Of course, there's another intense caption to go along with it: "It's personal….but don't take it personal."
Fan Reaction
After the posts started to pick up traction across social media, fans began to share their excitement with one another.
— Thomas Hewitt ⁶⁶⁶ (@DDfressola) August 7, 2020
The comments on the original post on Instagram certainly display a high level of excitement as well.
If you had a dollar for every "LET'S GOOOOO!" in there, you'd have enough money to pay for Odell's next contract.
Some were split over some reported comments from the Browns receiver earlier this past week.
Odell Beckham Jr. doesn't think the NFL should come back this season. Just before attending training camp, Beckham told the Wall Street Journal, "We're not ready for football season. So why are we trying to push forward?"https://t.co/F6JwCIgONE

— Adam Schefter (@AdamSchefter) August 3, 2020
It's good to see fans, specifically those around Cleveland, overwhelmingly positive about something regarding OBJ and social media.
Another Chance in Cleveland
Fans would love to see this focused and engaged mindset heading into the season once it finally gets underway.
Last season, the Browns faced a number of distractions, including some with Beckham Jr.
Odell Beckham Jr. and Jarvis Landry were told by the NFL to change their cleats at halftime or they wouldn't be allowed to play the second half, according to the CBS broadcast. https://t.co/d6fqo6adfb

— SportsCenter (@SportsCenter) November 4, 2019
Odell apparently had to come out of the game because of this visor pic.twitter.com/JOTVlvOOL9

— Sports Illustrated (@SInow) September 17, 2019
Some do view these things as a hindrance to the team.
Others around the league believe that OBJ is one of the most beloved guys in the Cleveland locker room.
I hope ppl don't think Odell is an actual distraction in the locker room because he proposed to a kicking net once. He's loved in the locker room. Works his ass off. Keeps it loose in the locker room. Clearly an excellent playmaker. If he was traded for being a distraction. Yikes

— Geoff Schwartz (@geoffschwartz) March 13, 2019
Now, some media and fans almost search out drama to report about Odell.
This is something he will have to battle once again in 2020, but GM Andrew Berry addressed some of those concerns this past week.

"Having a player of Odell's stature on the roster, obviously, he generates a lot of attention," Berry said. "Odell is very mindful that he has to be conscientious with his words. That being said, we have had plenty of dialogue and conversation with Odell, not only just through the summer but certainly as he has returned to Cleveland, and that has been a positive thing. We feel really good about everything that the league and the [NFL]PA have agreed upon and everything that we have done in Cleveland. I would say in terms of Odell, he has returned and really been focused on working hard. He has been very engaged in everything that we have done in the classroom. He is really focused on having a great year."
Moving on from last season by itself is going to do wonders for this team.
Were those moments a bit silly and unnecessary?
Sure, one could say that.
But, where was the focus of this team as a whole?
Each press conference came with the same empty answers from Freddie Kitchens until it became very clear he had no grip over his team.
If you can't hold your coach responsible, how can you expect the players to be any better?
Not every dumb comment or misplay on the field should get pinned on Kitchens, but it's hard to believe the same amount of nonsense goes on under Kevin Stefanski.
These posts of Odell in the new uniforms continue to be symbolic of this offseason.
This team will have a new look to match it's new mindset, and it's easy to see why people are getting excited.