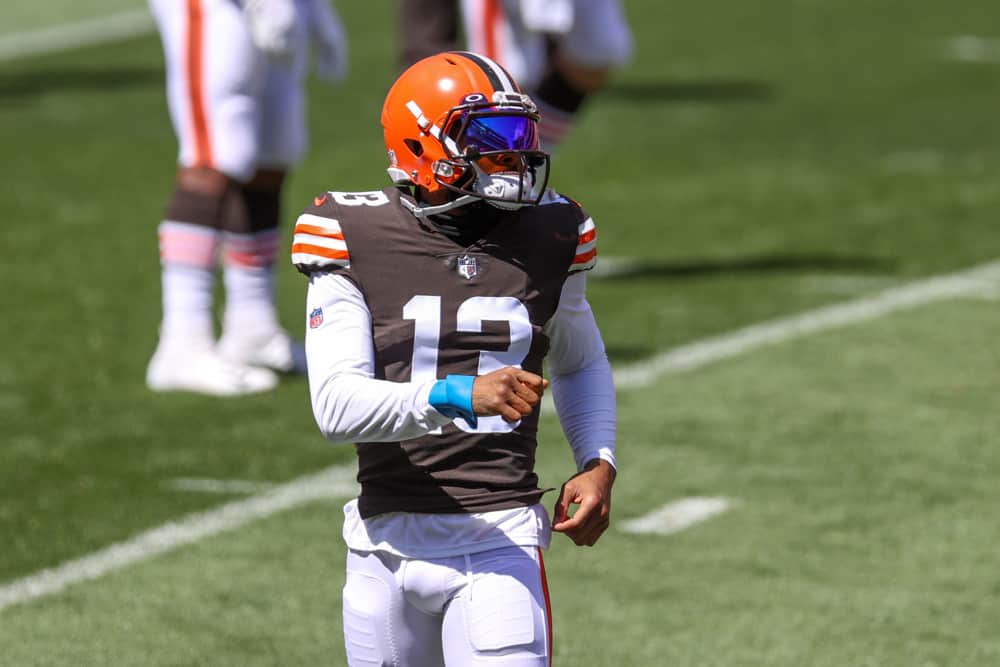 Cleveland Browns wide receiver Odell Beckham Jr. was a limited participant in practice per the Browns midweek injury report.
It was not ACL-related as OBJ just returned to the field in Week 3 for the first time in nearly a year after tearing his ACL.
This time, it is a shoulder issue.
#Browns #Vikings Wednesday injury report pic.twitter.com/89PZDhUXoT

— Fred Greetham (@FredGreetham9) September 29, 2021
The good news, if there is any, is that it sounds very similar to quarterback Baker Mayfield's shoulder injury which happened in the Week 2 game against the Texans.
#Browns–#Vikings injury report. Odell Beckham Jr. (shoulder) was limited. He said after game it popped out and back in early in game.

— Scott Petrak ct (@ScottPetrak) September 29, 2021
OBJ's Comeback
His shoulder would probably need to be detached from his body to keep him off the field.
OBJ has worked so incredibly hard in his rehab from the ACL injury to finally make his way back.
He was smiling and obviously thrilled to be back, and he had a great game.
OBJ with his first catch since coming back from his ACL injury 👏

(via @NFL)pic.twitter.com/kuzr2j51cV

— SportsCenter (@SportsCenter) September 26, 2021
OBJ finished with 5 catches (out of 9 targets) for 77 yards.
He also rushed for 10 yards on a draw play.
Here's another @OBJ highlight from today's game…

26 yard catch from Baker 🔥

OBJ Stats Today 📊
– 5 catches for 77 yards
– Longest today 26 yards
– Also 1 rush for 10 yards#CHIvsCLE x #Browns https://t.co/zo0rXblVIY

— BROWNS OR DIE 💀 (@BrownsorDie) September 26, 2021
His return to the field against the Bears was largely overshadowed by the play of the Browns defense and the contributions of Kareem Hunt when the offense was sputtering early in the game.
Definitely Wants To Play Against Vikings
There has been no indication that Beckham will not be playing on Sunday against the Minnesota Vikings.
He will want to be on the field for many reasons including helping his coach beat his former team.
Also, he will want to duel with the LSU youngster who has lit up the NFL and the Vikings since he was drafted in 2020.
That is Justin Jefferson.
Both have the one-handed catch in their arsenal.
As a result, OBJ jokingly told Jefferson to stay out of his playbook.
Justin Jefferson's one-handed catch had OBJ taking notice 🔥 @obj @Vikings

(via @JJettas2) pic.twitter.com/XnDmifS12o

— The Checkdown (@thecheckdown) July 7, 2020
This is just one of the many interesting storylines brewing in this Week 4 matchup.
Watch the Browns take on the Vikings on Sunday, October 3 at 1:00 PM EDT on CBS.