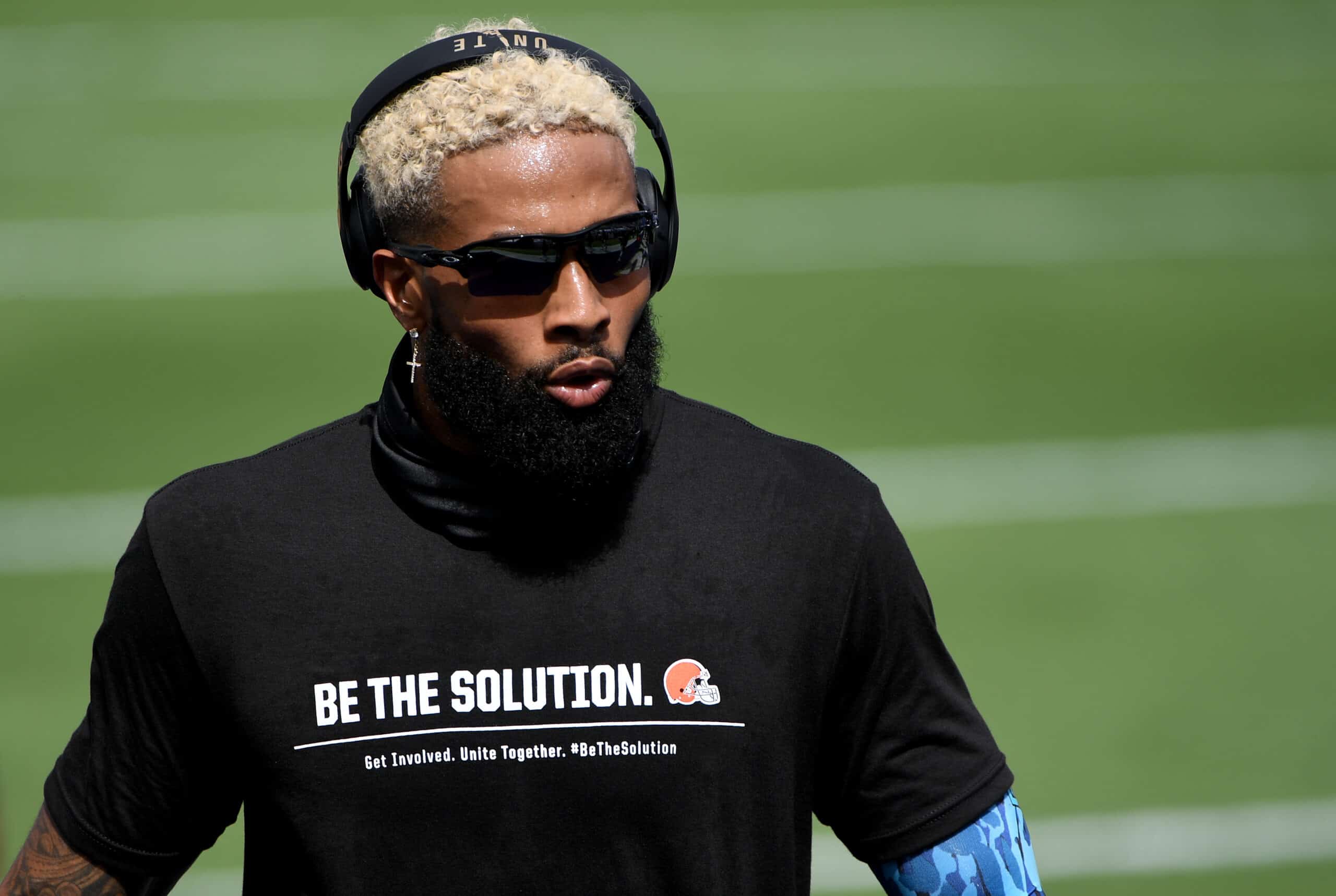 Odell Beckham Jr and a whole bunch of his Cleveland Browns teammates played softball this weekend.
And after watching his exploits in Jarvis Landry's charity event, well… let's just say he looks ready for football.
Over 7,000 fans watched Beckham pop up a few of the lob pitches he didn't miss, and the cheers never stopped.
OBJ with a couple swing and misses here pic.twitter.com/nqFcwIyBUg

— Jake Trotter (@Jake_Trotter) June 12, 2021
Maybe the cheers were more about seeing Beckham strutting about and looking healthy than his batting prowess.
Landry told reporters after the game Beckham looked great at the popular softball session.
But he looked even better in Baker Mayfield's recent team practice session in Texas.
#Browns Jarvis Landry on Odell Beckham Jr. pic.twitter.com/6J4WAQ5uCd

— Mary Kay Cabot (@MaryKayCabot) June 12, 2021
Landry told ESPN's Jake Trotter and others,
"Man, he looked amazing. I can't wait for you guys to see him. I can't wait for him to get back out there. He's in fantastic shape, and he's ready to go. He's only what, 6 1/2 months [beyond surgery], and he's already doing some things that will blow your mind away."
Beckham's long-time friend and former LSU teammate lauded OBJ's training, rehab routine, and dedication.
Landry says such an effort has always been a trademark of Beckham's game.
Will Beckham Be Full Go For Week 1? 
It wasn't too long ago that a torn ACL threatened careers and almost certainly meant a year off the field.
But Beckham posted a couple of videos of his rehab, first on a treadmill with bands and later field sprints.
Fans might have wondered whether those straight-running exploits mean Beckham can't yet cut.
Jarvis Landry: Odell Beckham Jr. "looked amazing" in rehab from knee surgeryhttps://t.co/0Cm7ePxOTw pic.twitter.com/1LdP2oMzZT

— Around The NFL (@AroundTheNFL) June 14, 2021
Enter Landry with more details of last week's practice:
"He ran a post route, sticking off the same injured leg and exploding out of it, then going up, jumping off that same leg and making a catch, doing his thing — what he does with one hand," Landry said. "You sit back and you're like, 'Wait. He's even better than he was last year.'"
Better than last year would be pretty impressive, even if Beckham's pre-injury statistics were lacking.
Fans saw what he can do with healthy knees on his long end-around touchdown against Dallas.
Odell Beckham Jr scored his game sealing 50-Yard Touchdown against all odds.

Per Next Gen Stats:

🔸Expected Rush Yards: 2 Yards
🔸Top Speed: 20.64 MPH ⚡️
🔸Total Distance: 95.6 Yards #Browns #NFL @obj pic.twitter.com/u1h16P6Nfk

— The Hottest Take Sports Podcast (@Hottest_TakePod) October 6, 2020
Maybe we can shrug off his softball performance to an adjusted, knee-protecting batting stance or something.
Beckham is expected at the Browns' mandatory mini-camp this week.
And fans hope the doctors' assessment is as good as the eye-test Beckham gave Landry and his teammates.
Beckham Adds To An Impressive Wide Receiver Room 
Odell Beckham Jr and Jarvis Landry are the Browns' starting wide receivers heading into 2021.
But Rashard Higgins showed he can play the OBJ role effectively enough to help a playoff run.
Donovan Peoples-Jones was thrown into the fire as a rookie and more than held his own, too.
Even if he was signed more for his special teams talent, Khadarel Hodge can make tough catches in a pinch.
Rookie Anthony Schwartz adds another speed element to spread the defense with a game-breaking threat.
Jarvis Landry just fired a touchdown pass to Odell Beckham!

(Via @nfl) pic.twitter.com/1VC5HUbuLL

— Allan Bell (@AllanBell247) October 4, 2020
But make no mistake about it, Beckham's healthy return makes the Browns offense work.
Fans and critics can debate the connection between Mayfield and Beckham.
But defenders still have to account for the former All-Pro.
His highlight-reel exploits make headlines, but it is the every-play threat that opens possibilities.
And will make Baker Mayfield as dangerous as he has ever been.