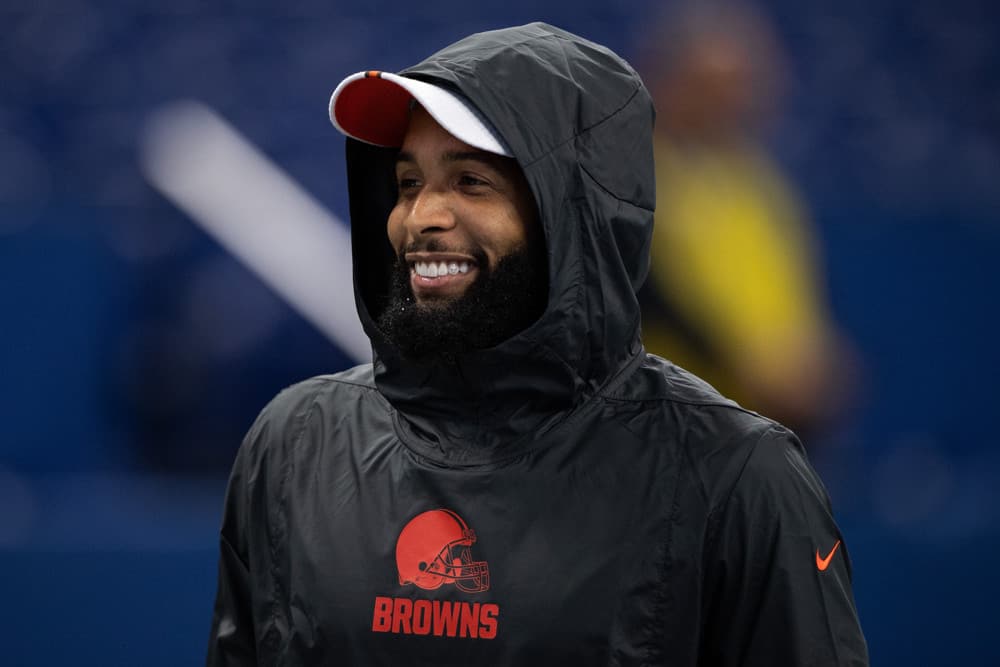 The NFL-PA recently announced the results of a study conducted via Opendorse ranking NFL players' levels of social media engagement, growth rate of followers, and consistent activity.
Opendorse evaluated all active NFL players using performance metrics and published the Top 10 list of players in various categories.
Odell Beckham Jr. ranked first in the category of social media engagement.
Top NFL players on social media in terms of engagement across Twitter, IG and Facebook, per @opendorse.

1. Odell Beckham Jr.
2. Tom Brady
3. JuJu Smith-Schuster
4. Julian Edelman
5. J.J. Watt
6. Russell Wilson
7. Patrick Mahomes
8. Todd Gurley
9. Ezekiel Elliott
10. Carson Wentz pic.twitter.com/29DaDJIWSU

— Front Office Sports (@frntofficesport) July 8, 2020
What Exactly Is Social Media Engagement?
Social media engagement is measured by the amount of likes, public shares, and comments made on a user's account and posts.
It is measured across the platforms of Facebook, Twitter, and Instagram.
Opendorse also revealed that OBJ had the highest social media engagement on Instagram while Tom Brady ranked highest on Twitter.
OBJ has 14.1 million followers on Instagram.
(As a side note, that sounds like a lot of followers until you consider that soccer star Cristiano Ronaldo has 244 million followers.)
Interestingly enough, OBJ did not break into the Top 10 in the other categories of growth rate and consistent activity.
How is OBJ using his voice on social media platforms?
So we know that OBJ's social media posts stir reactions among his followers, that's how he became #1 on this list.
This information is especially critical as we look at his most recent two-part Instagram post.
There is a lot to unpack there, but it is ominous.
Key Takeaways
1. The NFL has no documented and agreed upon COVID-19 plan.
Say it isn't so?
Of course, this is a novel virus that is unpredictable, but it is inconceivable that they have no plan.
NFL owners had the "luxury" (for lack of a better word) of time and could study and learn from what the NBA, NHL, and MLB developed.
The only thing predictable about this virus is that it is not going anywhere anytime soon so if the NFL wants to have a season, a plan is needed.
Full squad training camps open on July 28, less than 10 days from now.
So it is not an exaggeration to say the plan is needed ASAP.
2. Players can be fined for not reporting to camp.
Despite all of the unresolved significant issues, players can be fined for breach of contract if they don't report.
That hardly seems fair since many workplaces in America allowed people to work remotely until they could figure out how to keep them safe onsite.
The NFL is fortunate that the off season activity has been handled virtually and with Zoom meetings.
Now is the time the league needs to step up and protect their most valuable asset, the players.
If not, we likely won't see any live NFL football until Fall 2021.
3.  The players want to play.
They are not hiding behind technicalities or trivial issues; they are ready to play.
If anything, their struggles are more relatable than ever.
With wives, families, and children on the way, they have to weigh the risks of playing in an unprecedented situation.
OBJ should be applauded for using his social media platform to highlight the issues for the fans.
We understand, empathize, and hope for quick progress.