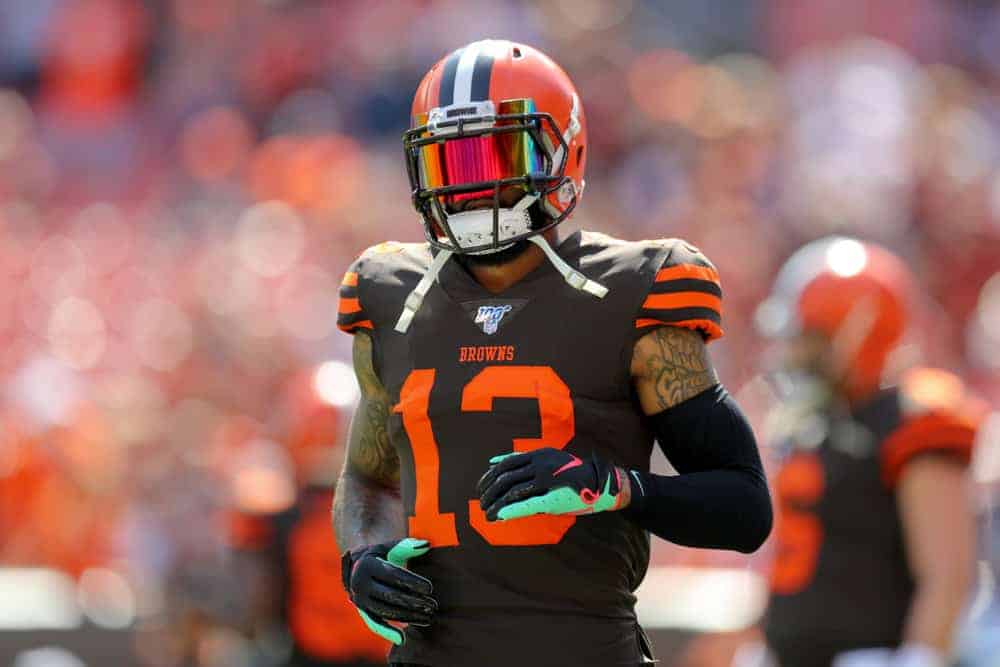 Obviously, things did not go well for wide receiver Odell Beckham Jr. or the Cleveland Browns last season.
To be fair, it was his first year with the team and he was banged up throughout the 2019 campaign.
After the season, Beckham underwent surgery to repair a core muscle injury.
Browns' WR Odell Beckham Jr. underwent surgery Tuesday to repair a core muscle injury. The surgery was performed by Dr. Bill Meyers in Philadelphia, and a full recovery is expected.

— Adam Schefter (@AdamSchefter) January 21, 2020
It's unclear exactly when Beckham will be back, but he'll hopefully be ready around August.
Head coach Kevin Stefanski already mentioned that Beckham is 100 percent healthy.
The 2019 season was an underwhelming year for Beckham, but he knows that he needs to step up his game.
There a few key areas where Beckham needs to improve in order to have a more successful campaign.
1. Stay Healthy
This first goal seems fairly obvious, but it's an important one for Beckham.
Beckham mentioned earlier this offseason that he has not been fully healthy since breaking his ankle in 2017.
His performance on the field has definitely taken a hit over the last two seasons.
Beckham has only played a full-16 game season twice over the course of his six-year career.
In 2019, Beckham was able to play in every game, but he was not playing at the level he wanted.
The good news is, Beckham has repaired his issues and should be back to 100 percent health.
A little update on rehab post surgeryhttps://t.co/dyAVLt8kaL pic.twitter.com/soqCEOq0c7

— Odell Beckham Jr (@obj) May 4, 2020
After having the surgery, Beckham predicted that he'll have one of his best seasons and he's "bigger, faster, and stronger" than before.
It certainly seems that Beckham is ready to put the injuries behind him and prove to everyone he can play at an elite level again.
The Browns need Beckham to be their No. 1 receiver, so his health will be key to their success on offense.
2. Get At Least 90 Receptions
Staying on the field is obviously important, but so is performing when you're out there.
Beckham has failed to reach over 80 receptions during each of the last three seasons.
Granted, the 2017 season he only played in four games because of a fractured ankle.
Regardless, Beckham's numbers have dropped since his days with the New York Giants.
He has accomplished quite a lot since joining the league and he deserves praise for that.
Don't sleep on Odell Beckham Jr.'s production ⬇@obj ranks among WRs since 2014:

Receptions 464 (9th)
Receiving yds 6,511 (6th)
Receiving TD 48 (T-3rd)
Yds/game 86.8 (4th)

Add 5 1,000-yard seasons in 6 years there too pic.twitter.com/W30LlWGKk7

— CBS Sports HQ (@CBSSportsHQ) July 17, 2020
The Browns do have other weapons on offense such as Nick Chubb, Jarvis Landry, and Austin Hooper.
Having that many elite weapons on your team is great for Cleveland, but bad for Beckham.
Earlier this offseason, Beckham mentioned that he wanted to be targeted more in 2020.
He saw 133 targets last season and that was without Hooper on the roster.
It's unlikely that his targets increase, but maybe they will if Beckham is healthy.
Getting to the 90-mark for receptions would be great for Beckham personally and for him to show everyone that he is still the same player as before.
3. Increased Catch Percentage
This is a stat that is not completely in Beckham's control.
Catch percentage is divided by targets, so it is also dependent on the accuracy of quarterback Baker Mayfield.
Last season, Beckham finished with a catch percentage of 55.6, which was the worst of his career.
He only hauled in 74 receptions, which was the second-lowest of his career, but the 2017 season shouldn't really count.
Anyway, Beckham needs to make sure he makes his targets count this season, especially if he wants the ball thrown to him more often.
This is not something that falls all on the shoulders of Beckham, but it is an area that needs improvement.
Bringing up his percentage to around 60 percent would be about what he did when he was with the Giants.
The expectations are going to be high for Beckham, but improving in these three areas will get a lot of the critics off his back.