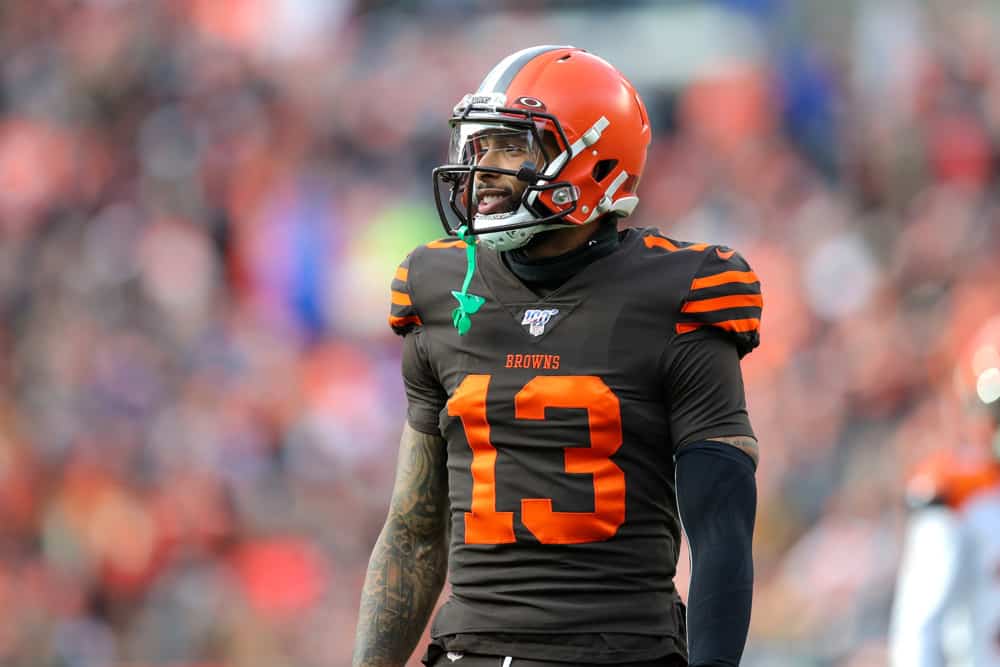 Nothing seemed to go right for the Cleveland Browns during the 2019 season.
The organization was hyped as a deep playoff threat from training camp, but things didn't go their way.
There were many reasons as to why the Browns struggled offensively last season.
One of the main reasons was the down year by superstar wide receiver Odell Beckham Jr.
He underwent core-muscle surgery in January and vows to return better than ever before in 2020.
"I would honestly say this is probably going to be one of my best seasons — bigger, stronger, faster,'' says Beckham.
Beckham battled through a sports hernia all last season, but he has been progressing well since his surgery in late January.
It appears Beckham is ready to show everyone that he can be a superstar receiver once again.
Beckham's 2019 Season
The Browns had a tough time moving the ball on offense last year under head coach Freddie Kitchens.
Beckham hauled in 74 receptions, 1,035 receiving yards, and four touchdowns through 16 games last season.
On paper, Beckham didn't have a bad year, but he was recording over 90 receptions per season just a couple of years ago.
The Browns were hopeful that they would get that kind of production when they traded for Beckham in March of 2019.
He was targeted 133 times last season, which is the most since the 2016 season with the New York Giants.
His injuries and a lack of a fundamental offensive game plan were the main reasons why Beckham struggled to produce superstar numbers.
The 27-year-old had a down year, but those numbers are fairly strong compared to the rest of the NFL last season.
Will The Browns Offense Do Better in 2020?
Beckham wasn't the only player on the Browns offense that struggled in 2019.
Quarterback Baker Mayfield threw 21 interceptions, which was the second-most in the league behind Tampa Bay Buccaneers quarterback Jameis Winston.
The Browns lack of success on offense was part of the reason head coach Freddie Kitchens was let go after the season.
Cleveland brought in former Minnesota Vikings offensive coordinator Kevin Stefanski to take over the head coaching duties going forward.
Kevin Stefanski talking about having already sat down with OBJ and gone over his old Giants tape, as well as sets Stefanski ran in Minny that he wants to run for Odell, has me thrilled

— Jordan Zirm (@clevezirm) April 29, 2020
It sounds like Stefanski is already trying to find new ways to get Beckham involved next season.
Hopefully, the Browns offense can actually show signs of life under a new coach and different scheme.
Multiple Browns players have already expressed excitement over Stefanski being named head coach.
Cleveland is loaded with talent on offense, but lacked a reliable plan of attack.
Hopefully, Stefanski can be the guy to help turn this around.
Will OBJ Bounce Back Next Season?
The hope is that Beckham can bounce back after he has fully recovered.
Beckham is already back to lifting weights, catching passes, and doing extensive core work.
He has been banged up since breaking his ankle in 2017, but is trying to hit the reset button.
Beckham believes that he can finally recover from those injuries and be the best version of himself.
In the right system, Beckham is one of the most dynamic players in the league.
Beckham might not only bounce back, but could put up career highs if Stefanski can find the right place for him in his offense.
Browns fans should be excited about the future and having a fully healthy OBJ could make the Browns offense dangerous in 2020.