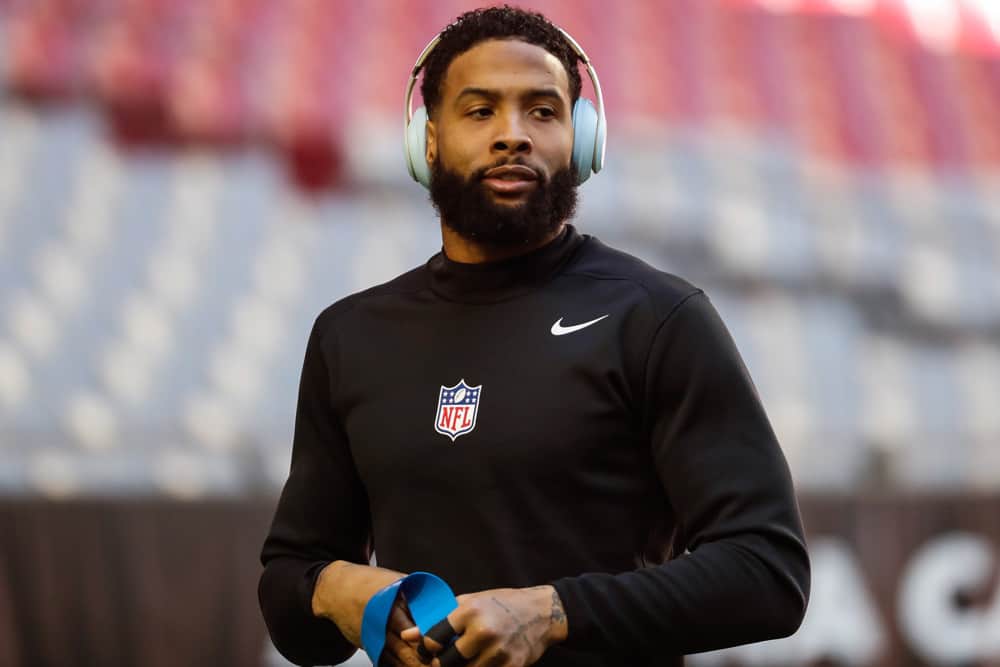 Shortly before the NFLPA approved the NFL´s Covid plan, Odell Beckham Jr offered his take on the 2020 season.
The Cleveland Browns´ wide receiver was pretty adamant the season should not be played.
Odell Beckham Jr. told the Wall Street Journal that he doesn't think the 2020 NFL season should happen. pic.twitter.com/2sF0DDsfUE

— SportsCenter (@SportsCenter) August 3, 2020
That take from one of the league´s premier stars is enough to be newsworthy.
But Beckham´s rationale raises more eyebrows.
In late July, he told the WSJ Magazine's Lane Florsheim,
"We´re not ready for the football season. So why are we trying to push forward? It´s obviously for their (the owners) money."
Of course, one of the league´s best-paid players claiming owners only want to make more money is enough to be newsworthy.
But Beckham continued,
"…that bothers me because there´s always been this- and I hate saying it like that- but the owners (attitude is), ´Oh we own you guys´ and just kind of that unfairness going on that they don´t see us as human."
Odell Beckham is not the first player to complain about the owners´attitude toward players as property or in debt to the owners for their paychecks.
But his words have an added emphasis amid the continuing Black Lives Matter protests in Cleveland and around the country.
How is Cleveland Handling Camp So Far? 
We need to note that Beckham gave this interview four days before the NFLPA-NFL settlement on a Covid management plan.
And Beckham reported to camp as scheduled this week.
Part of the league´s agreement allows players to opt-out of the season for Covid-relate concerns.
#Browns placed OL Drew Forbes and OL Drake Dorbeck on the reserve/opt-out list.

They also placed TE Pharaoh Brown on active/PUP.

— Dov Kleiman (@NFL_DovKleiman) July 29, 2020
Drew Forbes and Drake Dorback announced they will skip the Browns season.
Mandatory testing and readily available re-testing is also part of the plan.
Players can be placed on a special exempt list for Covid reasons without revealing if they or a contact tested positive.
Several Browns are on that list despite head coach Kevin Stefanski´s professed confidence in a "Browns bubble."
Stefanski believes the team can ward off the virus for the most part and prepare effectively for the season.
How Are the Other Major Sports Plans Working? 
Major League Baseball is struggling to contain the virus despite heavy testing and monitoring.
Travel and the degree of community spread in home states make it difficult to shield the players.
NBA players agreed to quarantine in a bubble in Disney World to complete their playoff season.
Beckham nodded to the NBA plan while alluding it is not feasible for the NFL.
"Hooping is different than playing an 11-on-11 contact sport with 80 people in a locker room."
Sports might not seem like an important matter during a health crisis.
But there are more folks than owners and players standing to lose money.
The NFL will have a plan in place should games be canceled or played without fans in attendance. https://t.co/qbpMe0lvvh pic.twitter.com/K0QdIP7JdB

— theScore (@theScore) May 6, 2020
Jim Irsay would like to allow some fans in the stands.
That could generate paychecks for security, maintenance, and vending help.
Other teams have no choice due to state regulations but to play without fans.
Some teams already announced layoffs, while others say they will retain and pay existing staff.
Whether any of that changes Beckham´s mind about pushing forward remains to be seen.
He is in camp, but his final words to Florsheim are out there,
"I just feel the season shouldn´t happen and I´m prepared for it not to happen and I wouldn´t mind not having it."