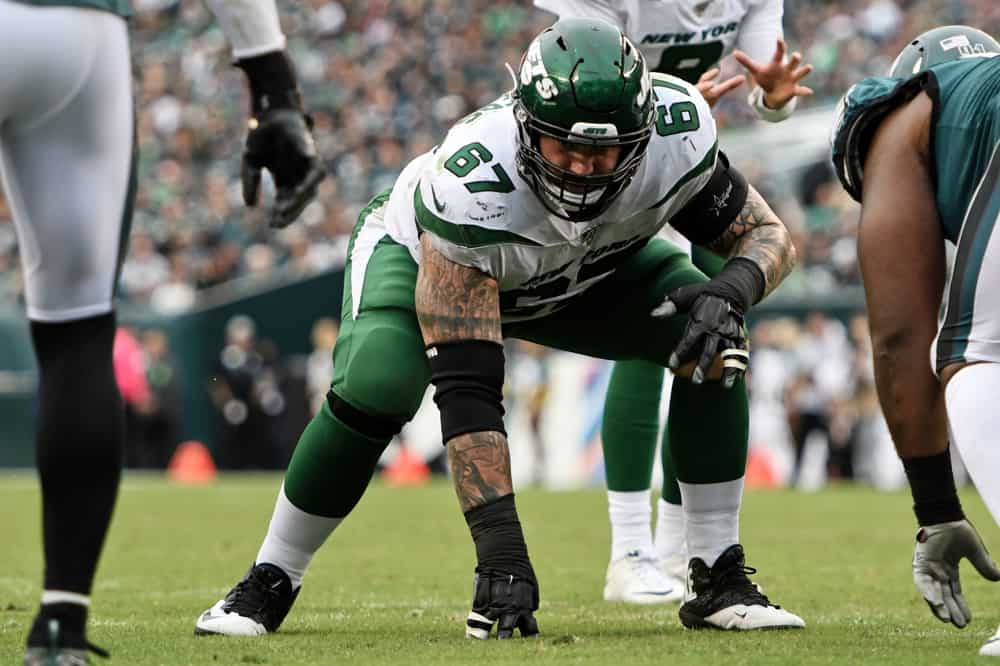 Brian Winters, veteran right guard for the New York Jets, was released on 8/2/2020 after 7 seasons with the team.
He now becomes a free agent which begs the question: Should the Cleveland Browns sign him?
The short answer is YES PLEASE and do it quickly.
A surprise release: Jets are cutting last season's starting right guard Brian Winters, per source.

As a starting guard, Winters is not expected to be without a job very long.

— Adam Schefter (@AdamSchefter) August 2, 2020
In 2020, when Andrew Berry is being super aggressive with filling the holes that hampered this team in the past couple of years, it begs the question why hasn't the right guard position been evaluated more closely already?
Partly because there are not an abundance of guards on the market and partly because it is an often overlooked position.
Let's take a look at the right guards currently on the Browns roster.
Neither of the right guards on the Browns roster is exactly a household name.
Both are hard-working players who have limited NFL experience.
1. Wyatt Teller
Teller is 25 years old.
He came into the NFL in 2018.
A Virginia Tech graduate, he played for the Buffalo Bills.
He started as a left guard during the last half of the 2018 season (Week 10 forward) with the Bills.
In 2019, the Browns acquired Teller via trade, and he started from Week 9 through the end of the 2019 season.
Another what I believe is a good team block from Teller and Tretter on a 1st and 10 run play. pic.twitter.com/t0IQBDUZRv

— ChadP71 @BrownsAccess (@chadp71) March 10, 2020
Wyatt Teller's play has a lot of upsides.
He is still inexperienced and has not played a full season with an NFL team.
Because of the timing of his trade, he did not have a full preseason or training camp with the Browns in 2019.
He gained starting duties because the team was not playing well.
But he seemed to make the adjustment from left to right guard relatively well in the midst of all those changes.
2. Malcolm Pridgeon
Another young player, Malcolm Pridgeon, is 2nd on the Browns depth chart at right guard.
Pridgeon was an undrafted free agent in 2019.
Initially, he signed with the Texans, but after being waived, the Browns signed him to the practice squad.
He had a great collegiate career at Ohio State, playing in every game in both the 2017 and 2018 seasons after playing 2 seasons as a tackle at Nassau Community College.
Ohio State's Malcolm Pridgeon's journey has been a long, winding one. He started college football at Nassau Community College in New York. Now he's a starting guard for the Buckeyes.

"Saturday was an amazing feeling. It was an amazing feeling that I knew would come." pic.twitter.com/LpF2MqzjvP

— Derrick Webb (@dw1509) September 5, 2018
Pridgeon is clearly a hard worker and a good up-and-coming player.
Why Brian Winters?
He fills a lot of the gaps that the Browns have at right guard.
Winters has the right mix of age and NFL experience to be an immediate impact player for the Browns.
Injuries are a concern, of course.
Winters has finished 2 of the last 3 seasons on IR (2017 and 2019).
In 2017, he injured his abdomen in Week 2 and tried to play through it before ultimately being put on IR in December.
Winters suffered a shoulder injury during a 2019 preseason game that plagued him all season before going on IR in November.
The Browns need to sign him because he is a step up in experience and skill in the position.
And he is not going to be available long.
The Jets are releasing G Brian Winters, per @AdamSchefter

Winters allowed 1 sack in 346 pass-blocking snaps last season pic.twitter.com/eYW8ggomiR

— PFF (@PFF) August 2, 2020
Stefanski's former team, the Minnesota Vikings, has a need at this position and may consider signing Winters.
I bet Baker would like Winters blocking for him.
Mayfield was sacked 25 times in 2018 and 40 times in 2019.
Andrew Berry needs to act fast and get Brian Winters in the orange and brown ASAP.