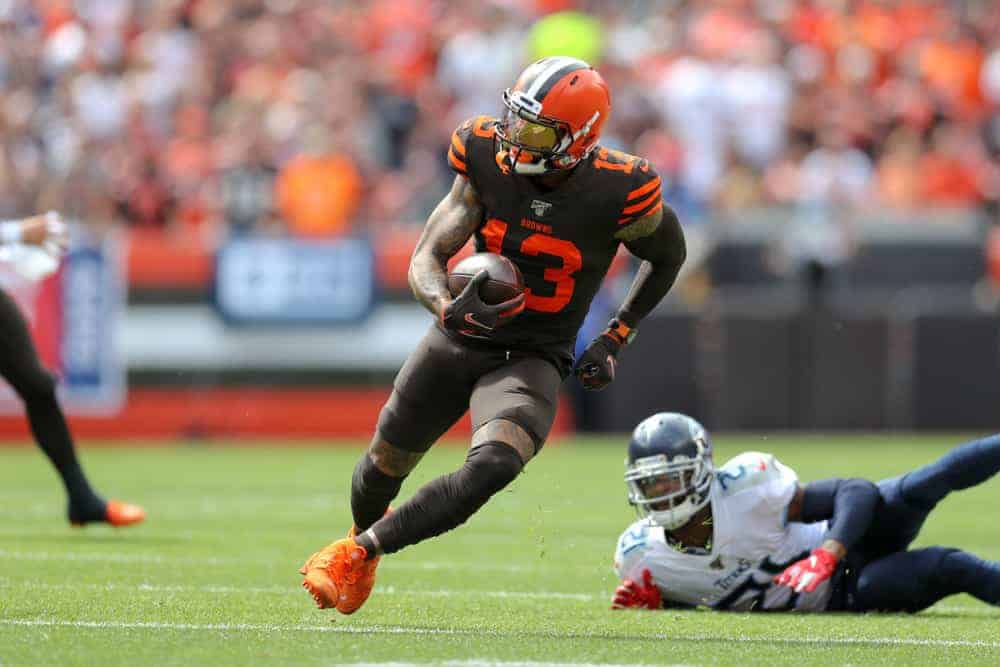 One of the reasons Odell Beckham Jr. was allowed to be traded by the New York Giants was that when he's not getting the ball, or when the team isn't winning, he starts to talk.
When OBJ starts talking, he tends to say good things about himself or bad things about the people around him.
In Cleveland, OBJ is talking again. As one can imagine, with his team massively failing to live up to expectations, it's not positive.
Beckham appeared to question the in-game divergence from the game plan when asked about not targeting the New England Patriots cornerback Stephon Gilmore more frequently.
"I think we kind of shied away from it," Beckham said after the game Sunday. "I was expecting and looking forward to it, but that wasn't the case today. We had a couple of plays, but for whatever reason, we didn't do as much challenging as we talked about. Other than that whatever came my way, pretty much I caught. Whatever opportunities I had I made the most of them. You can only control what you can control."
Two things about this quote are worrisome for Browns' fans.
First, it sounds like the Browns' offense had a game plan set up to target what they perceived as a weakness in the Patriots' defense.
To be fair, anyone defending OBJ should be the weakest point of the defense. He is a freak athlete and dominant pass catcher.
Freddie Kitchens had a game plan. The staff had two weeks to work out a plan, but they quickly abandoned it in game.
Most fans were cautiously optimistic about the Browns' chances against the Patriots on Sunday. They had two weeks to create a scheme that would put the vaunted Patriots' defense on their heels.
#Browns today coming off a bye with 2 weeks to prepare for today's game: 13 penalties, 3 turnovers, 2 wasted timeouts on challenges and the dumbest coaching move I've ever seen in my life.

— Daryl Ruiter (@RuiterWrongFAN) October 27, 2019
At the very least, the offense should've looked good and kept the game close. Creative and prolific offensive schemes are what earned Kitchens his position as head coach in the first place.
Second, Beckham's frustrations are both obvious and public.
He's been vocal about his frustrations in the involvement in the offense already this season.
OBJ has a right to be upset about that involvement. So far this season, he has just 34 catches for 488 yards and 1 touchdown.
Odell Beckham was supposed to thrive in this offense with Baker Mayfield.

Season numbers after 7 games
34-488-1 TD

Odell Beckham isn't Top 15 in any statistical WR category

— Jason McIntyre (@jasonrmcintyre) October 27, 2019
34 catches rank him 34th in the league, 27 catches behind the league-leader Michael Thomas. OBJ is even behind tight ends like Mark Andrews and Evan Engram. Leonard Fournette has more catches than Beckham, and he's a power running back.
This is certainly not the season Beckham envisioned when he showed up in Cleveland, and he's starting to let it show.
Kitchens, having been diplomatic when dealing with criticism so far this season, showed his first signs of frustration with his star wide receiver.
"Odell had seven balls thrown to him," Kitchens said. "He caught five of them. I am not responding to that. We need to win a football game. That is what I am worried about."
Kitchens quickly dismissed the question, but his displeasure about being questioned by one of his players was evident.
The question remains though. Why did they veer away from the game plan, and why aren't the star receivers getting more targets?
Why didn't they do more challenging? What did they have to lose? Not even Jarvis Landry thought the Browns were going to win that game. Why not take risks as a 2-5 football team?
Beckham and Landry are the most explosive WR duo in the league, but they aren't being used the right way.
If Kitchens expects his hot seat to cool off at all, he's going to have to figure out a way to get those two involved more.