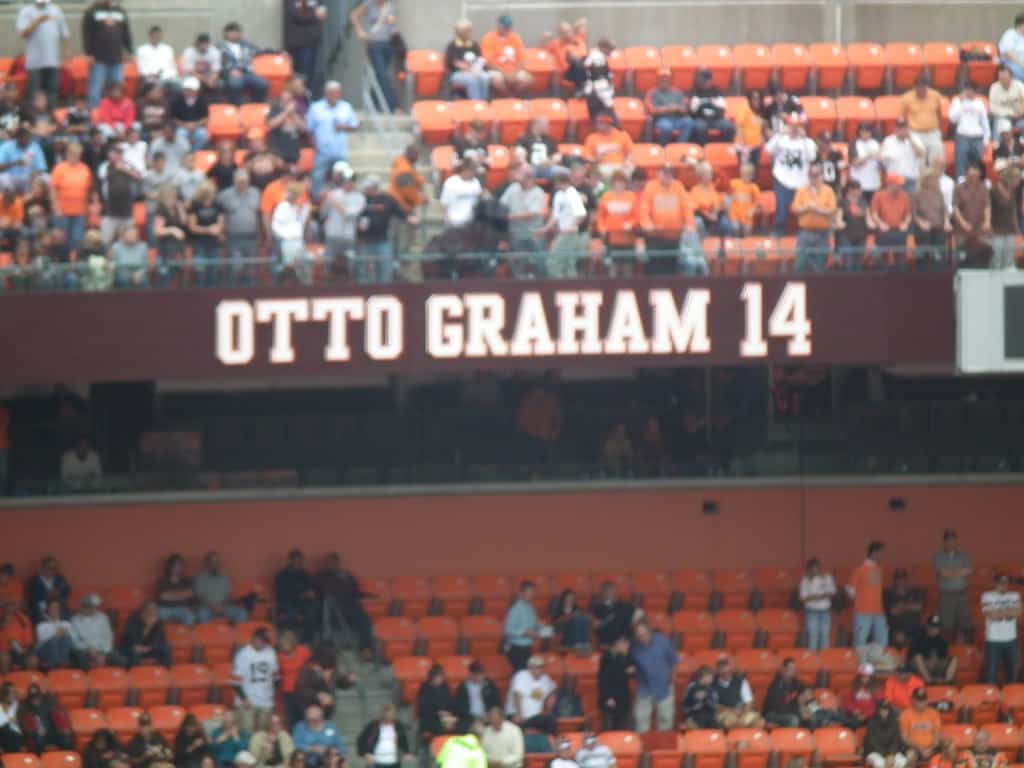 Younger NFL fans have a lot to say about the number of older-era players named to the NFL All-Time team.
Especially at quarterback, it is easy to look at modern era statistics and believe those passers have it all over their older brethren.
But if winning and championships determine greatness, no one can argue with Otto Graham's selection.
All Graham did was to lead his team to the championship game in every season of his ten-year career.
Paul Brown chose Graham as the first player on his fledgling All American Football Conference team in 1946.
Graham and the Browns ran off four consecutive AAFC championships.
When the league folded, the Browns were admitted to the National Football League.
It was widely expected that the Browns would return to earth against the tougher NFL competition.
But when Graham threw his fourth touchdown of the game and completed a fourth-quarter comeback against the Los Angeles Rams, Cleveland walked away with the NFL Championship, too.
Graham made sure the Browns returned to the championship game every year over his six NFL seasons.
The Browns won three times, including Graham's greatest game in 1952.
Graham ended that season throwing three touchdowns and adding three more on the ground in a 56-10 wipeout of the Detroit team.
Before the Patriots surpassed the mark this season, the 1950s Browns boasted the best winning percentage during any decade in NFL history.
Graham's 58-13-1 record as an NFL starter set the tone for Jim Brown and others later in the decade.
It all started when…
Otto Graham might never have played professional football if not for a keen-sighted assistant coach at Northwestern University.
Graham attended the school on a basketball scholarship and played in an intramural football club for fun.
That is how he was discovered and convinced to become a passing tailback for the Northwestern football team by Pappy Waldorf.
Paul Brown knew Graham didn't run a normal professional offense and was more of a runner than a passer in college.
That didn't stop Brown from enhancing a $2500-per-year contract with an additional $250-per-month living stipend.
Graham was playing professional basketball at the time for the Rochester Royals.
He finished off that season with the Royals, helping them win the 1945-46 NBL Championship.
When Graham led the Browns to the AAFC Championship, he became the first of only two men in history to win titles in two of the four major US sports.
Gene Conley took home baseball and basketball titles to become the second.
Modern Era Passers Can't Beat These Records
Paul Brown cited Graham's "poise, ball-handling, and distinct qualities of leadership" when he picked him to lead his new team.
Later, Brown raved about his quarterback's peripheral vision and throwing ability.
Otto Graham is one of 10 QBs selected to the #NFL100 All-Time Team!

🏈 3x NFL Champion
🏈 7x First-Team All-Pro (T-Most by QB in NFL history)
🏈 5x Pro Bowler
🏈 9 yards/attempt (most in NFL history) pic.twitter.com/UiCGs3tGsm

— NFL (@NFL) December 28, 2019
Graham only completed 60-percent or more of his passes twice.
But it was a different era.
Graham's 53-percent completion rate in 1955 led the league.
There were few screen plays and no such thing as a shuffle pass to pad completion rates.
Graham threw downfield.
His career 8.63 yards gained per attempt stands as the all-time NFL record.
Graham's .810 winning percentage as a starter is also the NFL record.
In 1947, Graham led the AAFC Browns to a 15-0 record.
That makes them one of only two professional football teams to ever finish a season unbeaten and untied.
Miami's 1972 Dolphins are the only NFL team to accomplish the feat.
But Miami never faced the Otto Graham-led Browns.
Other Accomplishments
"Automatic Otto" as he was known, wound up with 7 championships in ten seasons.
Those include three NFL Championships in six seasons.
He was pulled out of retirement for one more season in 1955 with a then-record $25,000 contract.
Graham took home another championship and his third NFL Most Valuable Player award that season.
Graham is a 5-time Pro Bowler.
The Browns' legend was inducted into the NFL Hall of Fame in 1965.
Cleveland erected a statue honoring their first quarterback before the start of the 2019 season.
Graham was included in the 75th anniversary All-Time NFL team.
He joins former Browns Paul Warfield, Jim Brown, and Marion Motley on the 100th Anniversary All-Time NFL Team.