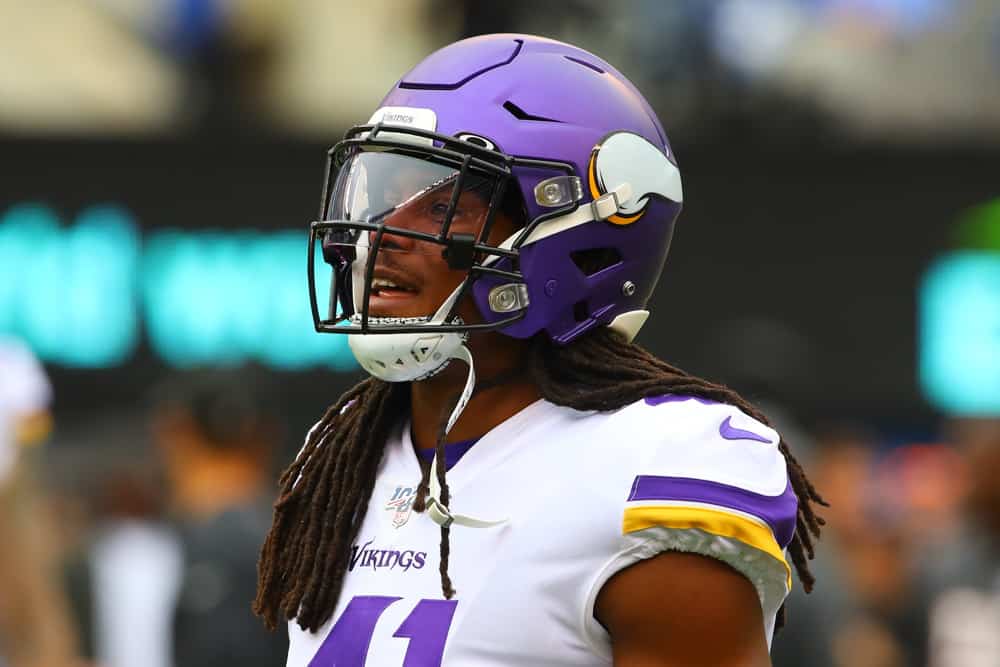 Pro Football Focus recently upgraded its predictions of where the NFL's top 50 free agents will land.
And they predict the Cleveland Browns will sign the highest-ranked, truly-available player.
Safety Anthony Harris will call Northern Ohio home soon, according to the article written by PFF's Anthony Treash.
Will Anthony Harris be joining Kevin Stefanski in Cleveland this off-season? https://t.co/77O39l6r50

— PFF MIN Vikings (@PFF_Vikings) February 17, 2021
Harris earned the 7th overall rank in the PFF top 50.
But the six players ahead of him are expected to sign with their current teams or be franchise-tagged.
The Vikings' free agent was a slow bloomer after signing as an undrafted free agent in 2015.
Since 2018, however, Harris ranked among PFF's five most valuable safeties.
Harris' experience and skill set would be a valuable presence in Grant Delpit's delayed NFL debut.
Cleveland also has a health Ronnie Harrison and Sheldrick Redwine on the roster.
With the addition of Harris, Joe Woods can make his preferred multiple-safety scheme the Browns' dominant set.
Would Anthony Harris Be Worth the Money? 
Treash predicts the Browns will land Harris on a 4-year, $56 million contract with about half guaranteed.
That might look like a hefty price for a player in his age-30 season.
But Harris played sparingly before 2018, and as they say, it's not the years, but the mileage that counts.
There is one red flag waving behind the former Viking.
Studying Anthony Harris for our free-agency list, and this play is just batcrap insane for two reasons. First, the impossible throw from Stafford. Get happy, Rams fans. Second, Harris rolling 40 yards deep, peeling off his assignment, and denying Mohamed Sanu a touchdown. pic.twitter.com/KtkG2vAcSt

— Doug Farrar (@NFL_DougFarrar) February 16, 2021
Harris set a career-high with a league-leading 6 interceptions in just 14 games in 2019.
He followed that up by playing 100% of the defensive snaps in 2020, with a career-high 104 tackles.
But he did not have any interceptions and defended 4 fewer passes in his expanded playing time.
Fortunately, there are stats and abstract measures that tell a better story.
Harris' 58% completion rate when targeted was better than his 2019 campaign, with just 1.3 completions per game.
And PFF is not the only grading entity claiming Harris remains a top-5 safety.
Pro Football Reference gave him an approximate value of 6, tying his career-best and ranking near the top at his position.
If Not Harris, Then Who? 
It makes sense for the cash-rich Cleveland Browns to go after the best available safety to fill a need.
Andrew Berry can overpay and take Harris off the market immediately like he did with Austin Hooper last year.
But what if Minnesota finds a way to hold onto their defensive star?
Cleveland could go after other top safeties from teams that are cash-strapped.
Safety Franchise Tag between $10.467M to $10.757M or 5.815% of Salary Cap per @corryjoel

Expect Jets utilize on Marcus Maye. Rams tough choice on John Johnson III. Must have cap room. Expect Saints Marcus Williams gets to market.

Broncos will tag Justin Simmons @ $13.729M.

— Chad Forbes (@NFLDraftBites) February 20, 2021
The Rams will have a difficult time fitting free agent safety John Johnson III under their cap next year.
Johnson was arguably just as important as Aaron Donald and Jalen Ramsey in the Rams' dominant defense.
Likewise, Marcus Williams will probably price himself out of New Orleans.
Since missing a big play against Stefon Diggs as a rookie, Williams is PFF's 4th-ranked safety.
Berry could also throw a big offer at Marcus Maye of the New York Jets.
New York's GM says re-signing Maye is his biggest priority, but there are a lot of negative vibes in the Jets camp.
Despite the Jets' ample cap space, Maye could be coaxed away with a "good enough" offer.