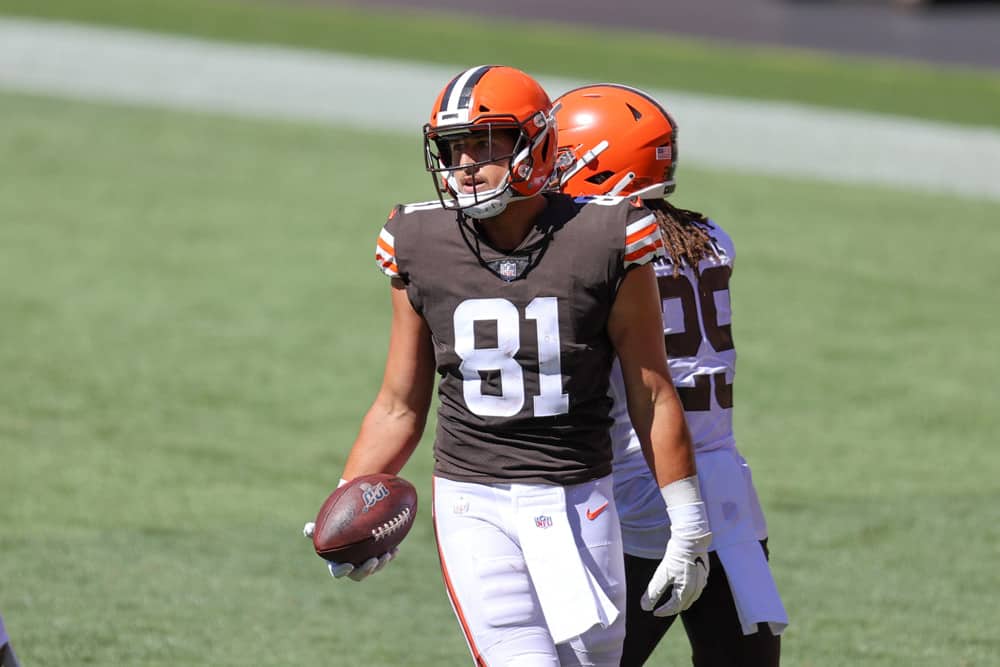 Last offseason, the Cleveland Browns front office made a big splash when they signed Austin Hooper.
The Browns landed a big-time talent in the two-time Pro Bowl tight end in 2020.
Cleveland signed Hooper to a massive deal that made him the highest-paid tight end in the league.
Browns are signing Austin Hooper and making him the highest-paid tight end in the league, per @RapSheet, @TomPelissero and @MikeSilver pic.twitter.com/xt7fEQ4xbY

— Bleacher Report (@BleacherReport) March 16, 2020
That being said, there were high expectations for Hooper when he signed with Cleveland.
His first season with the Browns was a bit of a disappointment, but he should have a bigger role in 2021.
Hooper's Rough 2020
Before signing with Cleveland, Hooper was coming off a career-year with the Atlanta Falcons.
He finished with 75 receptions, 787 yards, and six touchdowns and secured new career highs in all those categories.
His outstanding 2019 campaign is likely what drove up his price tag in free agency.
However, the Browns were in need of a playmaking tight end, so they decided to pay Hooper what he wanted.
Hooper was expected to be a significant part of the offense especially with head coach Kevin Stefanski in charge of the offense.
Stefanski loved utilizing two tight end sets during his time as the Minnesota Vikings offensive coordinator.
At times, Hooper did look like he was worth the money and made some big plays for Cleveland.
This season-saving catch from Austin Hooper 🤯

(via @thecheckdown)pic.twitter.com/iNels878DP

— Bleacher Report (@BleacherReport) January 17, 2021
Sadly, a majority of the time Hooper was invisible in the offensive gameplan.
Through 13 games, Hooper finished with 46 receptions, 435 yards, and four touchdowns in 2020.
Both the receptions and receiving yard numbers were Hooper's lowest total since his rookie season.
His 65.7 catch percentage was the lowest of his career, which means there was an obvious disconnect between Hooper and quarterback Baker Mayfield.
Hooper's Redemption Year
On paper, it was a rough first year for Hooper in a Browns uniform.
However, it's not time to give up on the star tight end.
He did plenty of things to contribute that don't show up on the box score.
Hooper is an excellent run blocker and it showed during his first season in Cleveland.
I think the most unique part about last night's game was the Browns' run blocking.

Kevin Stefanski had so many moving parts against the Bengals, plus Austin Hooper and Andy Janovich both put up sensational performances as run blockers. pic.twitter.com/3ZP3H9OGRJ

— Johnny Kinsley (Deep Ball Project Out Now!!!) (@Brickwallblitz) September 18, 2020
Statistically, it was a down year for Hooper, but he does deserve a bit of slack.
Hooper was only targeted 70 times last season, which was his lowest since the 2017 campaign.
It was his first year in a new system since he spent the first four years of his career with the Falcons.
Sometimes, it takes time to develop chemistry with your new offense and quarterback.
There were moments where Hooper made some fantastic plays in a Browns uniform.
Austin Hooper laid out to snag it 🔥 @AustinHooper18 @Browns

📺 #CLEvsNYJ on CBS pic.twitter.com/ITvGce2J3Q

— The Checkdown (@thecheckdown) December 27, 2020
The Browns front office gave Hooper over $40 million, so expect him to play a significant role in the offense.
Honestly, the uncertainty surrounding Odell Beckham Jr. could mean Hooper is asked to do more next season.
Hooper saw a fairly reduced role during his first year in Cleveland, which is part of the reason his stats declined.
It wasn't for a lack of talent and Stefanski needs to do a better job of getting Hooper more involved.
He is a proven red zone threat and has already produced three seasons with 500 receiving yards or more.
Cleveland doesn't have many reliable weapons in the passing game outside of Jarvis Landry.
Hooper could be an enormous asset to this offense, assuming the Browns can find a way to get the ball in his hands more often than they did last year.