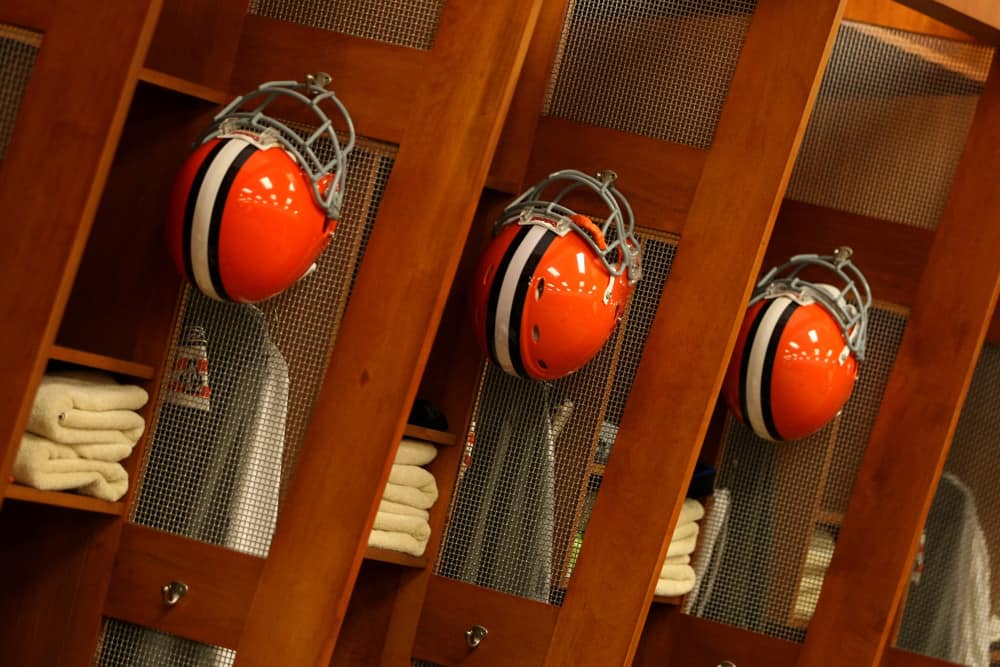 The Cleveland Browns have seen there fair share of one-year wonder players throughout the years.
Sometimes players look like they will be stars, but fizzle out after one strong season.
They look like a superstar, but end up being duds after the league figures out how to stop them.
Pro Football Focus put together a team of one-year wonder players.
They listed three Browns' players on their one-year wonder roster.

1. Peyton Hillis
Hillis is a unique case in that his one-year run was immortalized in the form of becoming the cover man for Madden 12. In the previous season — the 2010 campaign for Cleveland — Hillis ran for 1,181 yards (11th in NFL) while forcing 31 missed tackles on the ground (tied for 10th at the position). From a grading perspective, it wasn't a dominant rushing performance, but Hillis did grade out as one of the best receiving running backs in the NFL with an 87.9 receiving grade on the season (second to Pierre Thomas among running backs with 100 or more routes run).

He was never able to match that output again. Hillis' 587 rushing yards in 2011 — a year marred by injuries and contract disputes — were the most he would record in a single season for the rest of his career.
It shouldn't be surprising to anyone that running back Peyton Hillis made the list.
He landed himself on the cover of Madden 12 after his tremendous 2010 campaign.
Sadly, Hillis was never able to find consistency after rushing for over 1,000 yards with the Browns during the 2010 season.
Last time the Browns beat the Patriots:

Peyton Hillis ran for 184 yards & two rushing TD's along with 36 receiving yards & a receiving TD. pic.twitter.com/4zKVlhS2K6

— Everything Cleveland (@EverythingCLE_) October 25, 2019
He finished that season with 1,177 rushing yards on 270 attempts with 11 touchdowns through 16 games.
Hillis also hauled in 61 receptions for 447 receiving yards and two touchdowns during that same year.
During the 2010 season, Hillis finished with a 87.9 receiving grade, which was the best among all NFL running backs.
Hillis only managed to combine for 671 total rushing yards during the last three seasons of his career.
He decided to retire after the 2014 season with the New York Giants.
2. Terrelle Pryor
Pryor is one of the more interesting stories in the NFL over the past decade. In 2013, he got his opportunity as the starter at quarterback for the Oakland Raiders, but his 53.9 overall grade on just over 500 snaps that year put an end to his time as a signal-caller. After bouncing around a bit, Pryor landed with Cleveland, where he would go on to have a massive year as one of the team's starting wide receivers in 2016. He caught 77 of 132 targets for over 1,000 receiving yards, earning a 79.6 receiving grade that ranked 19th among 93 wide receivers with at least 200 routes run. Injuries have limited Pryor to just under 500 receiving yards in the three seasons since 2016 — a stretch that has seen him sign with four different NFL teams.
The Oakland Raiders gave Terrelle Pryor a chance to be the starting quarterback during the 2013 season.
He finished with a 53.9 overall grade as a quarterback and headed to Cleveland to become a wide receiver the next season.
Pryor didn't do much during his first year in Cleveland, but he absolutely took off during the 2016 campaign.
During the 2016 season, Pryor hauled in 77 receptions, 1,007 receiving yards, and four touchdowns through 16 games.
He finished with a 79.6 receiving grade, which was 19th among all wide receivers that season.
Unfortunately, Pryor's career didn't last much longer after the 2016 season.
He combined for 36 receptions and 492 receiving yards during his final two years in the league.
Pryor has one of the most interesting stories of the last decade, but sadly he wasn't able to capitalize after his one strong season.
3. Gary Barnidge
Just four positions deep into our list, the Browns are already at three nominees. There aren't many players who hang around for seven seasons in the NFL and then break out the way Barnidge did in 2015. From being selected in the fifth round of the 2008 NFL Draft by the Carolina Panthers through the 2014 season, Barnidge caught 44 total passes and had just three touchdowns. In 2015 alone, he put up 79 receptions for 1,043 yards and nine touchdowns. All of those were top-five marks at the tight end position, and his 28 receptions of 15 or more yards were fewer than only Rob Gronkowski and Greg Olsen.

Barnidge would have some success the following year — though not at the same level as in 2015 — and he wouldn't play again after being released by the Browns leading up to the 2017 season.
There aren't too many players who play in the NFL for six seasons and then breakout the way Gary Barnidge did in 2015.
He hauled in 44 receptions, 603 receiving yards, and three touchdowns during his first 92 games in the league.
It's surprising that Barnidge's career lasted that long after he failed to have much success at all during a majority of his career.
We're still trying to figure out how Gary Barnidge caught this one. pic.twitter.com/rCvbMMkcpD

— NFLonCBS (@NFLonCBS) December 20, 2019
Everything changed for Barnidge during the 2015 season when he put together an outstanding campaign.
Barnidge finished with 79 receptions, 1,043 receiving yards, and nine touchdowns through 16 games.
All of those were top-five marks at the tight end position that season.
He had some success the following year when he hauled in 55 receptions, 612 yards, and two touchdowns with Cleveland.
However, he was never able to have the same success he did in 2015 and was released by the Browns before the 2017 season.
He did not play in the NFL again, but at least he was able to prove he belonged before he decided to retire.