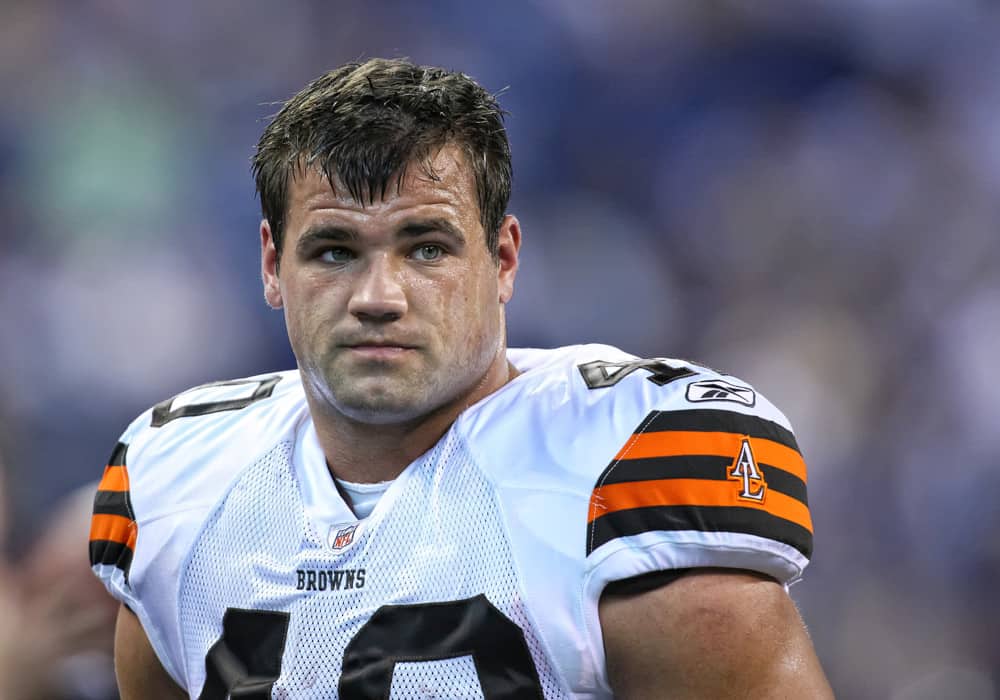 On March 14, 2010, the Cleveland Browns traded former first-round pick, quarterback Brady Quinn, for Broncos running back Peyton Hillis.
At the time, this trade looked one-sided.
Quinn was clearly not living up to his hype from 2007 and Hillis seemed to be on the verge of becoming a star.
By the end of the 2010 season, the Cleveland brass looked like geniuses.
Hillis had rushed for over 1,100 yards and 11 touchdowns.
Even better, before the 2011 season, Hillis was selected to be the cover athlete for the game Madden NFL 12.
The future looked bright for both Hillis and the Browns.
Unfortunately, the '11 season was a giant step back for him and, by the following year, Hillis was no longer a Brown.
Was Hillis' sudden regression truly a case of the Madden curse?
Or, were there more logical, underlying reasons for his rapid rate of decline?
We take a look at the career of Peyton Hillis.
Hillis as a Youth
Peyton Hillis was born in Conway, Arkansas on January 21, 1986 and named after former Chicago Bears legend Walter Payton.
Hillis became something of a legend while playing sports at Conway High School.
In HS, Peyton Hillis spent his summers in Conway, Ark. doing 100-yard sprints with his dad's truck strapped to his back. Not a joke.

— David Ubben (@davidubben) November 14, 2010

Along with being an extremely good football player, Hillis also excelled in baseball.
As a third baseman, he received All-State honors.
On the gridiron, Hillis routinely obliterated the competition.
By the time he was wrapping up his senior year, Hillis was recognized as a SuperPrep All-American.
He was then given the Landers Award for the best high school football player in the state of Arkansas.
Furthermore, recruiter Max Emfinger rated Hillis as the best fullback in the nation.
Football coaches from such schools as Alabama, Florida, Oklahoma, and Arkansas came to visit.
Ultimately, Hillis decided to stay close to home and, in 2004, accepted a scholarship to play fullback for Arkansas.
University of Arkansas
During his time in Fayetteville, Hillis was a Swiss army knife for the Razorbacks.
In four seasons, he played fullback, H-back, tailback, tight end, wide receiver, kick returner and punt returner.
During his freshman year of 2004, Hillis scored eight combined touchdowns, tying an SEC freshman record.
In 2007, his senior year, Hillis had 539 receiving yards, which set a program single-season record for running backs.
His 118 catches during his college career set a school record for receptions by a running back that had been set by Gary Anderson from 1979-1982.
Overall, between 2004-2007, Hillis racked up over 2,600 all-purpose yards.
"Peyton Hillis being chased but will not be caught, touchdown Arkansas!"

22 days til Hog 🏈
🎥: @WarMachine2013 pic.twitter.com/mGQA8NWuZs

— Tye Richardson (Bartleby Gaines is the 🐐) (@TyeSportsRadio) August 9, 2019

He also paved the way as a fullback for future pros Darren McFadden and Felix Jones.
Name the best RB Room from these 3. All were on the roster at the same time.

Auburn🐅: Cadillac Williams, Ronnie Brown, Brandon Jacobs, Tre' Smith

Miami🙌: Clinton Portis, Willis McGahee, Frank Gore, Najeh D.

Arkansas🐗: Darren McFadden, Felix Jones, Peyton Hillis, Marcus M. pic.twitter.com/UO4yyP5sRH

— CFB Home (@CFBHome) February 18, 2020
Watching Arkansas-South Carolina 2007, the game Darren McFadden and Felix Jones combined for over 480 rushing yards!!

Hogs had Peyton Hillis on that squad too… Also, Jerry Jones was doing the intros lol pic.twitter.com/pCWhaeZ0yk

— Lifelong TOMpa Bay Buccaneers fan (@FTBeard1) April 9, 2020

Since the fullback position isn't looked at as an essential need in the NFL, Hillis' draft stock was low heading into the 2008 draft.
During that offseason, Denver had traded quarterback Jake Plummer to Tampa Bay in exchange for a 7th round pick.
With that pick, the number 227th overall selection, the Broncos grabbed Hillis.
With the 227th pick, the Denver Broncos select Peyton Hillis, FB, Arkansas

— Headblitz (@headblitz) April 27, 2008
Hillis in Denver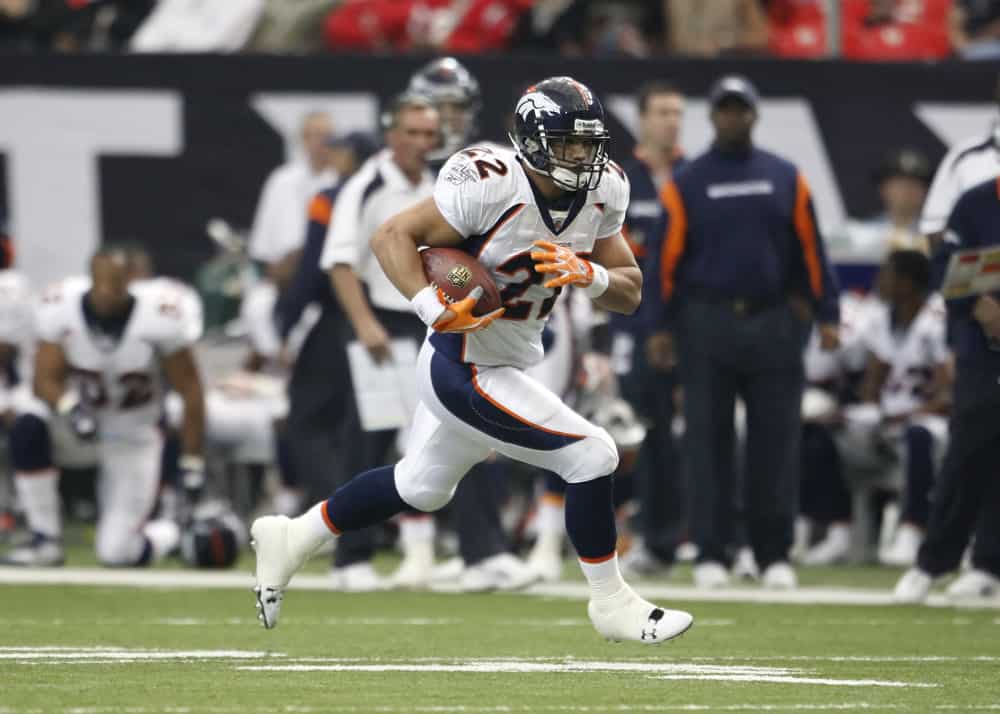 Because of where he was selected in the '08 draft, Hillis was almost an afterthought to Broncos management and fans.
Although, there were pro personnel who were very aware of his upside.
Former scout Scott Wright shared his assessment of Hillis after the draft.
"With their final pick of the draft the Broncos chose Arkansas fullback Peyton Hillis, who in my opinion should have gone at least two rounds earlier. A super versatile player who is able to run, catch and block, Hillis is just what the NFL is looking for at the fullback position these days and if anyone is wondering what kind of impact he can have, just go back and watch the Hogs upset win over L.S.U. last year. Hillis may be facing an uphill battle to make the Broncos roster in 2008 and he will probably have to beat out either Cecil Sapp or Mike Bell but make no mistake about it he has what it takes to play in the NFL and could be a steal."
Initially, coming out of the draft, Hillis was rated so low by coaches that he wasn't even listed on Denver's running back depth chart for the 2008 season.
Then, injuries chipped away at the running backs above him until Hillis found himself on the cusp of consistent playing time.
He recovered from the slight of a 7th round pick (and the quagmire of the depth chart) by being named the starting fullback for 2008.
Fate later reared its head when running backs Selvin Young, Michael Pittman, and Andre Hall all went down with injuries a few weeks from one another.
When Ryan Torain came out of a Week 10 game against Cleveland, it was Hillis' time to shine.
Finally thrust into the starter's role a week later, Hillis ground out 44 yards and two touchdowns on 10 carries in a win over the Falcons.
A few weeks after that, he cracked the 100-yard mark and added a touchdown to help Denver take down the Jets.
That performance netted Hillis some recognition including Diet Pepsi NFL Rookie of the Week and FedEx Ground Player of the Week.
Hillis was just getting into the groove when he was injured himself.
In a game against Kansas City, Hillis was hit hard on a pass play and tore his right hamstring.
This led to him missing the rest of the season.
A good indication of just how bad the Broncos running backs were bit by the injury bug that year:
Hillis' limited action was enough for him to lead the Broncos in rushing in 2008… with 343 yards.
When the Broncos failed to make the playoffs that season, coach Mike Shanahan was fired and Denver brought in Patriots wunderkind Josh McDaniels.
Hoping not to replicate the running back woes of '08, McDaniels brought in Correll Buckhalter from the Eagles as a free agent.
Denver also drafted Georgia running back Knowshon Moreno in the first round of the 2009 draft.
With Moreno and Buckhalter on board, Hillis returned to the fullback position in 2009, despite his flash of potential the previous season.
By the end of the year, not much had changed and Hillis was still only opening running lanes instead of running through them.
He finished the year with a paltry 54 yards on 13 carries.
Speculation ran rampant in Denver over Hillis' lack of playing time.
Many Bronco fans believed that there was discord between Hillis and McDaniels.
For his part, Hillis downplayed the perceived controversy.
However, he was quoted by local media saying that his time in Denver was "up in the air."
As if on cue, Denver traded Hillis and future draft picks to Cleveland on March 14, 2010 in exchange for Quinn.
The Broncos have acquired QB Brady Quinn from Cleveland in exchange for FB Peyton Hillis and 2 draft picks. More on DenverBroncos.com. #fb

— Denver Broncos (@Broncos) March 14, 2010

His time in Denver can be summed up in a quote he during a 2015 interview:
"I never really was 'the guy,'" he said. "I was always the guy to fill the spot until somebody else came along."
Hillis Breaks Out in Cleveland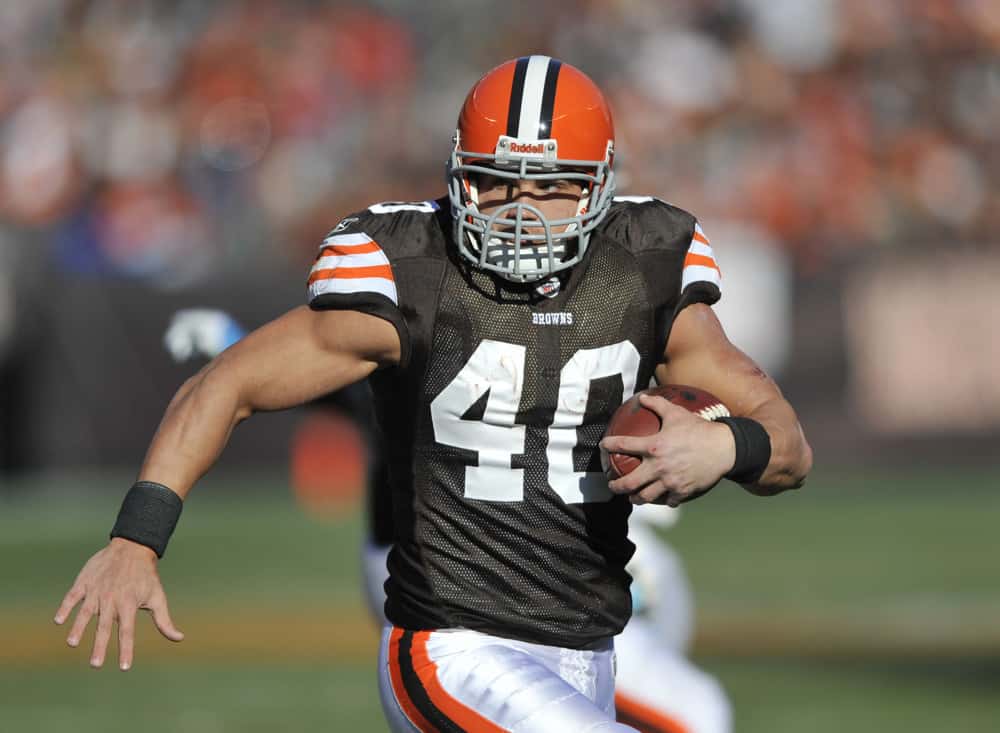 Upon arriving in Cleveland, Hillis found himself back in the same situation that he left in Denver.
Relegated to the bottom of the depth chart, he watched from the sidelines for the first two games of the 2010 season.
Then, injuries impacted the Browns as starters Jerome Harrison and James Davis went down.
In stepped Hillis to start against Baltimore in Week 3.
The previous season, the Ravens had only permitted 3.4 yards per rush.
However, during the course of the game, Hillis slashed and gashed his way to 144 yards rushing (at 6.5 yards per carry) and tacked on another 36 yards receiving.
Peyton Hillis First start was against Ray Lewis and the ravens and Ray told him he was the hardest RB he ever had to tackle 🤯🤯🤯🤯 pic.twitter.com/vTIGEmmiEJ

— D'Go (@RANBOY_D_Go) August 7, 2019

That performance kick-started Hillis' most productive year as a pro.
The following week against division rival Cincinnati, Hillis gained 100 yards and led the team to their first victory that year.
After the bye week, Hillis sent Cleveland into a frenzy when the team hosted a very good New England team.
At that point of the season, the Pats were at 6-1, on their way to a 14-2 record.
It just so happened that New England's second loss was sustained at the hands of Hillis and the Browns.
That day, Hillis ran over and through the Patriots to the tune of 184 rushing yards and 220 yards of total offense.
Remember that time Peyton Hillis rumbled for 184 yards to lead the @Browns past the Patriots? pic.twitter.com/PLwIYlU2XG

— NFLonCBS (@NFLonCBS) October 27, 2019

Cleveland crushed New England by 20 points in a 34-14 victory.
His performance in the victory brought Hillis the AFC Offensive Player of the Week honors.
That was the first time a Browns running back had been bestowed with the award since Eric Metcalf in 1992.
In Week 12 against Carolina, Hillis joined running back Marshall Faulk as the only two running backs to rack up 130 rushing yards, three rushing touchdowns, and 60 yards receiving in a single game.
During a Week 14 matchup with Buffalo, Hillis cracked the 1,000-yard plateau.
This would be the only time he accomplished the feat during his career.
Although Cleveland would end the 2010 season at 5-11, Hillis was on top of the world.
He completed the year with 1,177 rushing yards, 11 rushing touchdowns, 477 receiving yards, and two more receiving scores.
His combined yardage was 1,654 and was the sixth-best total in the NFL that season.
He also ended the season only 10 total yards behind Darren McFadden, his former backfield mate at Arkansas.
"It was a dream come true," Hillis told Bleacher Report in 2015. "I finally felt like I had a home at that point."
Madden Comes Calling
Fast forward to March of 2011.
The popular video game football franchise, Madden NFL, was looking for the cover athlete for their newest iteration.
For the first time in the game's history, Electronic Arts, the company that made the game, left the cover choice to the fans.
The company set up a 32 seed tournament-style voting structure and Hillis was ranked number 10.
With heavy voting by the Cleveland faithful, Hillis made it all the way to the final selection, leapfrogging such stars as Ray Rice, Matt Ryan, Aaron Rodgers, and Jamaal Charles.
In the final round, he faced off against Eagles quarterback Michael Vick.
Hillis was officially voted to grace the cover of Madden NFL 12 when he blew Vick away with 66% of the vote.
Peyton Hillis made the Madden cover in 2012. #NeverForget pic.twitter.com/LV29m1CM7w

— Faux NFL Network™ (@FauxNFLnetwork) May 14, 2017
Now that he made it to the pinnacle of fan stardom, all he had to do was avoid the dreaded Madden cover curse.
2011 and the end of Hillis' time as a Brown
The curse goes something like this: If an athlete appears on the cover of the Madden game, he will be subject to something catastrophic that will hamper his career.
The curse first reared its ugly head when 49ers running back Garrison Hearst (cover of the 1999 game) went down with a horrific injury later that season.
The injury kept Hearst out of football for the next two years.
In the following decade, each athlete that appeared on the cover of the game fell victim to some type of malady.
The curse finally seemed to subside after affecting Hillis.
From the following year (Calvin "Megatron" Johnson, Lions, 2013 cover) on, the curse hasn't been as voracious.
As it happens, the curse may have led to Hillis' down turn, though the jury is still out.
On the heels of his very successful 2010 season, Hillis was looking to repeat his success in 2011.
As the season was beginning, Hillis' agent was in negotiations with the Browns to strike a new contract deal.
He was in the final year of his rookie contract and was set to make $550,000.
Toward the end of 2010, Cleveland and Hillis' agent began negotiations but nothing happened.
"Every game I played, they did the same song and dance, 'We'll get you a deal, we'll get you a deal, we'll get you a deal,'" he said, noting that contract talks throughout the late summer were always prefaced by the team with the need to have him on the field while negotiations took place. "After a while, I just got tired of them lying to me and I'd just say, 'Listen, if you're not going to offer me a contract, then just say you're not going to offer me a contract."
While negotiations between the two parties went back-and-forth, Hillis struggled to stay on the field in '11.
Hamstring injuries kept him out of a few games as well as a curious case of strep throat.
In Week 3 of that year, Hillis did not play because of complications from a strep infection.
News surfaced later that Hillis sat out the game on the advice of his agent, Kennard McGuire.
Returning the following week aggravated his hamstring.
This set in motion a series of starts and stops that frustrated fans and teammates alike.
Looking back, Hillis shared his thoughts concerning that point of the season.
"A lot of it was stress and a lot of it was wondering why they (Browns management) weren't coming around, and I was too sick to play the [Miami] game," Hillis said. "And at that point, people started getting the idea that Peyton's holding out for contract reasons. Once that got around, I didn't want to disappoint the fans, so I went straight back to practice after that week feeling the way I did, and the way I felt, I ended up pulling a hamstring."
Hillis did provide a few highlight moments in 2011 including 94 rushing yards and two touchdowns against the Colts in Week 2, 99 yards rushing against Arizona in Week 15, and 112 yards against the Ravens in Week 16.
He finished the year with 587 yards rushing, 130 yards receiving, and three rushing touchdowns.
This, of course, was a far cry from the totals in 2010 and the team was not happy.
Contract negotiations with the Browns ground to a halt and the team did not re-sign Hillis, allowing him to eventually make his way to Kansas City.
For his part, Hillis had extended a "hometown" discount to Cleveland in negotiations, but the Browns did not budge.
To add to the drama, Hillis found himself dismissing claims that he was retiring from football to join the CIA.
Hillis explained in the 2015 Bleacher Report interview that he believes the Browns were never interested in resigning him for the long term.
"I think the Browns never really looked at me as a true running back," Hillis said. "Because obviously they didn't sign me back the year after that, but they did a good job turning the fans against me. I think they were just out to get me out of Cleveland. When you really look at it hard enough, that's really what it was."
Reaction about Hillis from Former Browns Teammates and Cleveland media
Throughout the 2011 season and after he departed to the Chiefs, several Browns players and staffers chafed at the idea that Hillis was a lame duck in Cleveland.
Numerous Browns players cited, among other things, Hillis missing a Halloween charity event, Hillis messing around before games where he was sitting out due to "injuries," getting married in October of the season while injured, and cycling through numerous agents.
As it turns out, Hillis fired McGuire later that year.
This made the fourth agent Hillis had canned in just over a year.
Former All-Pro tackle Joe Thomas was vocal in his opinion of Hillis after the '11 season.
"It was a terrible distraction. He crippled our offense. We were struggling to find anybody who could carry the ball after all the injuries we had. To have Peyton going through a contract dispute and basically refusing to play, it was a big distraction. But more than anything, he was our starting running back that was a good player who was going to help us be a successful offense. When he's not there and you don't have anybody to turn to, it makes it hard to win. And that's the distraction, it's not being successful."
#browns Joe thomas on Peyton hillis: "he got a lot of guidance (from teammates) but he wasn't listening"

— Mary Kay Cabot (@MaryKayCabot) December 5, 2012

Hillis has owned up to his share of mistakes that season, going so far as to admit he should have waited to get married and could have held his temper better when dealing with Browns management.
He also explained that he wasn't "thinking rationally" when axing McGuire, understanding that he should have stuck with one agent.
After hearing Thomas' assessment of his time in Cleveland, Hillis had this to say in 2015:
"If I saw Joe Thomas today, I'd say I'm sorry," Hillis said. "But I think there was a lot of things wrong with the organization at that point. He was a key figure there and he wanted his players to play, but I don't think he even fully understood what was going on at that point. That whole year I truly was hurt," he said, "and there was nothing I could do about it."
Hillis explained years later that he was suffering from intense mental stress and fatigue in 2011.
That mental aspect of the game affected him more than anything during that trying season.
"I was going through real bad depression during that time," he said. "I was getting help because I couldn't sleep, I was so upset that everything was going down the way it was and nobody could understand.

The fans didn't understand and the organization was against me and I couldn't play because I was hurt. You'd walk the street and people would talk smack at you and say you aren't doing this, and you're a traitor, you're this, you're that. And that hurt, because I'm not that kind of guy. I've always been a hard-nosed, blue-collar guy, just like the city of Cleveland. And it hurt me that I fell from grace so hard and so fast with a city that I can relate myself to."
In a 2019 Cleveland.com article, Terry Pluto wrote that the Browns were right on the money when they wavered in offering Hillis a long term deal.
Hillis had injury history in Denver and was fighting hamstring injuries in 2011.
The Browns also saw what Joe Thomas saw.
Hillis was an athlete who was distracted by off-field issues, to the point where it affected his play.
So, durability and maturity were strong considerations when the team was deciding to sign him long term.
Hillis' side of the events of 2011 could also be considered.
Were the injuries the result of him trying to please teammates, fans and Browns management?
Did he push himself too hard to prove himself worthy of a new contract and end up breaking down because of it?
It's also worth considering that, maybe, Hillis was playing out of position all along.
Although he has been quoted as saying he was never considered "the guy" or that the Browns didn't consider him a "true running back," maybe he wasn't.
Going back to his high school days, Hillis primarily played fullback.
In contrast to tailbacks, fullbacks do not typically carry the rushing load for a team.
If they do, something is seriously out of whack with the organization.
In the case of the Browns, 2010 edition, the team was out of whack because of injuries.
They needed a healthy running back, Hillis was available, and he stepped in.
However, maybe it was too much to expect Hillis to continue as a lead rusher in 2011 when his skill set was tailored more as a blocker and occasional table-setter.
Could the Browns have recognized this and at least paid him commensurate with a starting NFL fullback?
Unfortunately, Hillis did not get a chance to get back on track in Cleveland and win over management and teammates.
Instead, it was on to his third organization.
Kansas City, here I come…but not for long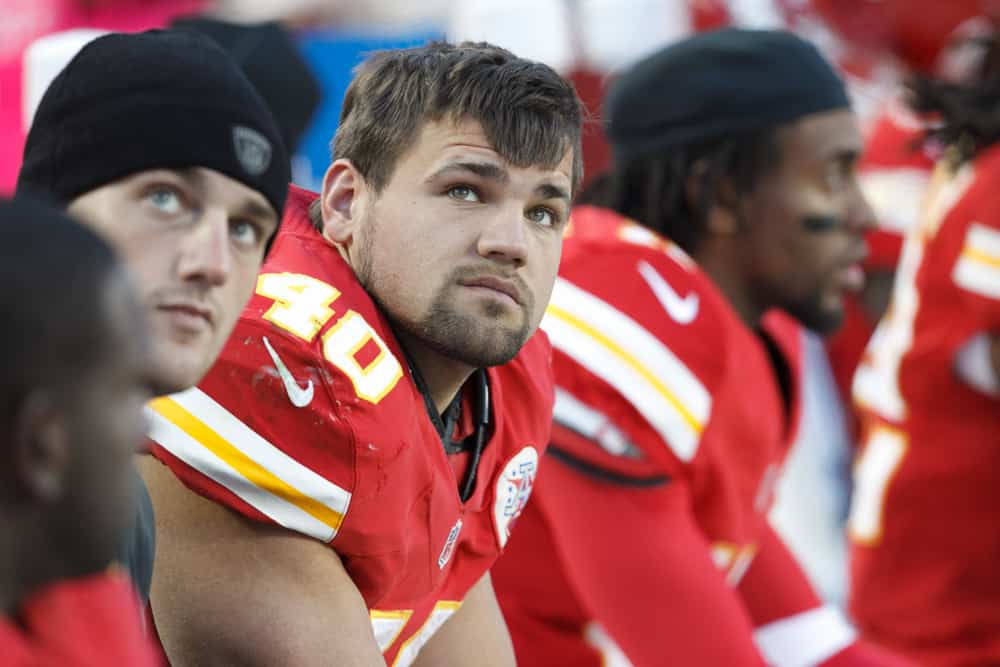 Hillis headed to Kansas City with perhaps a chance to clear his name and get back into the good graces of NFL fans.
For their part, the Chiefs believed in him enough to sign him to a one year deal at $2.8 million.
Alas, a Week 3 ankle injury, and a backup role to Jamaal Charles, led to 371 total yards and one score for the year.
The Chiefs let him walk after the season and it was on to Tampa Bay.
Tampa Bay and the Giants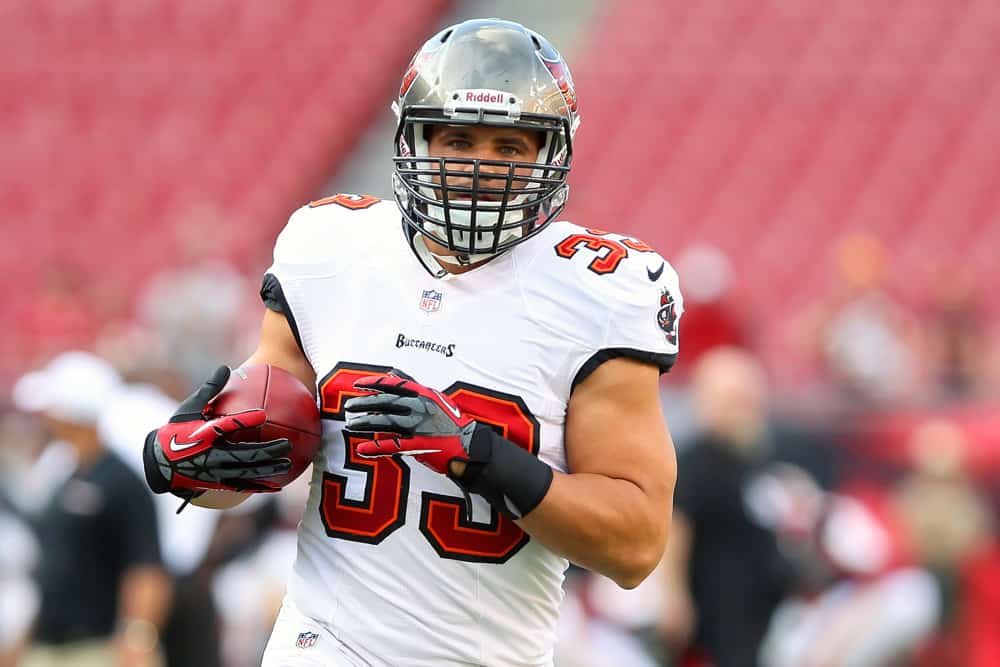 After leaving the Chiefs, Hillis landed in Tampa Bay in July of 2013.
Then, after being active with the Bucs for all of one game, the team released him in late September of that year.
In mid-October, the Giants picked him up on a two-year deal.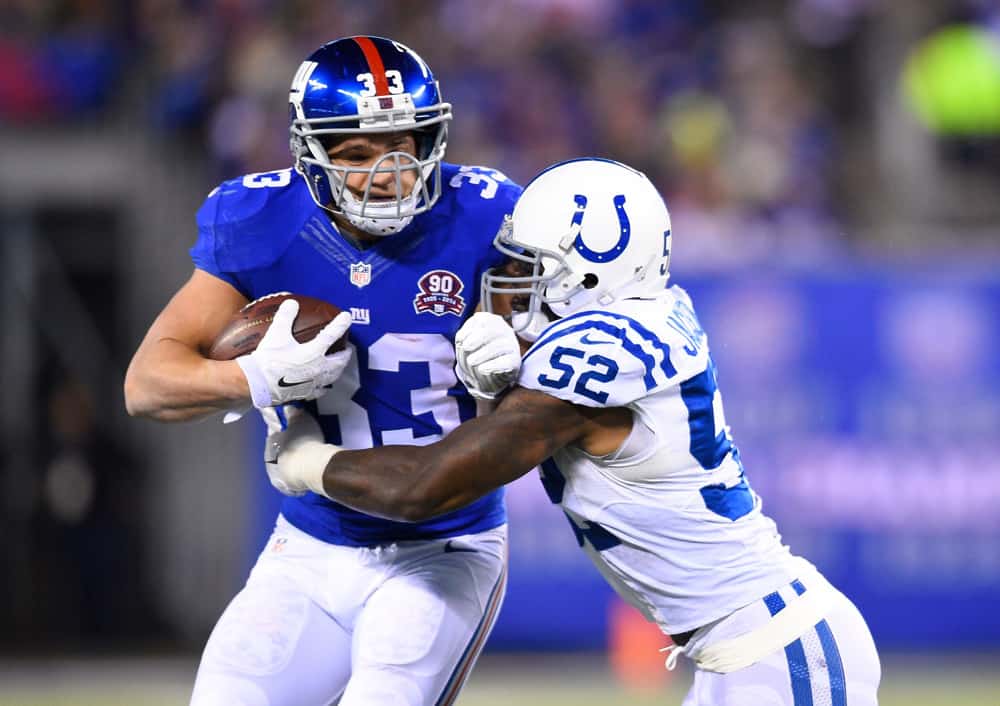 For the '13 season, Hillis gained 309 yards and two TDs on 73 carries and caught 13 passes for 96 yards.
In 2014, he rarely saw the field and only had 26 carries, 115 yards rushing, and 10 catches for 87 yards.
On the advice of his doctor, Hillis retired in early 2015.
As he mentioned at the time, he was effectively sapped of his love for the game and done in by injuries and concussions.
"…after a while, it got too hard. I didn't care as much anymore, I didn't care to work at it. Football brought me down. I still love the game and I still have a lot of friends in the game, but as far as NFL football goes, my heart's just not in it anymore."
Life after the NFL
Since retiring from the NFL, Hillis has lived a pretty quiet life.
Although he received backlash from Browns teammates and staff when he married in mid-season in 2011, Hillis' marriage to his wife, Amanda, has been a blessing to his life.
The couple live on a 1,300-acre soybean farm in Tennessee where they are raising their son, Orry.
He has volunteered his time as an assistant football coach at Siloam Springs High School in Arkansas.
Picture from yesterday… Former #Conway & Arkansas RB Peyton Hillis is a volunteer coach at Siloam Springs #arpreps https://t.co/FNWBd2bq17

— ARpreps (@arpreps) August 4, 2015

Also, in 2016, he bought the NWA Towing and Recovery company based in Fayetteville, Arkansas.
Basically, life is good now for the former Madden cover star.
During rare interviews, he shares that he would be in a much worse mental state now if it wasn't for his wife and family.
"I believe truly to this day that if I didn't have my wife and my family, I'd be in a lot worse state," he says. "I'm in a good state now, but I'd be really far off without them."