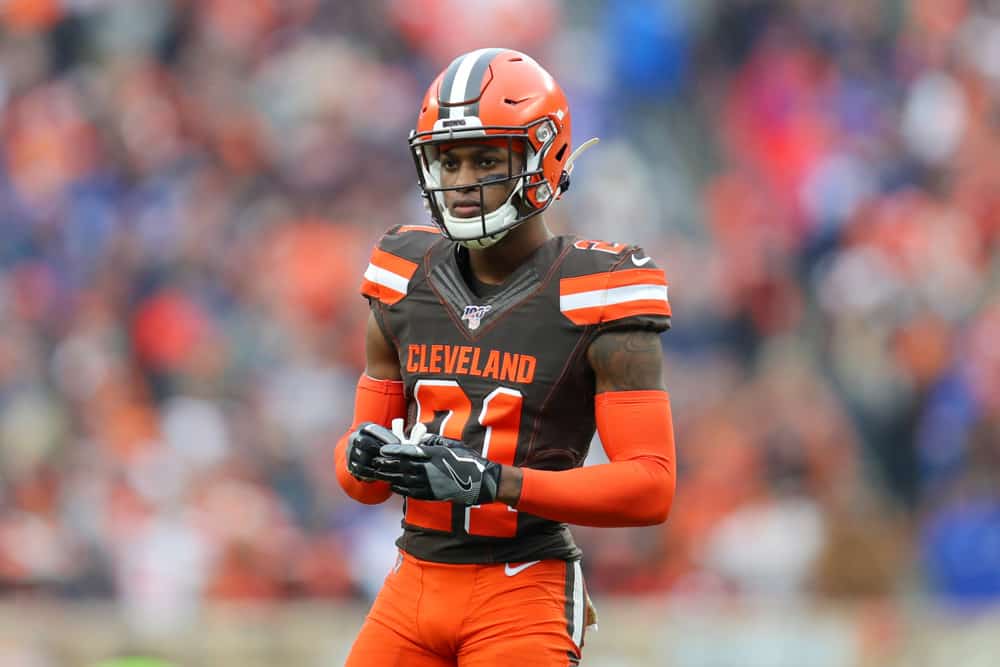 Maurice Moton of Bleacher Report ranked his top seven cornerback duos heading into the 2020 NFL season, and there were no Cleveland Browns to be found.
View this post on Instagram
Both Denzel Ward and Greedy Williams feel slighted by the fact that they were not included in the list:
"I see we need to earn our respect out here in Cleveland," Ward wrote. "Say less."

Greedy Williams chimed in on Ward's comment saying: "Let's turn up."
Entering his third NFL season, Ward is hoping to make the second Pro Bowl of his career.
Greedy Williams, who was a rookie last year, will need to step up this season for the Browns.
In order for the duo to make the top seven cornerback rankings in 2020, Ward and Williams will need to step up their games this season.
Expectations for Denzel Ward's 2020 Season
Ward's rookie 2018 season was impressive, as he made the NFL All-Rookie Team.
He had quite a few impressive performances during that year.
His first career NFL game was one to remember: six tackles, two interceptions, and three passes defended.
The tremendous game by Ward came in a 21-21 tie against the Pittsburgh Steelers.
The Ohio native was also the AFC Special Teams Player of the Week in Week 5 of 2018.
In the Browns' 12-9 overtime victory over the visiting Baltimore Ravens on October 7, Ward had another strong game.
He registered a total of five tackles and matched his career-high with three passes defended.
Ward also intercepted Joe Flacco, as the Browns prevented the Ravens from scoring any touchdowns in the contest.
The cornerback's best play of the game came on the final play of the first half.
Justin Tucker lined up for a 48-yard field goal with five seconds remaining in the half, and Ward blocked it.
The block preserved the Browns' 6-3 lead at halftime and eventually helped Cleveland win its second game of the 2018 season.
Unfortunately, Ward struggled in his sophomore year, as he had his first interception of 2019 in Week 14.
The Browns hope that Ward can be a leader this season.
In order for Ward and Williams, as well as the Browns defense, to succeed in 2020, they will also have to stay healthy.
Both were battling hamstring injuries in 2019, and Ward missed four games, all near the beginning of the season.
If Ward reverts to his 2018 form, then he will be an important part of Cleveland's defensive success in 2020.
Expectations for Greedy Williams' 2020 Season
Heading into 2019, Williams had high expectations, but he finished with just two passes defended during the season.
He did not intercept a pass, and he allowed 7.6 yards per target.
Although that mark was not the worst on the team, he will need to improve to get up to Ward's status.
While Ward's 2019 was a step back for him, he performed better than Williams in most categories.
When comparing their numbers from last season, they both played 12 games and had a similar number of tackles.
However, Williams did have an upper hand in one area.
Ward had 12 missed tackles while Williams had just eight, and Williams was better in terms of missed tackle percentage.
Ward was targeted 21 more times last season though, and that number compared similarly to his rookie season.
Browns fans are hoping that Williams can make a big jump in 2020.
If so, he and Ward may be able to be one of the best seven tandems at cornerback in the league.
Meanwhile, Bleacher Report has Celebrated Cleveland's Offense
In May, Bleacher Report was celebrating the Browns and their offense.
Cleveland's main two wide receivers, Odell Beckham Jr. and Jarvis Landry, are arguably the best receiver tandem in the NFL:
Top WR duos entering 2020 👁‍🗨

5️⃣ Seahawks
Lockett
DK

4️⃣ Chargers
Keenan
Mike Will

3️⃣ Falcons
Julio
Ridley

2️⃣ Browns
OBJ
Landry

1️⃣ Bucs
Evans
Godwinhttps://t.co/NRW5RO9Gc2

(via B/R's @Brad_Gagnon) pic.twitter.com/jqTWijIQBM

— B/R Gridiron (@brgridiron) May 27, 2020

Browns fans know how impressive Beckham and Landry are as weapons for Baker Mayfield.
Kurt Warner and LaDainian Tomlinson both believe that these two are the best duo at receiver in the league.
Meanwhile, Bleacher Report is even more enthused about another offensive position for Cleveland.
They are more confident in Nick Chubb and Kareem Hunt at the running back position:
Top RB duos via @nfldraftscout 👁‍🗨

8️⃣ Giants
RB1 Saquon
RB2 Dion

7️⃣ Titans
RB1 Henry
RB2 Evans

6️⃣ Broncos
RB1 MelGo
RB2 Lindsay

5️⃣ Cowboys
RB1 Zeke
RB2 Pollard

4️⃣ Saints
RB1 Kamara
RB2 Lat

3️⃣ Jets
RB1 Lev
RB2 Gore

2️⃣ Panthers
RB1 CMC
RB2 David

1️⃣ Browns
RB1 Chubb
RB2 Hunt pic.twitter.com/cvdAeFNDs7

— B/R Gridiron (@brgridiron) May 26, 2020
There is a chance that Chubb and Hunt can each hit the 1,000-yard mark in 2020.
Many media outlets are excited about the Browns' offense.
However, there are several reasons to be excited about the defense as well.