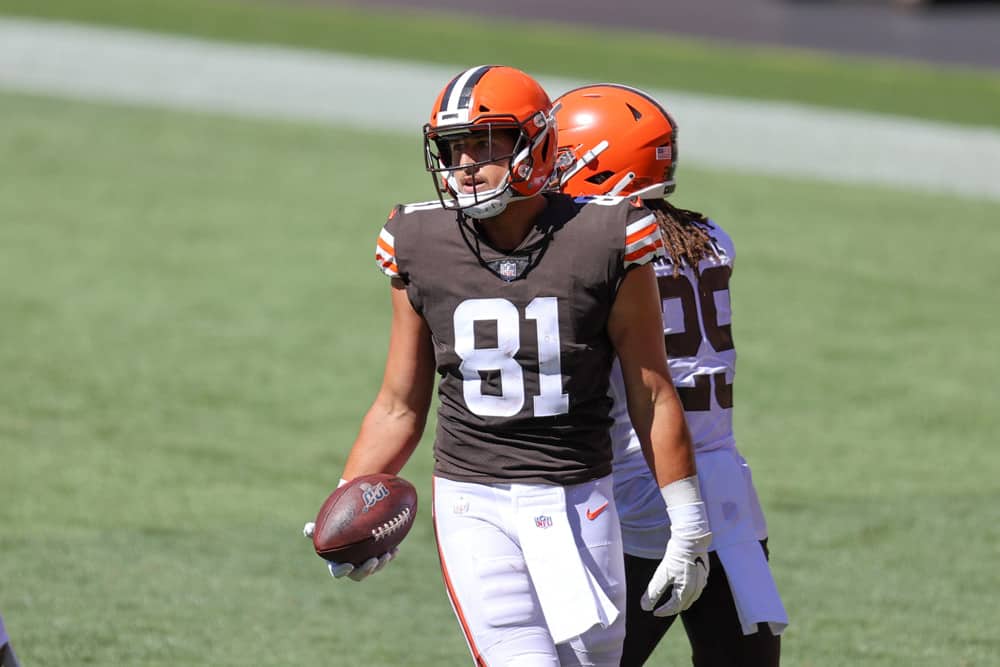 Austin Hooper joined the Cleveland Browns fresh off his second consecutive Pro Bowl season.
The former Falcon grabbed 146 catches and over 1400 yards over the past two years in 2018-2019.
Andrew Berry awarded him with the highest annual tight end salary in NFL history and big things were expected.
Per @TomPelissero, the Cleveland Browns are set to make Austin Hooper the highest-paid TE in football

Hooper: 8th highest graded TE in 2019 pic.twitter.com/y5n74P7lJa

— PFF (@PFF) March 16, 2020
But Hooper's contract quickly fell in status to the likes of George Kittle and Travis Kelce.
And his statistical output diminished almost as fast playing alongside a pair of equally-adept pass-catchers.
David Njoku and Harrison Bryant return to the field with Hooper, along with most of the 2020 offensive roster.
Does that mean Hooper is destined to see his impact watered down again?
Here are 3 bold predictions for Austin Hooper in 2021.
1. Hooper Tops 700 Receiving Yards 
Despite last year's competition for playing time, Austin Hooper was on the field for 75% of the offensive snaps.
Kevin Stefanski's preference for a 2-tight end set and Hooper's starter status worked in his favor.
And it made the former All Pro's production stand out more than it might have.
With only 46 catches and 435 yards, Hooper appeared closer to an average tight end than not.
This season-saving catch from Austin Hooper 🤯

(via @thecheckdown)pic.twitter.com/iNels878DP

— Bleacher Report (@BleacherReport) January 17, 2021
Hooper's target count was about 20% lower than in his All-Pro seasons.
Baker Mayfield threw fewer passes than most quarterbacks, and not just because of the Browns' running attack.
Cleveland's offense had trouble getting on the field, a problem their revamped defense aims to correct.
More snaps mean more targets, and a return to Hooper's average catch percentage and yards-per-catch helps, too.
That's why Hooper will catch more than 65 passes at 10.5 yards each to challenge the 700-yard mark.
2. Hooper Catches a Pair of 40-Plus Yarders 
Austin Hooper crashed onto the NFL tight end scene with a pair of long catch and runs in 2017.
The longest was an 88-yard touchdown that served to re-introduce the position in Atlanta.
But since that season, Hooper has not made a play longer than 36 yards.
Kevin Stefanski says he wants to open up things more in 2021.
The 88-yard Austin Hooper touchdown pic.twitter.com/7QutTqr06d

— Dov Kleiman (@NFL_DovKleiman) September 10, 2017
That makes the running game even more effective and takes advantage of Baker Mayfield's arm.
With a head coach and offensive coordinator who like to use motion and deception, anything is possible.
Stefanski has the returning Odell Beckham Jr and rookie speedster Anthony Schwartz at his disposal.
Their deep threat should leave the middle of the field open for the slot receiver… or a pass-catching tight end.
Hooper took advantage of a defense playing too deep to pull off his career-long plays.
He'll do the same- twice- for the Browns during their 2021 playoff run.
3. Austin Hooper Is a Top-5 Tight End 
Most fans expected Austin Hooper to lead the league in all categories under his new tight-end loving head coach.
But multiple factors worked against that outcome.
With Travis Kelce, Darren Waller, and George Kittle out there, Hooper might never be the NFL's top gun.
New England fans think Hunter Henry or Jonnu Smith will save their offense this year.
Austin Hooper shows off his good hands with the touchdown pic.twitter.com/7JQScoB4bW

— Everything Cleveland (@everythingcle_) December 21, 2020
And rookie Kyle Pitts has Hooper's former team dreaming big.
Even David Njoku dreams of entering free agency off a big year alongside Hooper.
But in a truly magical season in Cleveland, Hooper puts up a top-5 overall tight end performance.
Mark Andrews had the fifth-most receiving yards last year with 701.
And 7 touchdowns, one more than his career-high, puts Hooper just shy of Smith's fifth-best tally.
A couple of big plays shoots Hooper ahead of the pack in 2021.