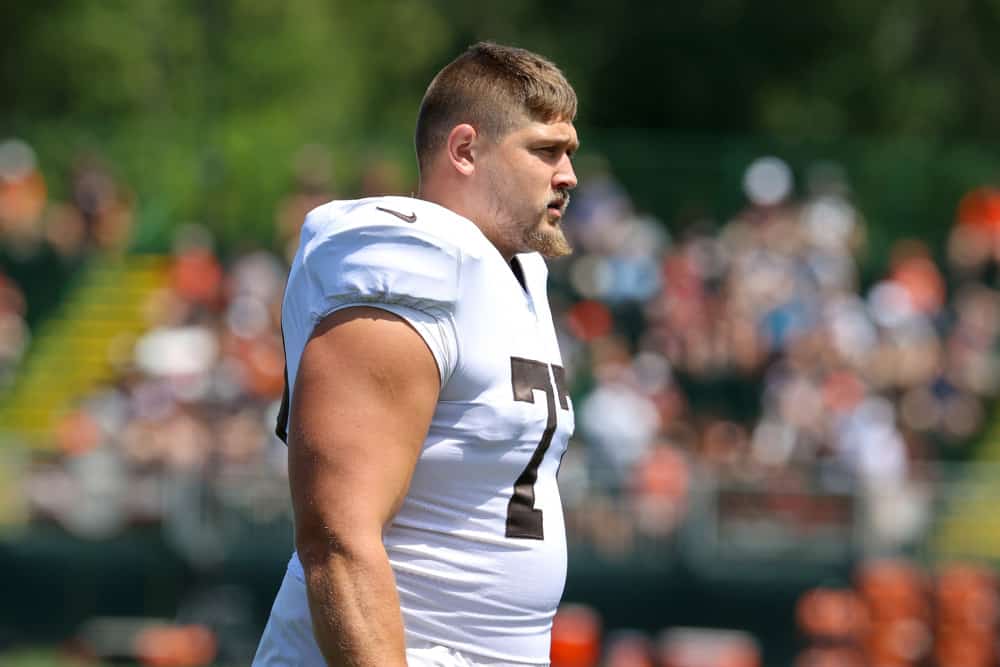 Fans are still talking about the Cleveland Browns' big 41-16 domination of the Cincinnati Bengals.
And with so many great performances, we can't blame them for arguing who the Player of the Game was.
Denzel Ward turned back a long opening drive with a huge pick-6, providing a 14-point swing before the offense took the field.
The Browns and Wyatt Teller have agreed on a 4-year contract extension, per @MikeGarafolo

Teller: PFF's offensive player of Week 9 (93.8 PFF Grade) pic.twitter.com/2TGbe7dfVp

— PFF (@PFF) November 9, 2021
Then there was Nick Chubb's big day, highlighted by a 70-yard jaunt through the Bengals' defense.
Donovan Peoples-Jones only had 2 catches, but what a pair of catches they were!
His 60-yard touchdown electrified Browns fans, and holding onto the second pass brought them to their feet again.
And we can't fail to mention Baker Mayfield, adjusting to his shoulder brace to the tune of a 132 passer rating.
Highest-graded #Browns in Week 9 (min. 25 snaps):

1️⃣ Wyatt Teller, OG- 93.8
2️⃣ Denzel Ward, CB- 93.1
3️⃣ Donovan Peoples-Jones, WR- 91.8
4️⃣ Baker Mayfield, QB- 89.8
5️⃣ John Johnson III, S- 85.8 pic.twitter.com/JNAxChEa4T

— PFF CLE Browns (@PFF_Browns) November 8, 2021
But leave it to the folks at Pro Football Focus to throw another name into the mix.
The major analyst group posted big rating numbers for a host of Browns players.
But today, PFF named guard Wyatt Teller the PFF Offensive Player of the Week.
How Offensive Guards Get Noticed 
PFF grades every player at every position using a series of data points and assessments, including guards.
But the typical fan can be hard-pressed to name a guard from another team, or even his own teams' backup.
Wyatt Teller warrants atypical attention on Sundays.
Wyatt Teller doing Wyatt Teller things today 🥞🥞🥞 pic.twitter.com/lV9bRrM44y

— The Big Guy (@WeAreBigGuys) November 7, 2021
Besides their more mundane scoring rules, PFF notes what they call "big time blocks" at all positions.
And Teller leads that PFF category most weeks.
This week, he set a new standard with 5 big-time blocks, including an absolute pancake of Bengals safety, Jesse Bates.
Bates had the best chance of stopping Nick Chubb's 70-yard touchdown run, but Teller would have none of it.
This block by Wyatt Teller just guaranteed that his grandchildren will be driving Bentleys in 42 years. pic.twitter.com/pcKCj69nB5

— CamFrom🇨🇦 (@camfromcanada3) November 7, 2021
Teller pulled to the left, emerging ahead of Chubb to hit Bates head on, leaving his feet to bury the defender.
Huge run blocks are Teller's calling card and helped earn him a 4-year contract extension this week.
But he improved his pass blocking, too, losing just one pass block battle during the game.
Week 9 Was Not Unusual For Teller 
Wyatt Teller picked right up where he left off after last year's breakout season.
He consistently ranks at or near the top of PFF's grading process, which is where he ended 2020.
On the season, Teller passed teammate Joel Bitonio (#3) to take the #2 spot among guards.
But over the past 5 weeks, Teller boasts an incredible 94.5 overall grade.
That is the highest PFF grade at any position over that span.
The #Browns signed OG Wyatt Teller to a 4-year, $56.8M extension, making him the third highest-paid guard in the league per @MaryKayCabot.

Teller: 89.8 grade in 2021 (2nd among OGs) pic.twitter.com/dEunhSkems

— PFF CLE Browns (@PFF_Browns) November 9, 2021
And it pulls his season grade to 89.8, a hair shy of the analysts' "elite" grade.
He seems destined to finish the season on top of the pack again.
Offensive line coach Bill Callahan certainly gets the most out of Teller and the rest of the offensive line.
And that could be why Teller opted not to test free agency this offseason.
The Browns announced a new 4-year extension at $14.5 million per season earlier today.