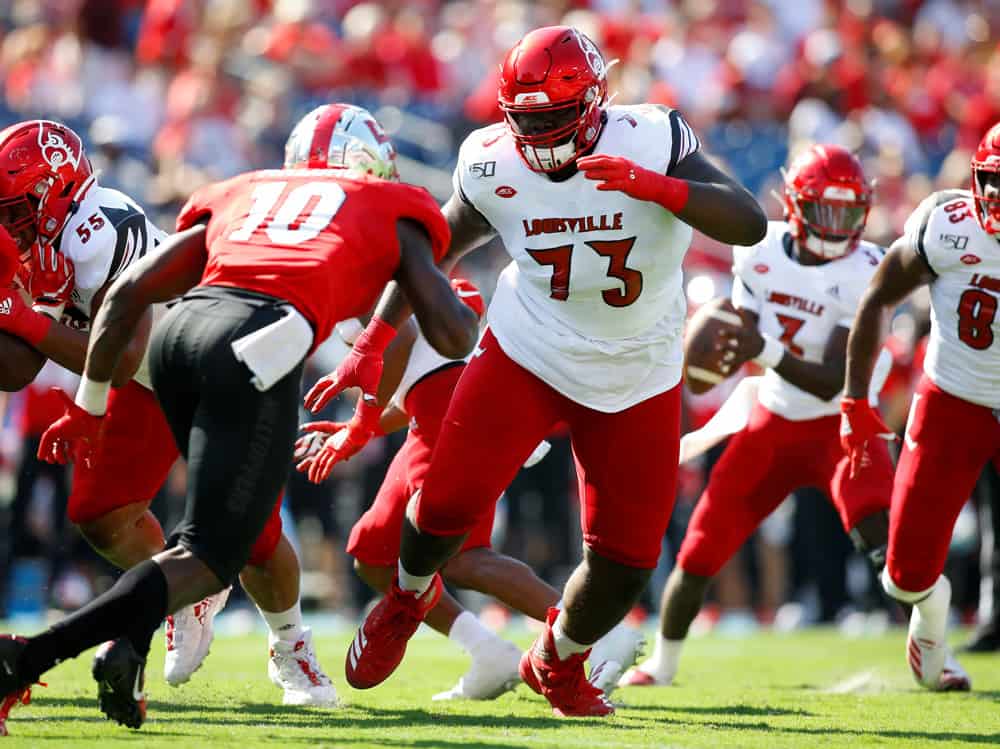 With the 10th pick in next week's draft, the Cleveland Browns are expected to pick an offensive tackle.
One of the tackles the team has been considering is Louisville's Mekhi Becton.
Becton has frequently been named as one of the draft's best tackle prospects.
However, his draft status may be severely affected after a recent report that his drug test at February's Combine was "flagged."
Multiple players had drug tests flagged at the NFL Combine & among those is projected top 10 pick #Louisville OT Mekhi Becton, I'm told. Teams were made aware of this. Becton had no failed drug tests in college. Per new CBA rules, he goes into Stage 1 for no more than 60 days.

— Ian Rapoport (@RapSheet) April 18, 2020
Becton's Test Among "A Number" of Flagged Tests
According to NFL Network's Ian Rapoport, Becton's drug test wasn't the only one flagged at the combine.
The names of the other draft prospects who were flagged is not immediately known.
During his time at Louisville, Becton had never tested positive for any type of drug use.
He will now enter Stage 1 of the NFL's Drug Intervention Program for substance abuse.
According to the NFL's latest collective bargaining agreement, Stage 1 of the program will not last longer than 60 days.
During this time, a medical doctor can require a flagged player to test for substance abuse as often as required to evaluate the player effectively.
If Becton does not test positive again during the 60 day period, he will revert to the same status as a player not referred to the program.
How Does This Affect Becton's Draft Status?
Becton was already on the radar of NFL scouts and general managers before the combine.
Then, he continued to display his athletic gifts during the combine's testing of offensive linemen.
Unexpectedly, he ran an astounding 5.1 40 yard dash time at the combine.
Lest anyone forget, this is a man who stands 6'7" and 364 pounds.
This performance alone propelled him from a top ten tackle to the top five.
Mekhi Becton, at 364 lbs, is the HEAVIEST PLAYER at this year's NFL Combine

Becton officially ran a 5.10 in his 40-yard dash 🤯

That is the 3RD FASTEST TIME by a player AT LEAST 340 lbs since 2006 👀

He is the No. 1 OT in the draft according to ESPN draft analyst Mel Kiper Jr. pic.twitter.com/vOIsTkSV3F

— ESPN Stats & Info (@ESPNStatsInfo) February 28, 2020
Although it is not known how this revelation will affect his draft positioning, NFL teams were given notice a week ahead of the draft.
This fact alone is significant as it gives Becton's camp time to implement damage control to restore his good name.
Compare this instance to the 2016 draft and offensive line prospect Laremy Tunsil.
Tunsil was a highly regarded offensive tackle who had played at Ole Miss.
He was already a shoe-in for the first round before the combine in '16.
During the combine, much like Becton, Tusil upgraded his draft status after a strong performance.
Before the 2016 draft, he was widely believed to be a possible number one overall pick.
However, only minutes before the draft began, a disturbing video from Tunsil's Twitter account surfaced.
NFL – #Dolphins believe Laremy Tunsil bong video leaked by former financial advisor. pic.twitter.com/WUg2N2IXR5

— ☇ASAP Sports News☇ (@ASAP_SportsNews) April 30, 2016
In the video, Tunsil was seen wearing a gas mask and smoking something from a bong.
The video came at the worst possible time and Tunsil's agent said his account had been hacked.
Immediately, some teams took Tunsil off their draft boards completely.
In the end, he slipped from the presumptive first pick to the 13th pick and the Miami Dolphins.
Whether or not what happened to Tunsil happens to Becton remains to be seen.
It is widely known that a prospect's potential salary goes down with each successive pick in the draft.
If teams believe Becton's flagged test is an actual red flag on his character, he will drop considerably.
As it stands now, Becton, his agent, and his team have less than a week to restore his name and his valuation.