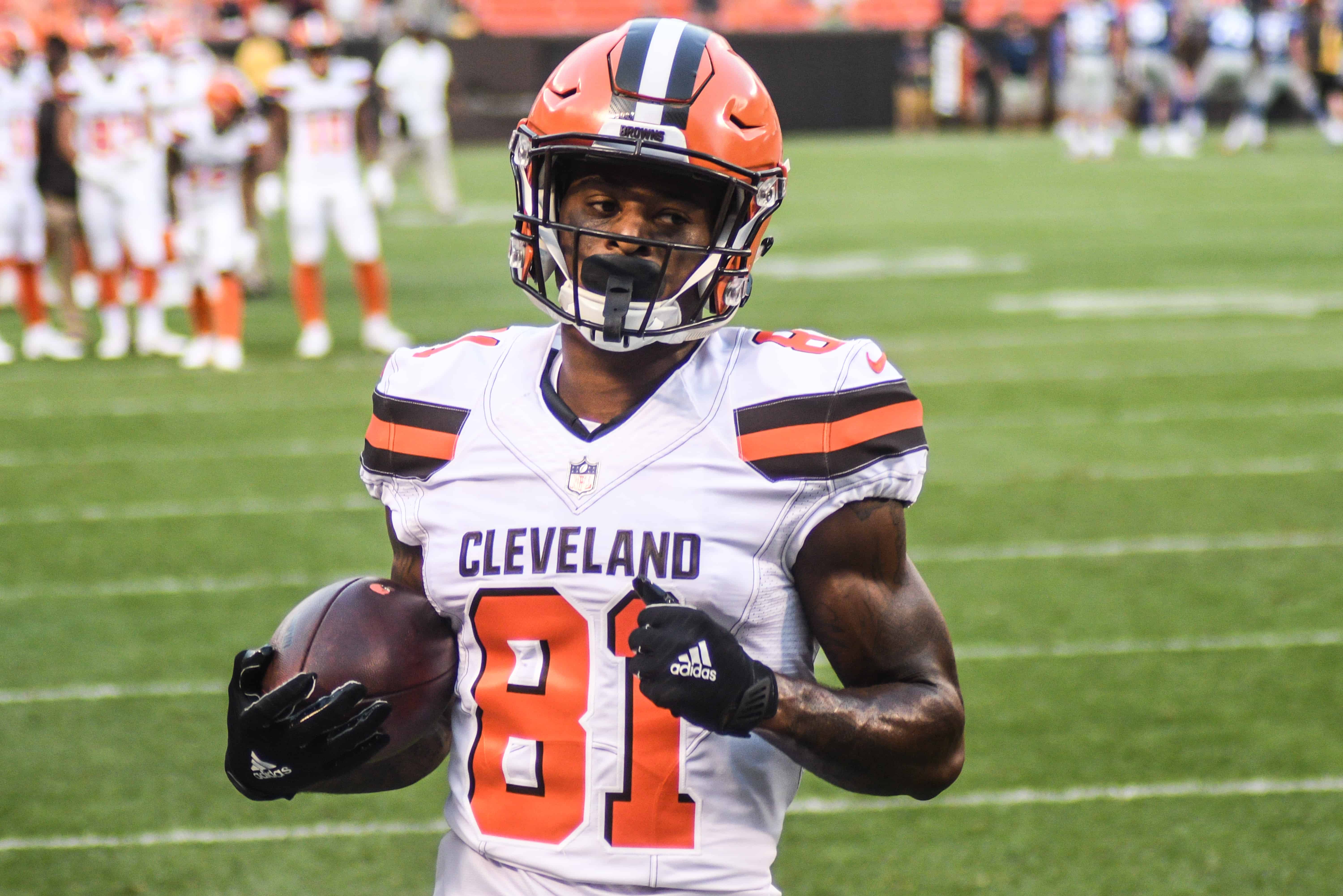 After weeks of nursing a knee injury, it seemed as if Rashard Higgins was healthy enough to get back on the field in Week 7 against the Seattle Seahawks. He failed to record a single offensive snap.
#Browns WRs ready to go, including Rashard Higgins, who's missed the past 5 games. pic.twitter.com/mzNV9prY0W

— Fred Greetham (@FredGreetham) October 23, 2019
Most analysts chalked up his lack of playing time to a poor decision made by head coach Freddie Kitchens. Based on Antonio Callaway's start to the season, what's the harm in bringing back Baker Mayfield's top target in 2018 as the third-string wide receiver?
As it turns out, Higgins refused to enter the game against the Seahawks. Jason Lloyd of The Athletic reports, "Multiple sources told The Athletic in recent weeks that Higgins was told to go into the game and declined. The reasons behind it remain a mystery. When I pressed him again about it this week, Higgins refused to talk about the Seattle game."
After suiting up against the New England Patriots and Cleveland Browns, Kitchens offered some harsh support for Higgins, "We feel like he's doing a better job right now. Contrary to popular belief, Higgins was not ready to play three weeks ago. Ask Higgins again about two weeks ago, he might have a different answer now."
#Browns Rashard Higgins said he was surprised that he didn't play against the Seahawks. Said he's healthy and feels good. pic.twitter.com/jEONp2lsNz

— Fred Greetham (@FredGreetham) October 15, 2019
The Cleveland Browns' locker room is clearly a mess. It would take Sherlock Holmes and Dr. John Watson to figure out who is to blame for what. However, it seems like Higgins' frustration stems from the offseason acquisition of Odell Beckham Jr.
Browns' offensive coordinator Todd Monken, speaking on the Higgins' drama, states, "Obviously, last year, they also did not have Odell. That is part of it as well. You had some other guys that were more role players. All of a sudden a player's role changes and he is trying to find a niche, and we are, too. It is a little more complicated than that, but obviously, he is a guy that Baker has real comfort in. We do have to get him more involved. We do. You are right. Have him a bigger factor in what we do. [There] is only so much you can do. Like I said before, one ball, but it has been frustrating I am sure for him and for us."
In 2018, Higgins was a team leader. In 2019, he is refusing to take the field when given the opportunity. There is definitely more to this developing story. Hopefully, as it unfolds over the next few weeks, Higgins finds a more defined role with Cleveland. He is a great playmaker, and Mayfield needs a security blanket right now.
Jarvis Landry launches a perfect pass to Rashard Higgins pic.twitter.com/Sp39zMCMHr

— NFL Update (@MySportsUpdate) December 23, 2018
Regardless of what the issue is, if the Browns want a chance to make the playoffs this season (albeit, a small one), the locker room needs to figure this situation out immediately.