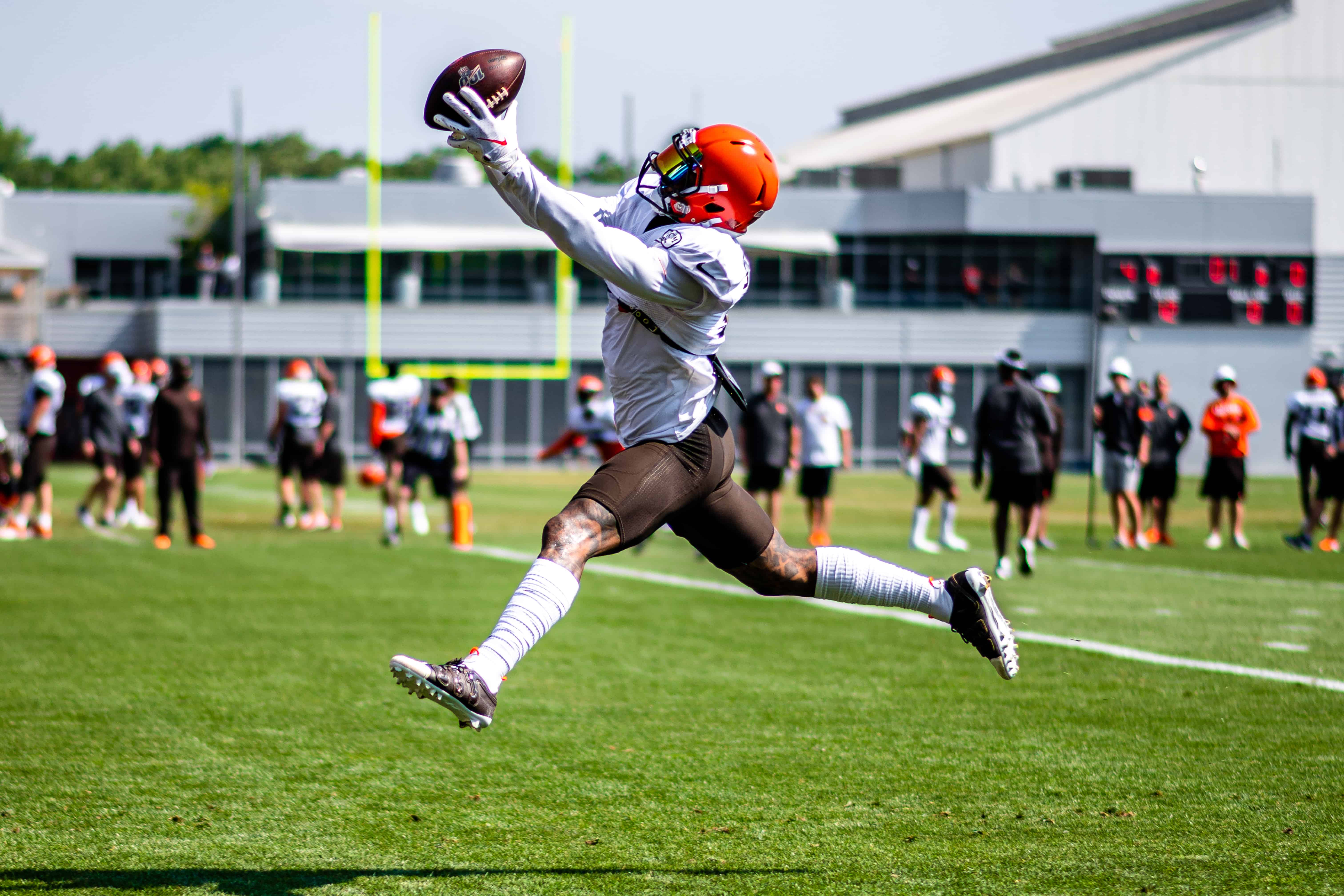 Odell Beckham Jr.'s comment that he "can't get the ball to save [his] life" seems justified after Baker Mayfield admitted to not looking in Beckham's direction on the do-or-die final play against the Denver Broncos last week.
However, more than one play is to blame for Beckham sporting the worst statistical season of his career. The Mayfield to Beckham connection is not clicking.
Beckham is adjusting to Mayfield's arm, but the star wide receiver still boasts the fifth-best "extra" yards after catch (YAC over what NextGen Stats expect) and 2 of the 20 most improbable catches of the season.
The throw 🎯
The catch 🙌
The spin 💫@OBJ is something else 👏

Can the @Browns come back in Denver? pic.twitter.com/GX8yFIg8Ll

— NFL UK (@NFLUK) November 4, 2019
Both Mayfield and Beckham are struggling halfway through the Browns' 2019 campaign, but here are five ways Freddie Kitchens can help Beckham and Mayfield get it together.
1. Get Rashard Higgins Back Into the Mix
Rashard Higgins graded out as the best wide receiver in the NFL in deep routes from the left side of the field in 2018. Mayfield favored him frequently.
Putting Higgins opposite Beckham will make safeties think twice about which way to lean. It will buy Mayfield another split second to make decisions, as well.
2. Clean Up Play-Action
Kareem Hunt joins Nick Chubb in the backfield this weekend. The Browns have failed to run an effective play-action thus far this season, but that needs to change.
Teams don't react enough to Mayfield's fake handoffs. Reducing the use of 11 personnel in favor of two-tight-end sets will help him sell the run better.
3. Let Baker Mayfield Use His Legs
Two of Mayfield's best plays against Denver were scrambles. On each play, Mayfield smiled widely as he raced up the field.
Last season, Mayfield ran three times as often as he is to start 2019. Kitchens needs to let him loose on occasion to slow the pass rush and give safeties something to think about. It could spark Mayfield's passing attack.
4. Use Odell Beckham Jr. in the Red Zone
OBJ saw one target in six red-zone trips last week. He has four red-zone targets on the year.
Beckham runs excellent corner routes and can fight for short crossing patterns. His vertical is great, and he can reach out of bounds for completions. Cleveland has to utilize Beckham better in the red zone.
5. Get Baker Mayfield Back on Board
Mayfield's comments about fans "expecting everything to be flowers and sunshine" when Beckham came to Cleveland didn't play well with Beckham fans. To not look his way on a game-deciding fourth down was unconscionable.
Whether it's a trust issue or personal tension, Mayfield has to buy the Beckham-hype if this arrangement is going to work.
Beckham's detractors point to his antics and blame immaturity for his lackluster statistics, but current and former teammates insist he is as dedicated and hard-working as anyone. The Browns need to figure out how to get Beckham rolling in Cleveland.