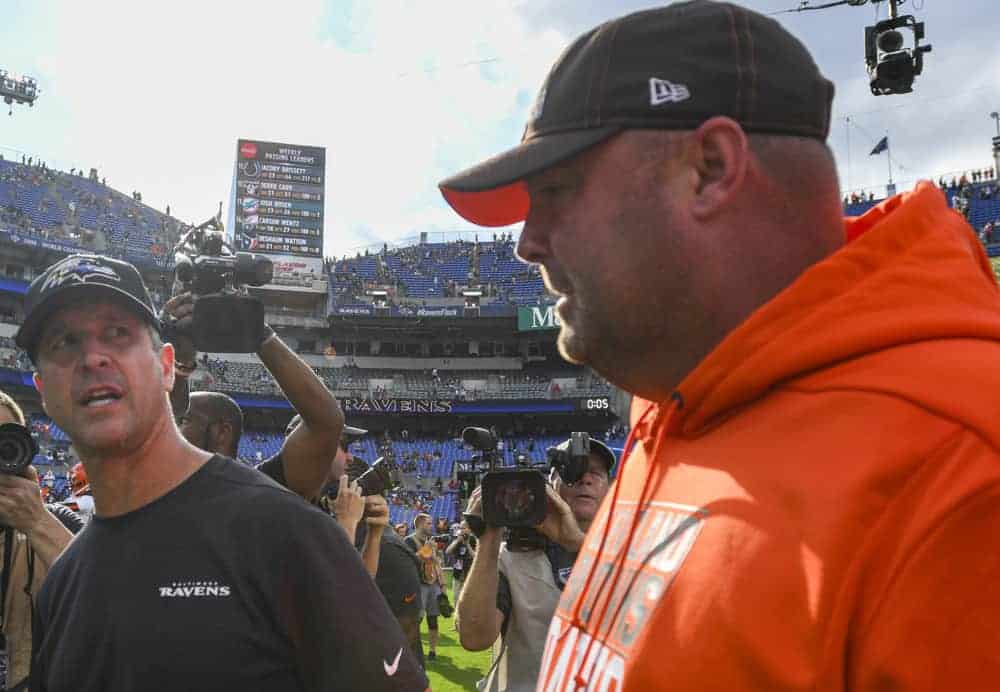 The Browns beat the Baltimore Ravens 40-25 Sunday, but coach Freddie Kitchens wasn't happy about everything that happened on the field.
Kitchens told Sal Paolantonio of ESPN that the scuffle between Ravens defensive back Marlon Humphrey and Odell Beckham Jr, was the result of a pattern of the Ravens taking cheap shots at Beckham.
"I saw what you saw," Browns coach Freddie Kitchens said after the game.  "He was getting choked on the ground. They get away with that because it's Odell. I'm going to be one the phone with (NFL vice president of officiating) Al (Riveron) when I get on the bus."
Beckham and Humphrey had tension brewing between them much of the day.
Everything boiled over in the third quarter when punches were thrown.
The play resulted in Humphrey choke-slamming Beckham to the ground while a referee watched it right in front of him.
Beckham and Humphrey both got flagged for the scuffle, but Humphrey was not ejected.
Marlon Humphrey literally tried to kill OBJ pic.twitter.com/g74wQamnhN

— NFL Humor (@NFLHumor) September 29, 2019
OBJ and Humphrey going at it. pic.twitter.com/r6bxIo0Uum

— KingRablo NFL Pred(33-15) (@RichardJAdkins) September 29, 2019
Beckham did have one regret after the game:
#Browns WR Odell Beckham downplayed his tussle with #Ravens CB Marlon Humphrey: "I'm just upset I lost my earring."

— Mike Garafolo (@MikeGarafolo) September 29, 2019
Humphrey aplogized after the game to Beckham and said the following:
"I ran into him after the game and apologized, it's not really the brand of football I really want to represent," Humphrey told reporters after the game. "When the whistle blows, it's got to be over with. It got my team a flag and it's never good when you get a flag. Like I said, it's not the brand I want to represent, so I was happy I was able to talk to him after the game."