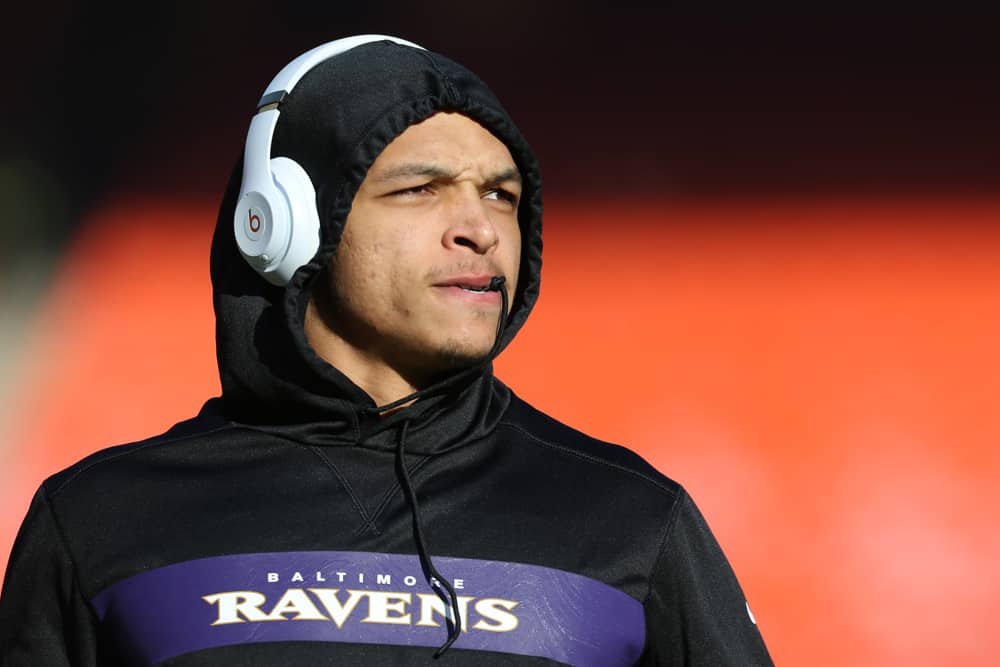 As the saying goes, "Hell hath no fury like a woman scorned… or an insulted Cleveland Browns fan."
Or something like that.
Willie Snead prompted the fury of Browns´ social media by weighing in on Myles Garrett´s new deal.
In an apparently deleted entry, Snead tweeted,
"That's the Cleveland Browns for you!"
He threw in a shoulder shrug meme for effect in response to this post, duplicated on several other sites:
Perspective… pic.twitter.com/fXKM0Kg8Dl

— NFL Memes (@NFL_Memes) July 15, 2020
Browns fans wasted no time responding to Snead´s slight of their beloved team.
Many remembered Snead got his start from the Cleveland Browns.
The team signed him as an undrafted free agent.
Snead was a final-round cut, but his exposure earned him practice squad slots with the Panthers and Saints.
He went on to enjoy a couple of decent seasons as the WR-2/3 in New Orleans before signing with Baltimore.
But if Snead thinks his $6 million extension earns him respect as a vital cog in the division champions´ team,
Well, Browns fans are less impressed.
"Baltimore Ravens wide receiver Willie Snead had some choice words for the Cleveland Browns after the team inked star pass-rusher Myles Garrett to a massive deal"

uh.. WILLIE SNEAD?? .. you mean a 'never was' that on his best day could not make this year's browns roster.. 😏

— BrownsFreak51 (@BrownsFreak51) July 17, 2020
Browns Fans Never Forget 
Cleveland has some of the best football fans in the world.
Most of them remember the names of every player who sported a Browns uniform.
Even if they only played in a single preseason, details remain fresh.
Former Browns WR (not good enough) and current Ravens WR Willie Snead is not happy Myles Garrett just got paid…

…so I present to you the roast of @Willie_Snead4G🤬 pic.twitter.com/C1Syq40Wue

— Joey aka Sir Yacht (@SirYacht) July 17, 2020
Initially, it appeared Snead took the retorts in stride.
After all, it goes with the territory on social media.
Snead even thanked Joey (aka Sir Yacht) for the history lesson he provided.
But there were signs of stress the next day.
Yea & they put that big azz chip on my shoulder the day they cut me 😶😶 #dont@me

— Willie Snead IV (@Willie_Snead4G) July 16, 2020
And even though he tried to shrug off Joey the yacht guy,
This happened:
Good news: Willie Snead blocked somebody for once

Bad news: it was me pic.twitter.com/SPhAFDfibA

— Joey aka Sir Yacht (@SirYacht) July 17, 2020
Can´t We All Just Get Along? 
Browns fans realize Willie Snead is more than a former Browns player.
He is a current Ravens player.
That certainly did nothing to temper the fans´ reaction to his dissing comment.
Short of paying for season tickets so every fan can attend Browns games this year,
There is little Snead can do to earn back the love of the Dawg Pound or other fans of his rival team.
But there is this, posted Friday morning:
Browns Fans, I apologize for the ill words I spoke yesterday. I'm definitely happy for 95 cashing in.. I will be forever Grateful for the start u guys gave me in the NFL. I'm also Grateful I get an opportunity to stomp a mud hole in yal 💩 twice a year.. See you Week 1 🖤💜 Love

— Willie Snead IV (@Willie_Snead4G) July 17, 2020
The odds of Baltimore´s 6-million-dollar man stomping mud holes versus the Browns seem long.
Much longer than the odds of our 125-million-dollar man doing the same to Baltimore.
Speaking of which, Myles Garrett was not among those who responded to Snead´s initial tweet.
Yet.
Snead and Garrett line up on opposite sides of the ball opening day, September 13, in Baltimore.