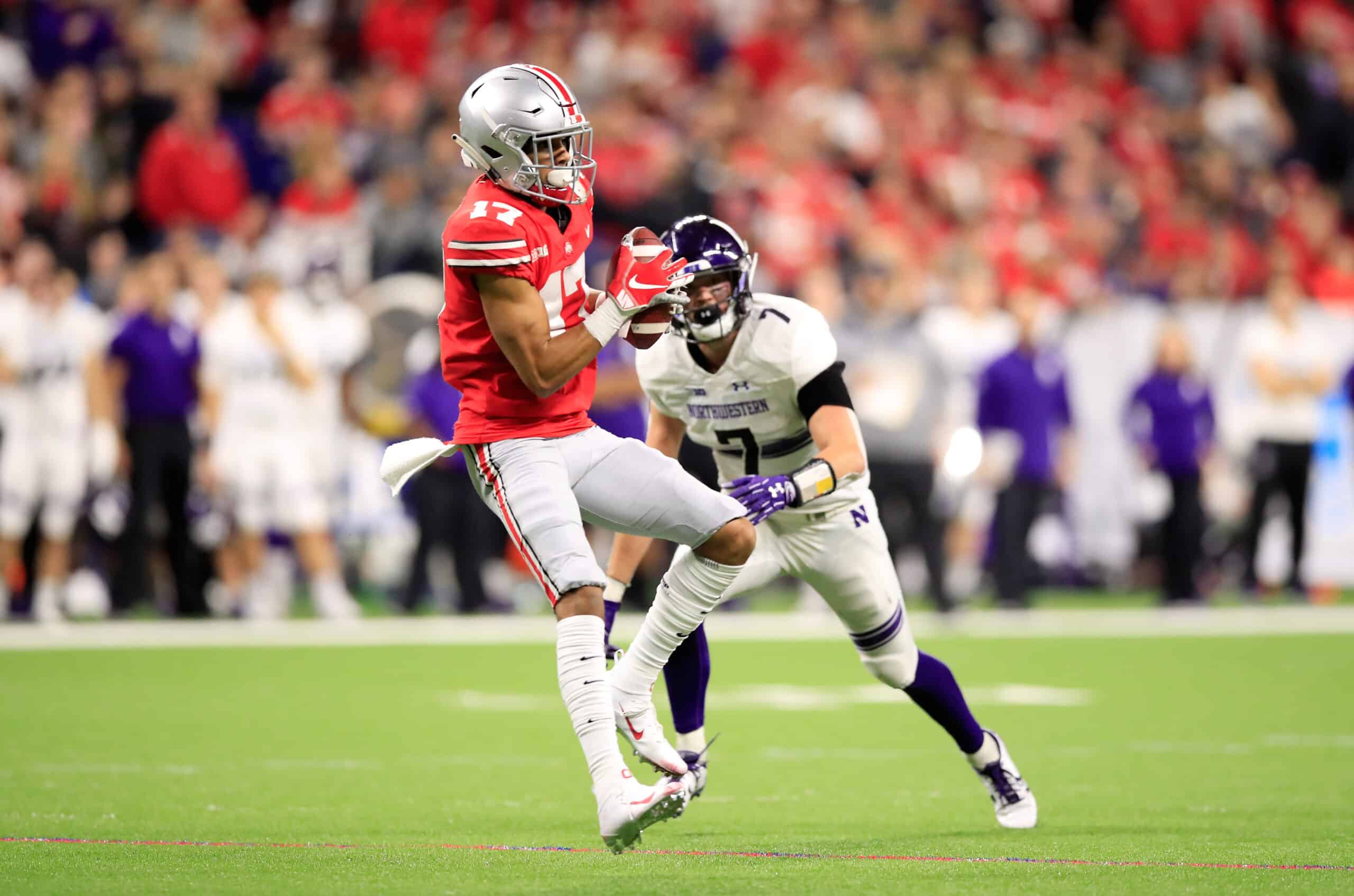 On November 7, the Browns overcame a tumultuous week to defeat the Bengals in Cincinnati.
The win put the team at 5-4 and gives them some confidence going forward.
In the days leading up to the game, Cleveland's locker room was a disaster.
OBJ's father blasted Baker Mayfield's missed throws to his son.
Various Browns jumped to OBJ's defense.
Then, there were the calls to "free OBJ."
On Friday, the Browns did just that, releasing OBJ after negotiating his final contract numbers.
Cleveland looked in sync on Sunday and Mayfield posted his best QB rating of the season (132.6).
However, looking ahead to next year, there is a need by Cleveland to look for a replacement receiver (or two).
As of now, the Browns have Jarvis Landry, Anthony Schwartz, Donovan Peoples-Jones and Demetric Felton under contract for 2022.
.@dpeoplesjones leads all NFL receivers in 2021 with 20.9 yards per reception.

— Cleveland Browns (@Browns) November 9, 2021
Rashard Higgins will become an unrestricted free agent after this season.
As we have seen with the OBJ situation, contracts don't mean much.
Even though a player is signed through next year, it doesn't necessarily mean they will still be with the club in '22.
Andrew Berry and friends will address this position in free agency and the draft.
So, here is an early look at five receivers (plus a bonus) the Browns should target in the 2022 NFL Draft.
Note:  The following players are not listed in ranked order.
They simply represent possible players to consider.
1. Chris Olave, Senior, Ohio State
Olave is a local product from Ohio State.
He is currently a senior and probably could have declared for the NFL draft last year.
You can't guard Chris Olave ❌#CFB

— PFF College (@PFF_College) November 6, 2021
Olave first gained national acclaim when he caught no less than 93 passes for over 1,700 yards and 26 touchdowns as a senior at Mission Hills High School in San Marcos, California.
He chose OSU over a number of schools including UCLA and USC.
Olave saw some playing time as a freshman in 2018, hauling in 12 receptions for three touchdowns.
In 2019, he snagged 49 passes for 849 yards and 12 scores.
Last season, Olave had 50 catches for 729 yards and seven scores.
So far in 2021, Olave has collected 42 passes for 623 yards and 10 touchdowns.
Olave is listed at 6'1" and 189 pounds.
He is a game-breaking receiver who can fight through man-to-man jams at the line of scrimmage.
CHRIS OLAVE 😱 pic.twitter.com/I1Z8z9DeLV

— Buckeye Videos+ (@BuckeyeVideos) November 1, 2020
Olave is a smooth route runner with fluid hips and a willingness to fight for the ball.
He is a great long ball threat with 4.4 speed.
Olave was already solid in 2020.
He has appeared to only get better in 2021.
NFL scouts have projected him as a first or early second-round pick.
2. Drake London, Junior, USC
London is another California product who hails from Moorpark High School in Moorpark, California.
As a high school senior, London grabbed 62 receptions for over 1,000 yards and 12 scores.
During his freshman year at 'SC, London started nine games and caught 39 passes for 567 yards and five touchdowns.
London also played some basketball for the Trojans, although he was used sparingly.
In 2020, London's productivity dipped a little when he caught 33 balls for 502 yards and three scores.
This season, he simply exploded.
Through October, London had caught 88 passes for 1,084 yards and seven touchdowns.
YOU ARE INSANE, DRAKE LONDON 🔥

— PFF College (@PFF_College) October 2, 2021
He was well on his way to racking up well over 100 receptions for USC.
Unfortunately, during the Trojans October 30 game against Arizona, London fractured his right ankle and is done for the remainder of the year.
He sustained the injury while scoring on a six-yard pass.
USC interim coach Donte Williams is devastated for London.
"In those eight games he played, all the awards you can think of he deserves, whether it's the Biletnikoff, whether it's first-team All-American. The things he did for this team and this university, he was about to put up one of the best statistical seasons any receiver has ever put up in college football, and that's saying a lot."
Before he went down with his injury, London was a serious threat in the short and long passing game.
His 40 time has been clocked at 4.5, but he has a smoothness that belies what the stopwatch says.
London is 6'5" and 210 pounds.
With his size (and basketball background) he can box-out his man and high point for the catch.
London is also a great yards-after-catch receiver, breaking well over 30 tackles since the beginning of 2020.
Drake London juking defenders, breaking tacklers to the house! 🤯 pic.twitter.com/O5tlfMK3kr

— ESPN College Football (@ESPNCFB) December 13, 2020
Due to his untimely injury, London may choose to return for his senior year.
However, there has been a precedent of college players sustaining injuries during their final college year only to be drafted in the first round regardless.
Based on his impressive 2021 numbers, London may declare as planned and rehab in time to report for mini-camp next summer.
3. Garrett Wilson, Junior, Ohio State
Wilson is another Ohio State star who has performed well even with Olave on the other side of the field.
He hails from Lake Travis High School in Austin, Texas.
Lake Travis is a football factory that has also produced Browns quarterback Baker Mayfield.
During his prep career, Wilson hauled in 204 receptions for 3,359 yards and 55 touchdowns.
After choosing to attend OSU, Wilson started immediately and played in every game in 2019.
Watched a lot of 2021 Garrett Wilson this week

Honestly hard to find 'weaknesses' in his game

Route running, body control, tough and shifty running after the catch…he's the total package at WR pic.twitter.com/n8ZAofTMBm

— Connor Rogers (@ConnorJRogers) November 5, 2021
That season, he caught 30 passes for 432 yards and five touchdowns.
Last year, Wilson collected 43 passes for 723 yards and six scores.
Through October, he has 43 receptions for 687 yards and six scores.
Wilson did not play in the Buckeyes November 6 game against Nebraska due to injury.
The team expects him back for the game against Purdue on November 13.
Wilson possesses great lateral speed and high-point ability.
NFL scouts rave about his "three-level threat."
Basically, that means Wilson can convert before the catch, at the catch point, and after the catch.
He might only be 6'0" and 188 pounds, but Wilson can jump out of the stadium and will out-work defenders for the ball.
Garrett Wilson made this unreal catch as a TRUE freshman 🤯 pic.twitter.com/x0hh5l7l4F

— ESPN College Football (@ESPNCFB) May 27, 2020
As a junior, Wilson could return for his senior year.
However, does he really have anything left to prove at the college level?
4. Treylon Burks, Junior, Arkansas
Burks has spent this season motoring up the draft board of numerous NFL scouts and personnel.
After a prep career at Warren High School in Warren, Arkansas (where he caught 151 total passes for 3,403 yards and 43 scores), he matriculated to Arkansas.
Burks tore his ACL as a high school senior, but that did not prevent him from playing as a freshman for the Razorbacks.
In 2019, Burks caught 29 passes for 475 yards.
Last season, he caught 51 passes for 820 yards and seven scores.
Burks' ascension has coincided with the Razorbacks' ascension in their win/loss record.
Treylon Burks is a stud. pic.twitter.com/D1UDiY09M4

— SportsTalkSEC (@SportsTalk_SEC) October 12, 2021
After only seven wins total the past three years, Arkansas is currently 6-3.
Through November 6, Burks has tallied 48 receptions for 799 yards and eight touchdowns.
He is considered the top receiving threat for the Razorbacks for good reason.
Although he is still working on technique and man separation, Burks' 4.4 speed makes him difficult to keep up with.
What scouts also love is his frame.
At 6'3", 220 pounds, Burks is physical and has the length to bring down any contested catch.
Treylon Burks: 152.1 passer rating when targeted since 2020

Highest in College Football pic.twitter.com/OvUBwyMUrO

— PFF College (@PFF_College) October 27, 2021
He is also adept at collecting yards after the catch.
Has Burks done enough to convince NFL teams to select him in the first or second round in 2022?
Most scouts would say "yes."
However, he could return for his senior year.
5. Jahan Dotson, Senior, Penn State
They say big things come in small packages and Dotson has proved it during his time in Happy Valley.
A native of Pennsylvania, the 5'11", 184 pound Dotson set program records at Nazareth Area High School in Nazareth, Pennsylvania.
By the time he graduated, Dotson had 187 catches, 2,755 yards and 40 touchdowns.
Remarkably, those marks were set despite the fact that Dotson played high school ball in New Jersey as a junior.
After briefly considering UCLA, Dotson decided to stay in state.
As a freshman, he played sparingly and collected 13 balls for 203 yards.
Jahan Dotson's acceleration/speed/pro ready routes should make him a high impact rookie

He's a 1st round WR pic.twitter.com/5Xrnwin9bb

— Connor Rogers (@ConnorJRogers) November 8, 2021
In 2019, Dotson started progressing up the depth chart and had 27 catches for 488 yards and five touchdowns.
Last season, he grabbed 52 passes for 884 yards and eight scores.
Through nine games in 2021, Dotson has exploded for 71 receptions, 932 yards and nine touchdowns.
During the first week of the '21 season, Nittany Lions quarterback Sean Clifford missed Dotson on potential scores of over 60, 70 and 80 yards against Wisconsin.
Part of the reason for the misses are squarely on Clifford.
The other reason might be attributable to Dotson's speed and Clifford simply can't adjust.
Dotson is fast (4.4, 40) and he can also create space from his defender anywhere on the field.
JAHAN DOTSON 86 YARDS TO THE HOUUUUUSE 💨💨💨 pic.twitter.com/A09CPIu6Y6

— 247Sports (@247Sports) November 6, 2021
He has been used on punt returns and that has helped with his ability to produce positive yards after the catch.
Tracking errant passes hasn't been a problem for Dotson and he has made his quarterback look good (despite the Wisconsin game).
With a few more games to play this season, Dotson could climb into the conversation of first-round NFL selection.
Wild card:
Jalen Tolbert, Junior, South Alabama
There is no guarantee that the Browns will select a receiver in the first two rounds.
Just in case, I added Tolbert as a suggestion for the middle rounds.
He was a late bloomer in high school, not starting in football until his senior year.
That season, Tolbert caught 37 passes for 696 yards and nine scores.
He was a two-star recruit and eventually found his way to South Alabama, although he did have late offers from Michigan State and Vanderbilt.
As a freshman, Tolbert saw limited action and posted totals of five receptions for 60 yards.
The nation's receiving yard leader returning to College Football in 2021?

64rec, 1085 yards, 16.95 YPC, 8TDs

That'll be South Alabama's Jalen Tolbert. #NFLDraft | #CollegeFootball pic.twitter.com/QdJAfgS6FQ

— Oliver Hodgkinson (@ojhodgkinson) May 5, 2021
In 2019, he caught 27 passes for 521 yards and six touchdowns.
Last year, Tolbert caught fire despite the team's 4-7 record.
He increased his receptions significantly to 64 for 1,085 yards and eight scores.
The Jaguars have improved to 5-4 this year and Tolbert has continued to prove his worth with 58 catches for 1,032 yards and six touchdowns.
Not surprisingly, the knock on Tolbert is that he has done well against small-time competition.
A number of scouts note that his draft stock can improve depending on his performances in all-star games after the '21 season.
Tolbert has great 4.4, 40 speed and the ability to dominate opposing corners.
hashtag Jalen Tolbert is good at football pic.twitter.com/lo6zHCFX4d

— Barstool Sun Belt (@barstoolsunbelt) September 25, 2020
He has good size at 6'3" and 190 pounds.
Scouts also note the nearly 20 yards per completion that Tolbert brings to the table.
Depending on what he does the rest of the season, along with a Senior Bowl appearance perhaps, Tolbert could be selected between rounds two and five in April.