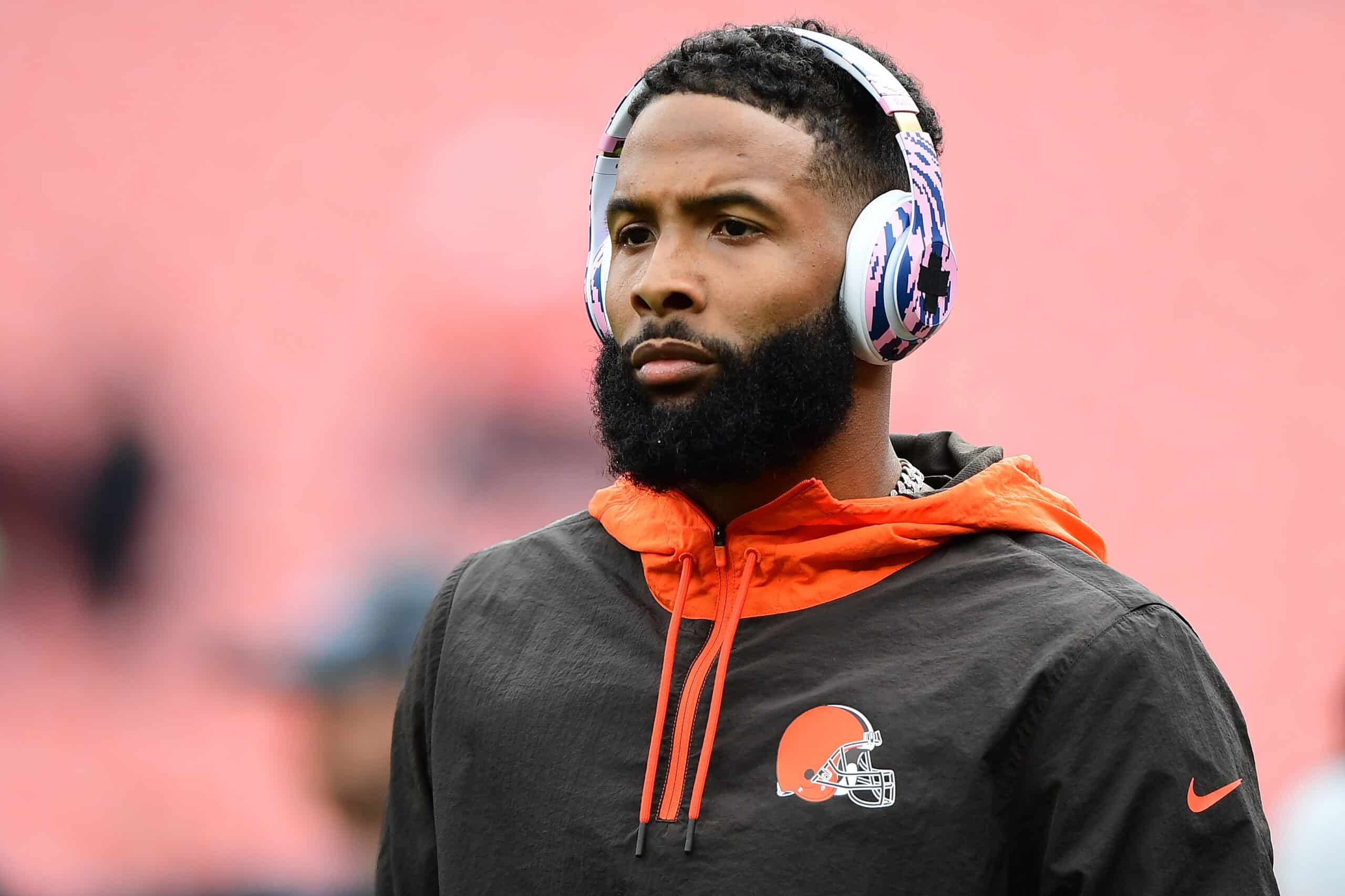 This is living proof that there is a T-shirt for everything.
The Cleveland Browns have experienced a public relations and locker room mess this week with the Odell Beckham Jr. scandal.
His father got the ball rolling with an 11-minute video posted to show that Baker Mayfield is not utilizing OBJ properly.
NBA great LeBron James jumped into it by starting the #freeobj campaign.
Whether the Browns officially or unofficially free OBJ from their roster is yet to be known, but in the meantime, interested fans can purchase a t-shirt showing their support for the wide receiver.
The shirt company @Dreamathon_, a shirt company that #Browns WR Odell Beckham Jr. has been seen wearing during pregame warmups, just launched a "Free Odell" shirt and is now on sale. https://t.co/lse3QcSbKM pic.twitter.com/w4iDPUAi1u

— Brad Stainbrook (@BrownsByBrad) November 3, 2021
The shirts can be found here.
OBJ Wears Dreamathon Shirts
Who knows what precipitated the design and sale of these shirts?
We do know that OBJ has worn Dreamathon shirts publicly in the past.
Dreamathon made the Juice T-shirt OBJ wore in pregame warmups at the end of September.
He's backkkkkkkk 🔥@obj is set to make his season debut today. Also showin' some love to @God_Son80 who is on the IR. #Browns pic.twitter.com/0EWk5MpBMJ

— FOX Sports: NFL (@NFLonFOX) September 26, 2021
Jarvis Landry
The Browns will eventually recuperate from this week's fiasco.
Football is a business, and ugly things happen.
What we don't know is how Jarvis Landry is doing.
Landry and OBJ are longtime friends.
Landry was so excited to have OBJ come over to the Browns from the Giants in 2019.
This mess has to be taking a toll on him.
I'm more worried about how this situation may affect Jarvis Landry and his relationship with the team than I am anything else, tbh. #Browns

— Girl In CLE 🥃 (@girlincle) November 3, 2021
On top of that, Landry is coming off one of his worst games in his career against the Steelers.
Drops and a costly fumble hindered the Browns' chances to win.
He looked pained in his postgame press conference last Sunday.
How could he possibly be feeling now?
#Browns Baker Mayfield on talking to Jarvis Landry about OBJ situation. Landry and OBJ are best friends. pic.twitter.com/qLPWqH57T6

— Scott Petrak ct (@ScottPetrak) November 3, 2021
With any luck, a great game against the Bengals will be the best remedy for Landry.
The entire WR room needs to make its presence known against the Bengals in a way it has not done yet in 2021.
Perhaps focusing on football will be just what helps Landry deal with all of this.