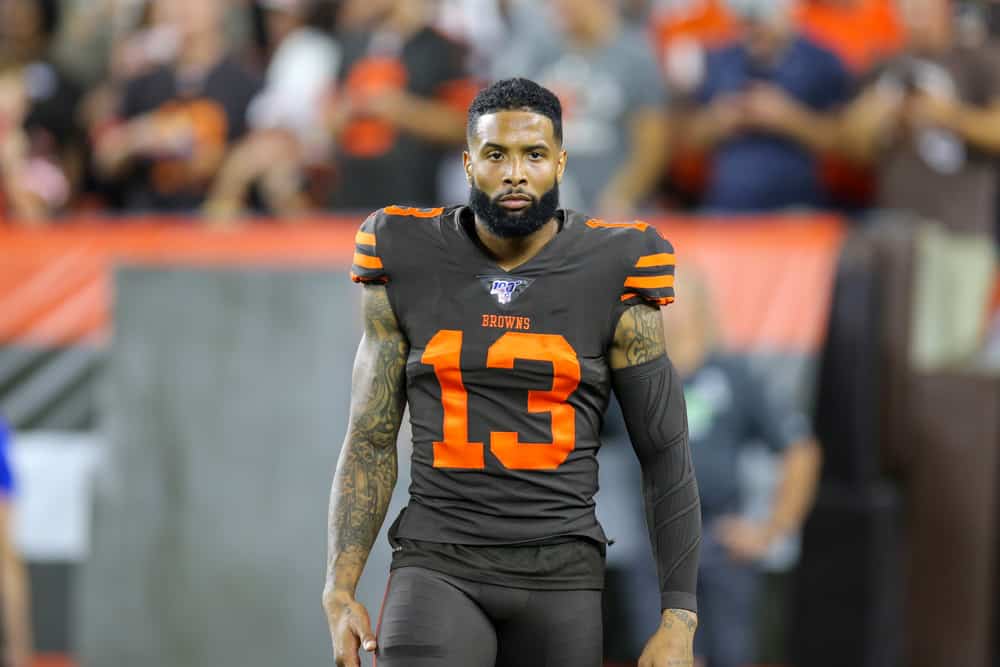 Multiple sources are reporting that the Cleveland Browns will release wide receiver Odell Beckham Jr. on his 29th birthday on Friday, November 5, 2021.
This will end OBJ's tumultuous period with the Browns which began in 2019.
Practically since he has arrived in Cleveland, the rumors of his departure were front page news.
Now it appears his departure is imminent.
With the obvious caveat that plans can change, the Browns currently plan to release Odell Beckham Jr. on Friday. The move hinges on an agreement to reduce the money the Browns would owe him if he's not claimed on waivers. https://t.co/1qrFkRvPrl

— ProFootballTalk (@ProFootballTalk) November 5, 2021
Once the Browns finalize the reworked Odell Beckham Jr. contract, they will release him and he will go on waivers, where other teams will have the opportunity to claim him.

But the Browns and OBJ's time together is coming to a rapid end.

— Adam Schefter (@AdamSchefter) November 5, 2021
Mike Florio explains in the ProFootballTalk article what is transpiring right now.
"The move is expected to be accompanied by a revised contract that reduces the team's obligation to pay Beckham, if he's not claimed on waivers and becomes eligible for the balance of his salary termination pay. The challenge for Beckham becomes not making the reduced salary so low that someone claims the contract on waivers."
Release Is Imminent
Once the financial details are worked out, he will reportedly be released.
There are differing beliefs on his marketability once he hits waivers and becomes an unrestricted free agent.
When the Browns could not get anything accomplished before the trade deadline, it makes it harder to predict what will happen with OBJ.
Wanted To Be Traded
Mary Kay Cabot is reporting that OBJ asked the Browns to trade him over the summer.
Odell Beckham Jr., who will be released, asked the #Browns to traded him multiple times, including in the offseason, source tells clevelanddotcom https://t.co/FGJVANLOtM

— Mary Kay Cabot (@MaryKayCabot) November 5, 2021
Cabot cites an anonymous source as she writes:
"A source told cleveland.com that Beckham asked to be traded multiple times, including in the offseason. He asked again after the Steelers game, in which he caught one pass for 6 yards."
Given his return from the ACL injury, it is not clear if the Browns attempted to or entertained any trade offers since Beckham made the request.
Messy Breakup
This has been a terrible week for the Browns.
When they should be focusing on the Bengals, all of this was happening in the national media.
We will continue to hear sources and reporting for months about this story after OBJ's release occurs if it happens as planned.
Releasing OBJ is good for both the Browns and OBJ.
In the end, everyone can move on and heal from this mess.
Dear Odell Beckham,

There was nothing like the feeling that night you were traded to Cleveland. Super Bowl predictions were everywhere and didn't even feel insane. It hurts that despite making so much sense, it wasn't the franchise changing trade it should've been.

Good luck. pic.twitter.com/asR1bWVU3b

— Nick Karns (@karnsies817) November 5, 2021