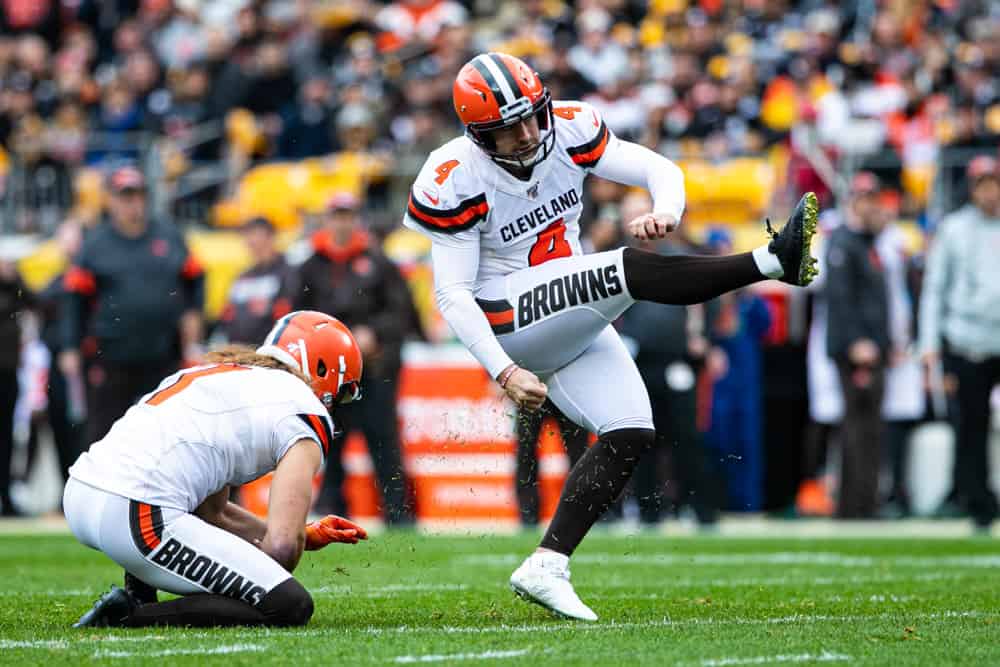 Kicker Austin Seibert kicked for the Cleveland Browns in Week 1 and he might kick against the team in Week 2.
The Cincinnati Bengals are expected to claim Seibert off waivers from the Browns, unnamed sources told NFL Network reporters Tom Pelissero and Mike Garafolo.
Waivers aren't official until 4 p.m. ET Tuesday, but the Bengals have top priority.
Waivers aren't official until 4 p.m. But the #Bengals have top priority. Now Seibert will have time to pass COVID-19 protocols and be available Thursday if Bullock can't go. https://t.co/JdUOPAmtvm

— Tom Pelissero (@TomPelissero) September 15, 2020
Current Bengals kicker Randy Bullock pulled a calf muscle after shanking a 31-yard game-winning attempt on Sunday in a 16-13 loss to the Los Angeles Chargers.
On Sunday, Bullock made an extra point and went 2-for-3 on field goals, making a 50-yarder and 43-yarder.
Bullock is listed as questionable for Thursday night's game at FirstEnergy Stadium between the Browns and Bengals.
MINHA NOSSA! Randy Bullock ERRA o Field Goal de 31 e os @Chargers vão vencer os Bengals! #BoltUp #NFLBrasil pic.twitter.com/v9uKVIj6Ug

— NFL Brasil (@NFLBrasil) September 13, 2020
Seibert would have to pass COVID-19 protocols to suit up for the Bengals.
On Monday, the Browns signed free agent kicker Cody Parkey to their 53-man roster.
The news came after Seibert missed an extra point and a 41-yard field goal on Sunday in the Browns' 38-6 loss to the Baltimore Ravens.
The Browns cut Seibert on Monday.
It marks Parkey's second stint with the Browns.
In 2016, Parkey played in 14 games for the Browns, making 20 of his 25 field-goal attempts and 20 of his 21 extra-point attempts.
Seibert is in his second NFL season after making 25 of 29 field-goal attempts as a rookie in 2019.
However, Seibert went 30-for-35 on extra-point attempts a season ago.
Parkey played in three games for the Tennessee Titans in 2019, going 3-for-3 on field-goal attempts and 5 of 6 on extra points.
In 2018 for the Chicago Bears, Parkey went 23 of 30 on field goals and 42 of 45 on extra points.
Bears fans remember Parkey's infamous "double-doink" blocked game-winning field goal attempt in the 2018 NFC Wild Card game against the Philadelphia Eagles.
The 43-yard field goal attempt hit the left upright, then bounced off the crossbar and fell to the end zone, no good.
The Bears cut Parkey after he appeared on the "Today" show in the days following his 2018 playoff miss.
Sunday's loss to the Ravens marked the Browns' 16 consecutive season-opening game without a win.
The Browns are 1-19-1 in Week 1 since 1999.