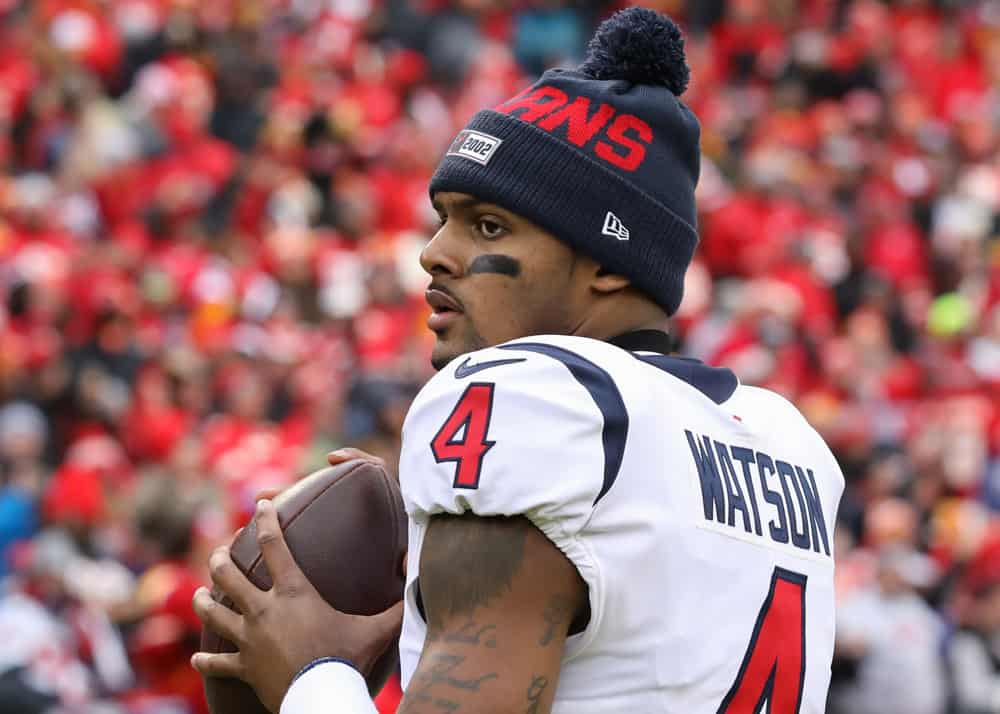 Ever since a Texas grand jury declined to indict him, Deshaun Watson trade rumors have run rampant.
And the Cleveland Browns have found themselves smack in the middle of them most of Monday.
But for any of you who went to bed after Watson reportedly declined a deal to Cleveland- things changed.
. #Browns owner jimmy Haslam plane scheduled to go to houston tomorrow @MaryKayCabot @Pchopz_ @KenCarman @SportsBoyTony pic.twitter.com/HpNM37TRgh

— boulay (@Boulay__) March 15, 2022
First, Browns' social media sleuths discovered Jimmy Haslam's private plane was booked for a flight to Houston today.
And hours later, Pro Football Network's Aaron Wilson reported Watson will meet with Browns' representatives.
The #Browns – who are open to the idea of moving on from Baker Mayfield – will be meeting with Deshaun Watson today in Houston, according to sources who spoke to @AaronWilson_NFL. https://t.co/yhPcEep5x4

— Pro Football Network (@PFN365) March 15, 2022
Based on the plane's flight schedule, it appears the meeting will happen after Watson's civil deposition.
Watson will answer questions regarding the 22 civil suits filed for various sexual assault charges in his lawyer's office.
With a 2 pm take-off from Florida, the Cleveland contingent is likely to meet with him late in the afternoon or evening.
Is Cleveland Really Under Consideration?
Cleveland appeared to be out of the Watson sweepstakes when word leaked that Watson rejected them.
Speculation was already circulating the Texans quarterback wanted a southern, warmer climate.
Carolina and New Orleans submitted offers and met with Watson on Monday.
Minnesota and Seattle were rumored to be in the mix, but neither northern team got a meeting.
Plane rumors are true. #Browns will meet with Deshaun Watson & #Texans today, per @ByKimberleyA.

You can assume the asking price will be higher for CLE since they're in the AFC. Watson holds all the cards. Haslam, Berry & Stefanski will need to nail this "sales pitch." @fox8news

— John Sabol (@John_Sabol) March 15, 2022
Texans' management reportedly turned down a bid from Indianapolis, leading some to think only NFC teams could bid.
But Houston and Watson had earlier accepted a deal with the AFC East's Miami.
That fell through because Dolphins ownership wanted the suits settled first.
Right now, it appears any non-AFC South team will be allowed to court Watson.
What Will Cleveland Offer?
Cleveland has an advantage over both Carolina and New Orleans as far as dealing with Houston.
Baker Mayfield is a viable (and affordable) starting quarterback, even if only for the duration of his contract.
Neither of the NFC teams has a more attractive option to offer at the position.
The Browns have been quiet about rumors and did not deny reports involving Greg Newsome and Kareem Hunt.
Deshaun Watson is scheduled to meet with the #Browns on Tuesday after he met with the Saints and Panthers on Monday, according to @AaronWilson_NFL.

New Orleans and Carolina have both made strong trade proposals to Houston – but Watson holds the cards with a no-trade clause.

— Ari Meirov (@MySportsUpdate) March 15, 2022
But it seems highly unlikely Andrew Berry would give up Newsome.
And another team involved in those reports, the New York Jets, flat out denied they made an offer.
New York's spokesman claims only the two teams to meet Watson have official offers on the table.
Nonetheless, 3 high draft picks and two viable starters seem to be the minimum bid for Watson's services.
What It Means To The Browns
Cleveland released Jarvis Landry yesterday, the third wheel in the Mayfield-Odell Beckham relationship.
Trading out Mayfield could go a long way in healing what is rumored to be a wounded locker room.
But bringing Mayfield back after this will require some fast talking about confidence and camaraderie.
Just a week ago, Berry reassured Mayfield's reps the team was not pursuing a veteran upgrade at quarterback.
Browns general manager Andrew Berry said at the NFL Scouting Combine that he expects Baker Mayfield to be the team's starting quarterback in 2022.https://t.co/Xzio9iHpfZ

— FanSided NFL (@FanSidedNFL) March 2, 2022
It is certainly understandable, and mandatory that Watson's availability changes the equation.
But the Browns will have to again clear the air on the seriousness of their efforts to trade Mayfield.
Complicating matters is the pending NFL investigation into Watson's behavior.
Teams must consider the possibility of a sizable suspension of the quarterback in their 2022 plans.