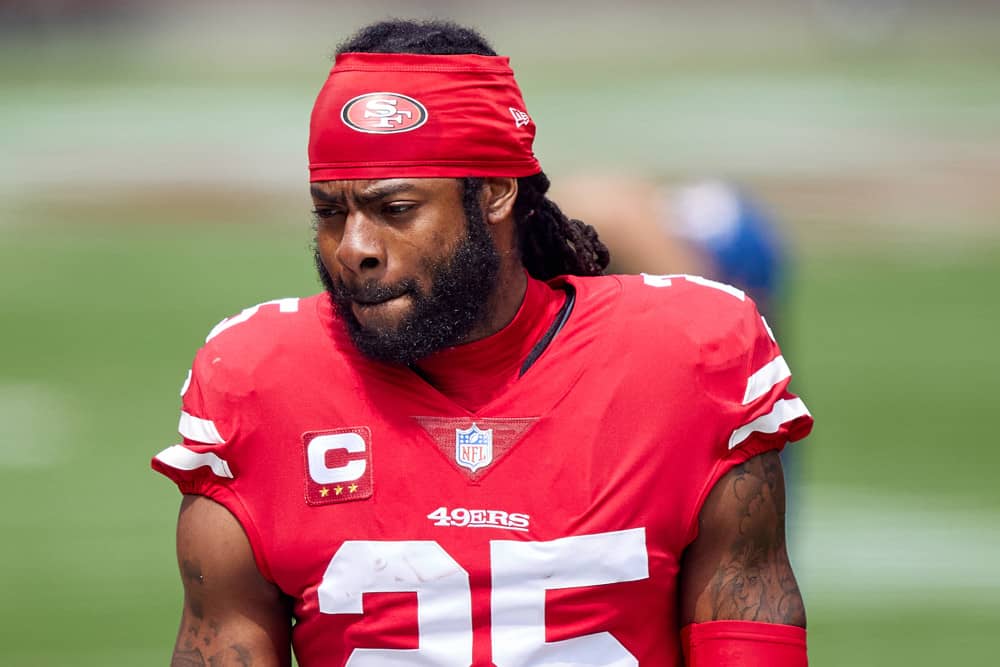 In recent weeks, the Cleveland Browns have been connected to free agent defensive back Richard Sherman.
Sherman would make sense on a Browns defense that needs improvement in the secondary.
However, according to a recent report, Sherman may not be a target in free agency.
According to Mary Kay Cabot of Cleveland.com, Richard Sherman won't be on the Browns' radar this offseason.
Richard Sherman won't be on the Browns' radar this offseason, according to Mary Kay Cabot of The Plain Dealer. The 49ers cornerback has familiarity with Joe Woods' defense, but the Browns are looking to allocate their dollars elsewhere.

— Eric👀Schefter (@EKaplan15) February 15, 2021
Richard Sherman
The San Francisco 49ers have not formally said if they plan to re-sign Sherman.
Sherman, 32, has been in the NFL for 10 years.
His first 7 seasons were with the Seattle Seahawks, and the past 3 were with the 49ers.
Sherman has been the one to speak out about his tenure with the 49ers being over.
In December, he said.
"We've had brief conversations. I think that there's obviously a want from both sides to come back and make this work. Unfortunately, I don't know that the circumstances will allow it. That's the sad, sad truth. It's one of those years where it's not from anybody's fault that it may not work out. And it will be a sad parting because I've really enjoyed my time here. I've enjoyed this team. I have brothers on this team, and I think we still have work to do. But I don't know that the circumstances will allow it."
If The Browns Do Not Pursue Sherman, Than Who?
Reports indicate that the Browns may want to stay inside the building with the cornerback position.
Both Kevin Johnson and Terrance Mitchell are free agent corners that were on the Browns roster in 2020.
Kevin Johnson
Johnson, 28, completed his 6th NFL season.
He spent 4 seasons with the Texans, 1 with the Bills, and 1 with the Browns.
Johnson played in 13 games in 2020 and notched 22 solo tackles and 3 quarterback hits.
He also scored 5 additional tackles during the Browns playoff run.
The Browns signed Johnson to a 1 year deal in 2020 worth $3.5 million.
Terrance Mitchell
Mitchell, also 28, has been in the NFL since 2014.
He has played for various teams including the Bears, Chiefs, Cowboys, and Browns.
Mitchell has been with the Browns since 2018.
He started in all 16 regular season games and had 54 solo tackles.
His three year contract with the Browns was for $10 million.
Sherman's Market Value
Richard Sherman's contract with the 49ers was a three year deal for $27.1 million.
Sherman suffered a calf strain that caused him to miss 11 games in 2020.
He did finish the season strong with 16 solo tackles.
Conclusion
This will prove to be an interesting offseason with big names looking for new teams.
It kicked off with the Matthew Stafford and Jared Goff trade.
With JJ Watt getting released from the Texans, there is more to come.
Richard Sherman is a marquee name who despite age and injury will be sought after.
GM Andrew Berry did an excellent job signing free agents last season, and the Browns are in good financial shape.
The Browns have good leadership so if this rumor is true, there is definitely sound logic and financial reasoning that contribute to the decision not to pursue Sherman.