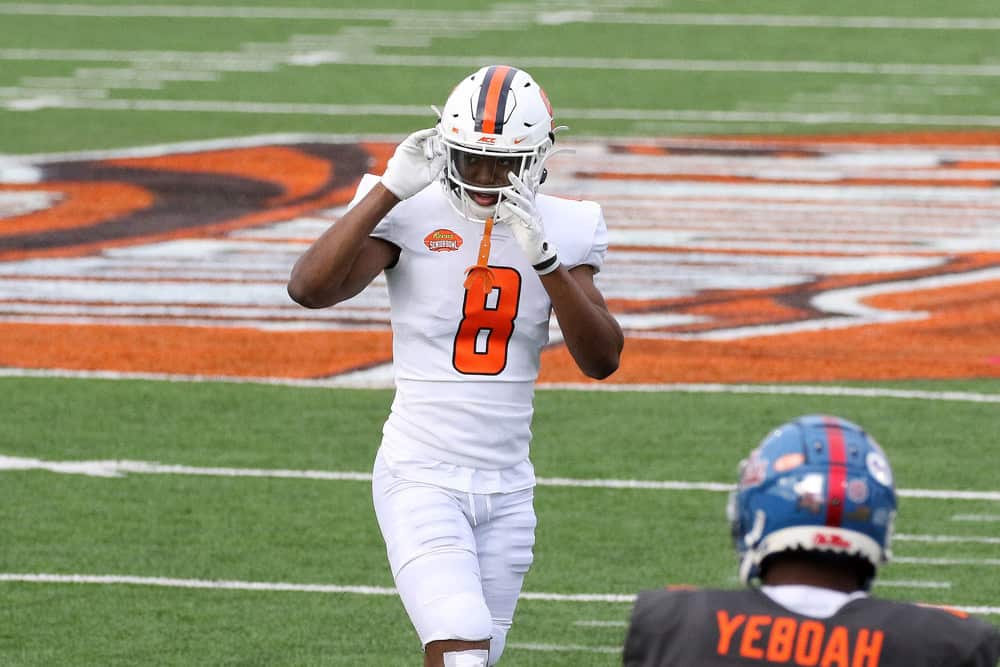 The 2020 season is over, which means it's time to talk about the upcoming NFL Draft.
The Cleveland Browns found some late round sleepers during the draft last year.
They also landed tackle Jedrick Wills with the No. 10 selection, which has already proven to be a solid selection.
Now it's time to have some fun and use a mock draft machine to see who the Browns could potentially take during the 2021 draft.
Be prepared for some surprises, but we'll try to keep this as realistic as possible to the Browns current needs.
First Round, No. 26: Syracuse CB Ifeatu Melifonwu
It was tempting to trade out of the first round, but there is too much potential here to pass up.
At first glance, this might seem like an odd selection considering the Browns' lack of depth at linebacker and their need for an edge rusher.
However, Syracuse defensive back Ifeatu Melifonwu offers too much upside to ignore.
He has seemingly improved his game each and every season during his three years in college.
In 2020, Melifonwu recorded 54 tackles, three tackles for loss, one sack, and one interception in 10 games.
Those numbers might not blow you away, but what he does on the football field is something special to watch.
Ifeatu Melifonwu showing up in 1-on-1's🍿 pic.twitter.com/2YBBpIeo15

— PFF Draft (@PFF_College) January 28, 2021
Melifonwu is a physical and athletic prospect that has the tools to become a star in the NFL.
His ability to read the backfield is unlike any other player in this draft class.
He is the type of player that is a positionless sub-package defender.
Right now, Melifonwu is projected as an outside defensive back, but could play nickel or even safety.
Look at Ifeatu Melifonwu (Syracuse CB bottom of your screen) change direction and close out for the PBU. 🔥 pic.twitter.com/tEPq6cHmbW

— Mike O'Brien (@MOBrienNFL) February 10, 2021
Honestly, defensive back wasn't the biggest concern for Cleveland coming into the draft.
Although, when a talent like Melifonwu is on the board, it's tough to pass him up.
The Browns cannot be sure what to expect from Greedy Williams after a lackluster rookie campaign and missing the entire 2020 season.
Both Kevin Johnson and Terrance Mitchell are expected to hit the free agent market, which means Cleveland lacks depth at defensive back.
Melifonwu is an intriguing prospect who could quickly develop into a star at the professional level.
Second Round, No. 59: Ohio State LB Baron Browning
Despite the boatload of potential, Ohio State linebacker Baron Browning fell to the Browns in the second round.
He was arguably an early second round pick, but nearly dropped into the third round.
Honestly, the stats really don't tell the whole story on what Browning can do on the football field.
In 2020, he finished with 29 tackles, three tackles for loss, and one sack in seven games.
Sadly, Ohio State didn't play a full season, but that shouldn't hinder the potential of Browning.
Baron Browning got in there like a bullet. pic.twitter.com/IOoGQWwjdI

— Eleven Warriors (@11W) October 6, 2019
He is an under-the-radar prospect he could develop into an explosive linebacker in the NFL.
Browning is an elite athlete that suffered no major injuries in college and leaves everything he has on the football field.
In 2020, he showed improvement in both pass coverage and as a run defender, but is not a complete player yet.
There is still inconsistency when it comes to tackling, but the potential is there.
BARON BROWNING WITH THE STRIP SACK pic.twitter.com/ABgJWu6QSL

— Barstool OSU (@BarstoolOSU) January 12, 2021
Browning probably won't be the next Lavonte David, but that is completely fine.
Cleveland could certainly use the help at linebacker with B.J. Goodson and Malcolm Smith both expected to be free agents.
Browns fans shouldn't expect Browning to be a star from the moment he steps on the field.
He still has plenty of growing to do, but he is an all-around player that could end up being a valuable starter in Cleveland sooner rather than later.
Third Round, No. 65: USC WR Amon-Ra St. Brown (Trade)
The Browns couldn't let a talent like USC wide receiver Amon-Ra St. Brown slip away from them.
They sent both the No. 89 & 91 selections to the Jacksonville Jaguars in exchange for this pick and a fifth-round pick in 2022.
This trade works out well for the Jaguars who are rebuilding and will take quantity over quality with so many holes to fill on their roster.
St. Brown was by far the best wide receiver left on the board, so Cleveland couldn't risk him being taken before their middle round selection in the third.
Possibly, two third-round picks is a high price to pay, but St. Brown is arguably a first round talent.
FOUR TDS IN THE FIRST QUARTER 🤯

USC WR Amon-Ra St. Brown is special

(via @CFBONFOX)pic.twitter.com/HTOtP3cHPB

— Bleacher Report (@BleacherReport) December 7, 2020
In 2019, St. Brown hauled in 77 receptions, 1,042 yards, and six touchdowns through 13 games.
Obviously, his stats took a dip in 2020 because of the fact USC only played six games.
Despite that, St. Brown recorded 41 receptions, 478 yards, and seven touchdowns during their short 2020 campaign.
This is a loaded wide receiver class, but St. Brown is not getting enough attention.
Cleveland being able to snag him in the third round is an absolute steal considering the ridiculous amount of upside that St. Brown has to offer.
He is a knowledge receiver that uses his football IQ to take advantage of opposing defenders.
This route Amon-Ra St. Brown just ran is a thing of beauty#Devy @DevyWatch pic.twitter.com/ynHwGQQoVh

— Clayton Stefan (@DW_Clayton) November 17, 2019
The only downside to St. Brown is that he doesn't have elite speed for a wide receiver.
He is best fit for a team that already has a dynamic star receiver that will take the pressure off St. Brown and allow him to play his game.
That being said, St. Brown is an ideal fit for Cleveland who already have Jarvis Landry and Odell Beckham Jr. on the roster heading into 2021.
It's unknown if the Browns plan on bringing back Rashard Higgins, but landing St. Brown would mean they'd likely let Higgins walk.
Yes, giving up two third-round picks is a hefty price to pay, but this move could easily be the biggest steal of the entire draft.
Third Round, No. 90: Pittsburgh DL Patrick Jones II (Trade)
As mentioned earlier, there were going to be a few surprises along the way.
Yes, the Browns did give up their two third-round selections in order to select St. Brown.
However, the organization had to pull the trigger on another move here.
Cleveland sent the No. 110 pick and a 2022 third round pick to the Minnesota Vikings in exchange for their No. 90 selection.
There was absolutely no chance that Patrick Jones II was falling to the Browns in the fourth round.
The front office had to strike while the iron was hot and this should certainly pay off for them.
Somehow, the Pittsburgh product lasted until the late third round, which is a miracle.
Patrick Jones II just beat two BC OL like a drum to get his 3rd sack. He's up there for top 5 EDGE honors. #DraftTwitter pic.twitter.com/zfvCSsYb0H

— Joseph Yun 🔰😷 (@2Yoon2ZeroBlitz) October 10, 2020
Unlike some of the other selections, Jones is the type of player that is ready to make an impact in the NFL.
In 2020, Jones finished with 42 tackles, 12.5 tackles for loss, and nine sacks through 11 games at Pittsburgh.
He is an explosive edge rusher who is quick off the snap and can take down the quarterback in the blink of an eye.
Jones has a devastating inside spin move that often times leaves opposing blockers in the dust.
Pittsburgh's Patrick Jones II (90) with his second sack of the day!

Nasty arm-over against the left tackle to penetrate the backfield. Jones is one of the top edge rushers in the 2021 draft, without a doubt. #SeniorBowl pic.twitter.com/nveMWOvs8c

— Jacob Infante (@jacobinfante24) January 30, 2021
Cleveland is in danger of losing both Olivier Vernon and Larry Ogunjobi this offseason.
That being said, selecting a talent like Jones in the third round is a huge addition to this roster.
He can jump right into action from Day 1 and be a dynamic threat alongside Myles Garrett on the defensive line.
This trade does cost the Browns a future third round pick, but Jones has first round talent.
Jones has the potential to be a Pro Bowl caliber player, assuming his game translates over to the professional level.
Fourth Round, No. 132: Tulane DT Cameron Sample
The potential loss of Larry Ogunjobi would be significant, but Tulane defensive tackle Cameron Sample could help ease the pain.
He is not projected to be a star player, but is a nice snag in the fourth round.
Sample is a big bodied tackle with impressive lateral agility and recovery athleticism.
No one would consider him an elite athlete, but his powerful size helps him be an anchor when it comes to run defense.
Look at this INSANE burst off the snap by Tulane's Cameron Sample. Penetrating the backfield with ease.

He's been awesome in #SeniorBowl workouts the past two days. pic.twitter.com/nbVkAk6HpC

— Jacob Infante (@jacobinfante24) January 27, 2021
During his senior campaign, Sample recorded 52 tackles, 7.5 tackles for loss, and five sacks through 11 games.
He set career highs in all of those categories in 2020, which definitely will help his draft stock.
Another noteworthy attribute about Sample is that he is a versatile player.
Teams can count on him both at the tackle spot and as an edge rusher.
• 2.0 sacks
• 3.5 tackles for loss
• 1 forced fumble@Cameron_Sample had himself a game in earning Defensive Player of the Week. #AmericanPow6r | @GreenWaveFB pic.twitter.com/Ixkszayieg

— American Football (@American_FB) September 14, 2020
The fact he can play multiple spots makes him a great depth piece for an organization.
Sample does have starting potential, but at worst he can be a solid rotational player.
He has the power and natural leverage to be a threat and has tremendous upside on run defense.
There are still areas where Sample can improve, but he is well worth a fourth round selection.
He'll help ease the pain, assuming Ogunjobi does head elsewhere this offseason.
Fifth Round, No. 170: Auburn S Jamien Sherwood
The defensive heavy draft continues with Auburn safety Jamien Sherwood.
He does a little of everything which makes him a possible versatile weapon for Cleveland.
Sherwood put together the best numbers of his career during his 2020 campaign.
Through 11 games, Sherwood had 75 tackles, three tackles for loss, and one sack for the Tigers.
A physical run defender that is underrated in passing coverage during his three seasons at Auburn.
Studied #Auburn S Jamien Sherwood today. Big, strong, physical safety. Shows pretty good route instincts as well. Nice PBU down on the goal line here #WarEagle pic.twitter.com/HkaxVZXVre

— Fran Duffy (@EaglesXOs) February 9, 2021
He has the size to defend versus tight ends in coverage and even play some linebacker if needed.
Although, Sherwood is projected as more of a special teams player due to his lack of athleticism and below average speed.
He doesn't grade as the type of player that will likely be a full-time starter at the professional level.
Sherwood made big strides in 2020, but there is a reason he is a late round selection.
There is some big play ability in him, but Sherwood appears to be more of a rotational player.
Hell of a play by Jamien Sherwood! pic.twitter.com/NGtsj37Fyy

— Power of Dixieland (@PwrofDixieland) October 26, 2019
Both Andrew Sendejo and Karl Joseph are pending free agents, which means the Browns could use the safety help.
It's unclear what the Browns can expect from last year's second-round pick Grant Delpit.
At worst, Sherwood gives them a useful weapon on defense even if he doesn't end up as a starting safety in Cleveland.
Sixth Round, No. 212: UCF WR Marlon Williams
This is a nice snag by the Browns in the late rounds of the draft.
They desperately need depth at wide receiver and Marlon Williams is an ideal fit for this system.
A big bodied physical receiver with excellent hands and an ability to produce after the catch.
RUMBLIN' BUMBLIN' STUMBLIN'

Can't stop watching this Marlon Williams run 👊😤#UCFast #UCFvsCIN pic.twitter.com/RhS3Li9KPe

— UCF Football (@UCF_Football) October 8, 2017
Williams was mediocre during his first two seasons in college, but saved his best for last.
During his junior year, he hauled in 51 receptions, 717 yards, and six touchdowns.
Williams followed that up with 71 catches, 1,039 yards, and 10 touchdowns during his senior season.
The fact Williams played at UCF might've hurt this draft stock, but there is no doubting his ability.
MARLON WILLIAMS 💪💪💪

UCF up on Cincinnati 25-22

— PFF Draft (@PFF_College) November 21, 2020
He is an elite competitor that battles for every play and seemingly has no issues coming down with balls in traffic.
Honestly, his route running still needs work, but Williams has the pieces to be a successful receiver at the next level.
There is a good chance that he won't see the same volume of targets in the NFL.
However, Williams has the skillset and natural competitive ability to make an impact even as a fourth receiver on a roster.
Seventh Round, No. 255: Texas QB Sam Ehlinger
It's time to get a little creative since it is the final round of the draft.
At first glance, this might seem like a waste of a pick by Cleveland.
They don't need a quarterback, but sometimes you just have to take the best player available on the board.
It appears Baker Mayfield is the quarterback of the future in Cleveland, but Texas QB Sam Ehlinger is oozing with potential.
Sam Ehlinger to Demetric Felton on an island✅

— PFF Draft (@PFF_College) January 30, 2021
The Browns don't need a quarterback right now, but you can never have enough depth.
Ehlinger is the type of player that can help your team without actually being on the field.
His competitive fire and energy is refreshing to see and he is an active leader, which is exactly what you need from your quarterback.
He has the type of passion that energizes an entire team, but it's unclear if his style of play will translate to the professional level.
FIRST PLAY OF THE GAME. TOUCHDOWN 🚨

Sam Ehlinger ➡️ Joshua Moore pic.twitter.com/knJM8wltvw

— ESPN College Football (@ESPNCFB) September 13, 2020
Ehlinger has plenty of good mental traits, but his below average arm and lack of speed is going to cost him.
He doesn't profile as a full-time starter at the professional level, but Ehlinger could be a quality backup.
Any organization willing to take a chance on Ehlinger knows that he's a project player going into it.
There is plenty of potential with Ehlinger and the Browns can bring him along slowly.
He's unlikely to create any quarterback controversy and his energy, passion, and knowledge of the game can be an asset to Cleveland.