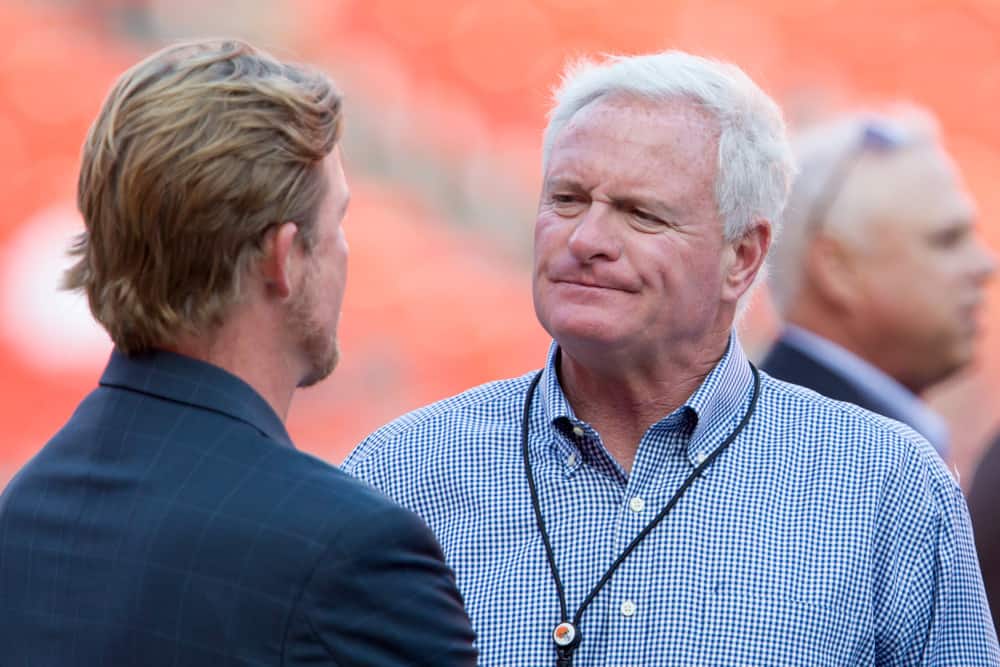 We now know why George Paton took himself out of the running of the Browns general manager position.
It turns out that Paton "was not entirely comfortable" with the job.
Updated w/ some background on why #Vikings George Paton pulled himself out of running for #Browns GM today. Almost didn't interview b/c he felt it was Berry's job. Had questions about power structure, division of labor, etc. https://t.co/QdLtbcAIQC

— Mary Kay Cabot (@MaryKayCabot) January 24, 2020
What Does This Mean?
According to Mary Kay Cabot of Cleveland.com, Paton "had a number of issues he had to work through."
He also "wasn't entirely comfortable with how it would all play out."
Paton gained traction as a favorite to land the job that included a second interview.
According to Cabot, Paton left the interview with "some questions about the power structure and the division of labor."

All in all, Paton spent eight hours with the team and left unsure if he wanted to lead the Browns franchise.
Why The Browns Wanted Paton
Since 2007, Paton has been working as a member of the Minnesota Vikings front office.
Vikings general manager, Rick Spielman, has been with the team since 2006 and Paton has been one of his closest colleagues in the organization.
Spielman became the general manager of the Vikings in 2012, and Paton became the team's assistant GM.
One of the most vital jobs as a GM is evaluating and securing good players.
In terms of Paton's association with draft picks the last five years, it should be noted that he has hit on many of those picks.
Take a look at the last five years as an example.
The Vikings drafted Dalvin Cook (second round), Danielle Hunter (third round), Stefon Diggs (fifth round), and Adam Thielen as an undrafted free agent.
The New Frontrunner
With Paton out of the running, Andrew Berry becomes the favorite to become the next general manager.
ICYMI: #Vikings George Paton takes himself out of the running for the #Browns GM job; #Eagles Andrew Berry a leading candidate, but the #Panthers have requested permission to interview him too: https://t.co/QdLtbcAIQC

— Mary Kay Cabot (@MaryKayCabot) January 25, 2020
Berry serves as the vice president of football operations for the Philadelphia Eagles.
When Berry was named a finalist for the GM position, he was automatically vaulted as a favorite.
Chief strategy officer Paul DePodesta was linked to favoring Berry, while owner Jimmy Haslam reportedly believed in his talents as well.
1. As I said on Dec. 31, I'd say #Eagles' Andrew Berry is at the front of the GM candidates. Jimmy Haslam once told a prominent member of the coaching staff 2 years ago that he considered Berry a bright future GM and Berry has a relationship with chief strategist Paul DePodesta.

— Charles Robinson (@CharlesRobinson) January 12, 2020
Other Ramifications
Losing Paton has other ramifications.
San Francisco 49ers defensive backs and passing game coordinator Joe Woods was expected to become the next defensive coordinator.
Since Paton pulled his name, a report surfaced that the 49ers are making a push to keep Woods from joining the Browns.
Woods coached defensive backs from 2006 to 2013 and had a working relationship with Paton.
Now that Paton is gone, it's possible the Browns could lose Woods too.