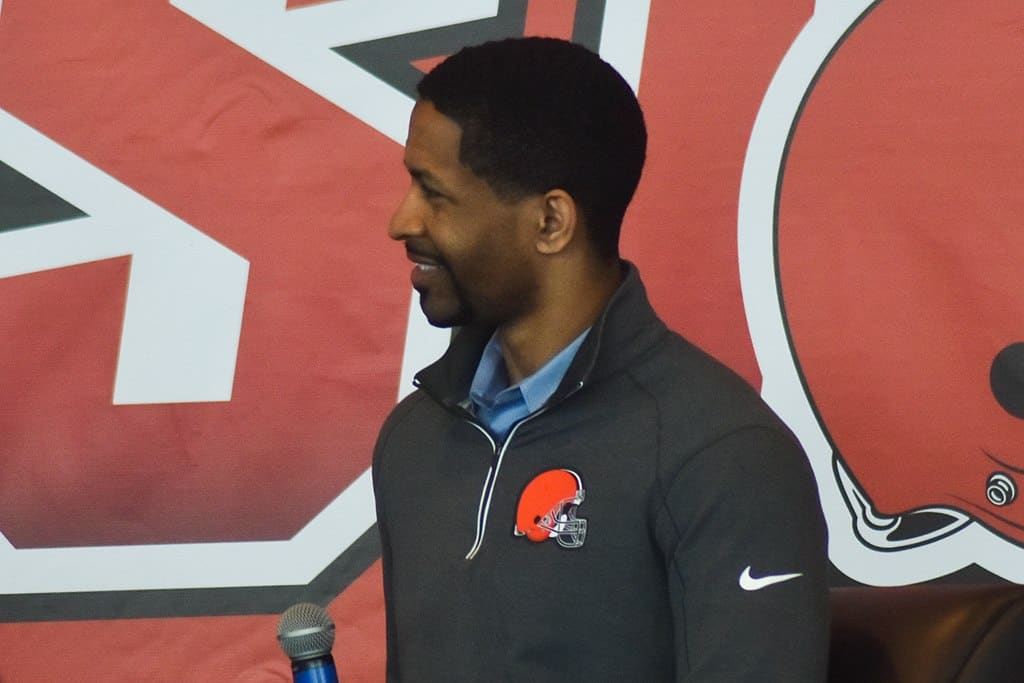 Cleveland Browns owner Jimmy Haslam made it clear that he would first hire a head coach and that individual would be involved in the hiring of a general manager.
Yet the Browns begin Sunday without a coach and have already begun the process of setting up interviews for a new general manager.
Perhaps the most interesting candidate is Andrew Berry, who only left the Browns organization after the 2018 season.
Source: The Eagles have granted the Browns permission to interview their VP of football operations Andrew Berry for a GM job. @AdamSchefter 1st on it.

— Albert Breer (@AlbertBreer) January 11, 2020
Bringing Back the Analytics Guy
Berry was on Sashi Brown's staff from 2016-2018 and left to join the Philadelphia Eagles once John Dorsey came to town.
But being a Browns fan is just one endless circle and interviewing Berry is the latest example of that.
This is not a knock against Berry, who helped Brown's rebuilding plan that set up the Browns for success.
It is just a vintage Haslam move to try to bring back someone who ran one style, only for that style to be kicked out of the building, and then brought back again two years later.
To Berry's credit, he was welcomed to Philadelphia with open arms.
The former Harvard man was a scout for the Indianapolis Colts a decade ago before joining the Browns for the first time in 2016 as vice president of player personnel.
Pairing Berry With a Coach
Now the question becomes: What head coach fits best with Berry as GM?
There are conflicting reports on that front and Yahoo's Charles Robinson seems to think the GM search has already eliminated Josh McDaniels from the conversation.
This puts Berry and #Colts assistant GM Ed Dodds on the #Browns' radar for GM, which I believe is a solid indication that #Patriots OC Josh McDaniels will not be the next head coach of the Browns. https://t.co/0LYlGOp6nY

— Charles Robinson (@CharlesRobinson) January 11, 2020
This belief could be proved wrong if McDaniels is hired Sunday, but it is certainly worth noting for fans trying to play the guessing game of who will be the next head coach.
Berry is a proponent of analytics and could be paired with someone like Kevin Stefanski.
That is, as long as the Vikings offensive coordinator isn't out of contention after a rough showing from his offense Saturday in Santa Clara.
Reacting to Berry's Interview Request
Judging Berry's initial tenure with the Browns is tough because obviously the wins weren't there and the plan was blown up by Haslam in favor of what John Dorsey had in mind.
The "football guy" jettisoned a lot of Berry and Brown draft picks and had his own plan.
Then that was blown up and the Browns are now in a weird position in which Paul DePodesta and Berry may be working together once again, going back to the 2016 philosophy with some better talent this time around.
Haslam is either being proactive by requesting the interview or he is going to pull another vintage move by only allowing the new head coach to pick from a small handful of GM candidates.
That would certainly cause McDaniels to bail, as he may only want someone from his time with the Patriots to work alongside him.
Kicking All the Tires

Jimmy Haslam is taking his time in hiring a head coach.
He is now slowly getting started on the GM search and that should mean a decision is coming soon on the next coach of the Cleveland Browns.
Andrew Berry is a worthy GM candidate.
Yet, if Haslam is going to let the head coach choose a new GM, ownership should not meddle in the decision.
There is nothing wrong with a wide range of interviews.
Berry is a great candidate and deserves an interview.
Haslam just can't try to sway his head coach to hire Berry and create problems when 2020 is supposed to be a fresh start.