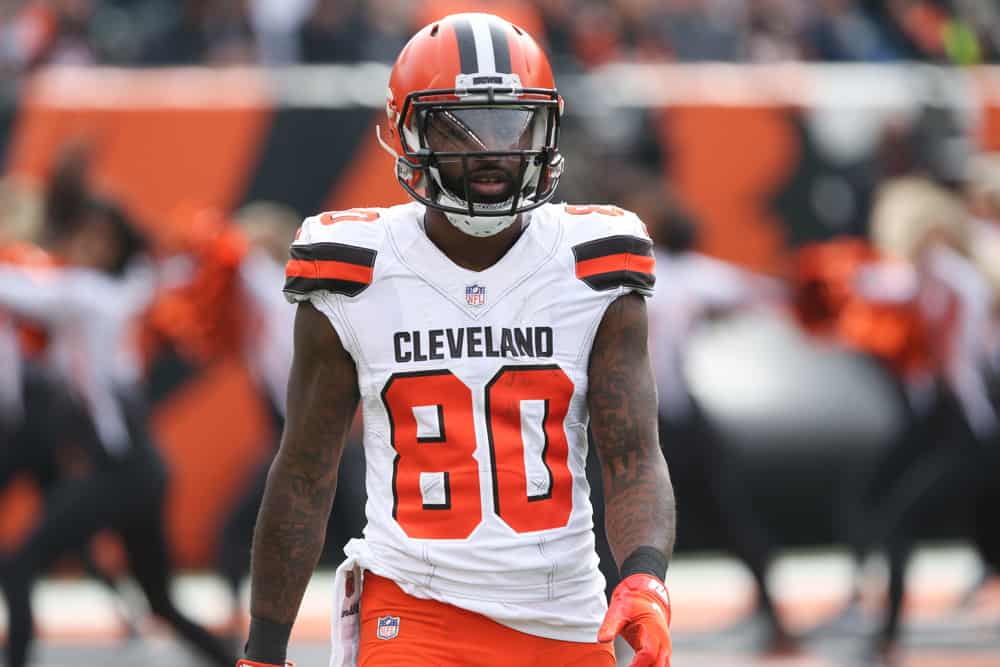 There is a time-tested proverb that says, in part, that the best-laid plans of men often go awry.
That is certainly true when it comes to NFL free agency.
Just when a team thinks they have their prized free agent ready to sign, another team swoops in to undo everything.
The Atlanta Falcons looked to have the inside track to former Houston quarterback Deshaun Watson earlier this week.
Out of nowhere, the Browns came in and pitched a deal to Watson that was too good to pass up.
On Friday, Watson shocked the sports world when he announced that he was the newest member of the Cleveland Browns.
#Browns QB Deshaun Watson on Instagram: pic.twitter.com/0hdkqPlDs7

— Brad Stainbrook (@StainbrookNFL) March 18, 2022
As it turns out, his signing with Cleveland messed up the plans of a number of free agents.
Landry, among others, were nearly Georgia Bound
There were a number of rumors circulating before Friday that wherever Watson signed, a number of free agents would follow.
The idea was that Watson would need some new targets to throw and handoff to wherever he landed.
Because Watson is a bona fide top-tier quarterback, free agent pass catchers and runners were ready to follow him anywhere.
According to uSTADIUM, the Falcons believed they had Watson all but locked up on Friday morning.
#Falcons felt they had Deshaun Watson as of this AM. There were even 3 free agents waiting (Jarvis Landry, A.J. Green and possibly Leonard Fournette) who were thinking about joining him. Just an insane situation.

— uSTADIUM (@uSTADIUM) March 18, 2022
When (if) he signed with Atlanta, former Brown Jarvis Landry, Arizona's A.J. Green, and Tampa Bay's Leonard Fournette were ready to become new members of the Falcons as well.
ESPN analyst Jeremy Fowler later confirmed uSTADIUM's report.
ESPN's Jeremy Fowler just confirmed our report here on SportsCenter. Landry and Fournette planned to join Watson in ATL. A.J. Green planned to as well. https://t.co/N4rOgdzecd

— uSTADIUM (@uSTADIUM) March 19, 2022
With Watson now a member of the Browns, the fate of the other three players instantly changes.
Cleveland already has a great running game so Fournette isn't needed.
Green is certainly an option for the Browns, but many believe his best years are behind him.
Ordinarily, one would think that Landry returning to the Browns would be out of the question.
However, as the rumor mill turns, there is a feeling that Landry could return to Cleveland on a reduced contract now that there is a different signal-caller.
Anything's Possible
As Browns fans have seen firsthand, anything is possible.
The news might be bleak one day, then completely change the next day.
Free agency is like a game of dominoes.
When one piece falls, the next several pieces tip over quickly.
Watson's signing in Cleveland completely changes the power rankings in the AFC.
Although he may be suspended by the NFL for a number of games in 2022, analysts already predict that the Browns will be contenders.
Of course, that was the thinking last year before Cleveland fell to 8-9.
However, Watson is a proven commodity that the likes of Jarvis Landry want to play with.
Browns fans were appreciative of Landry during his time with the team.
Should he return, Landry would be welcomed with open arms.
#Browns re-do Amari Cooper to save $15M in cap space; they'll try to re-sign Jarvis Landry and Jadeveon Clowney, sources tells clevelanddotcom https://t.co/flNmDWi4hU

— Mary Kay Cabot (@MaryKayCabot) March 19, 2022
It is a possibility too intriguing to ignore and one the team should make a reality.