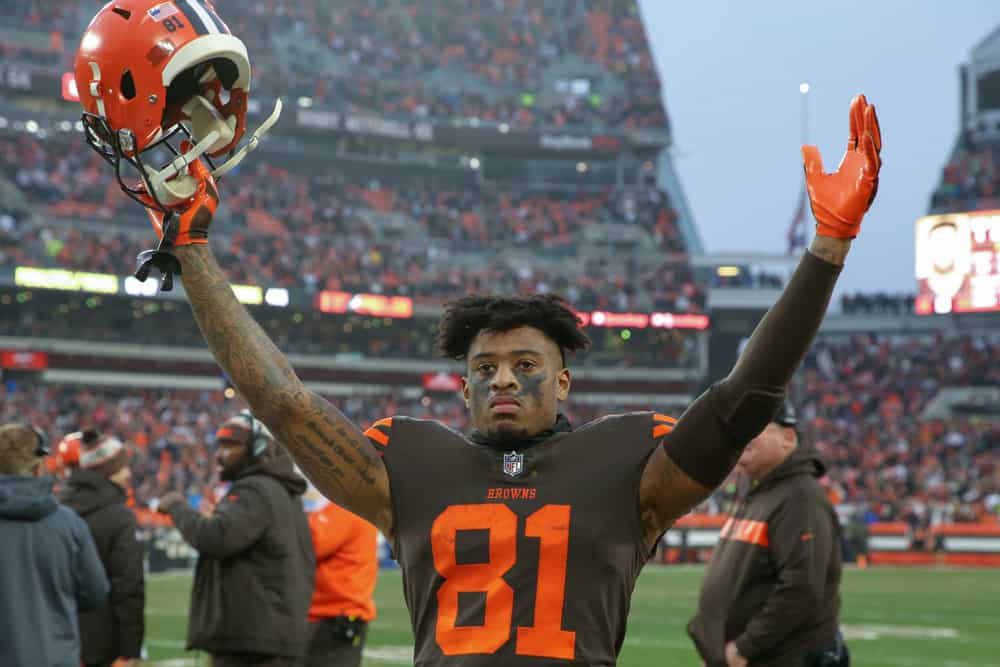 It appears the Cleveland Browns will keep wide receiver Rashard "Hollywood" Higgins for another season, an unnamed source told the NFL Network's Ian Rapoport.
Higgins, 26, is expected to sign a one-year deal with the Browns.
An unnamed source told ESPN's Jake Trotter that Higgins' deal is for $2.38 million and is fully guaranteed.
ESPN's Josina Anderson reported that Higgins texted her "I'm back" after reports began to surface about his return to the Browns.
#Browns WR Rashard Higgins is expected to sign back with Cleveland on a 1-year deal, source said. The player they call Hollywood returns after 37 catches and 599 yards in 2020.

— Ian Rapoport (@RapSheet) March 18, 2021
Higgins signing a 1-year deal for $2.38 million, fully guaranteed, with Cleveland, per source. https://t.co/ExgEtnYOAj

— Jake Trotter (@Jake_Trotter) March 18, 2021
Rashard Higgins just text me "I'm back" he is returning to the #Browns

— IG: JosinaAnderson (@JosinaAnderson) March 18, 2021
Last season, Spotrac.com shows Higgins made $910,000.
Higgins is considered a favorite of quarterback Baker Mayfield.
In 2020, Higgins started six of the 13 games he played, had 37 receptions on 52 targets, a career-high 599 receiving yards (16.2 yards per catch) and four receiving touchdowns.
Higgins emerged last season after wide receiver Odell Beckham Jr. tore his ACL on Oct. 25, 2020, during a 37-34 win in Week 7 over the Cincinnati Bengals.
From Week 7 and on, Higgins had 32 of his 37 receptions.
In 2020, Higgins finished second on the Browns in regular-season receiving yards.
In two postseason games, Higgins led the Browns with 116 receiving yards.
Higgins started every game from Nov. 29 on, except for when he missed the Week 16 game against the New York Jets after the Browns placed him on the COVID-19 list.
Pro Football Focus gave Higgins a 73.4 grade in 2020, which ranked 46th among NFL receivers.
Rashard Higgins is re-signing with the Browns on a one-year deal, per @RapSheet

Higgins: 73.4 PFF Grade in 2020 (46th) pic.twitter.com/0vAq5jnSr0

— PFF (@PFF) March 18, 2021
Along with Higgins, the Browns are expected to bring back Beckham, Jarvis Landry and Donovan Peoples-Jones in 2021.
Higgins will likey compete with Peoples-Jones for the No. 3 receiver position.
It also depends on which receiver head coach Kevin Stefanski wants to play in the slot.
The Browns selected Higgins out of Colorado State with the 172nd overall pick in the fifth round of the 2016 NFL Draft.
Higgins has spent his entire NFL career with the Browns.
In five seasons, Higgins has started 12 of the 67 games he's played, and caught 113 passes on 178 targets for 1,615 yards and 11 touchdowns.