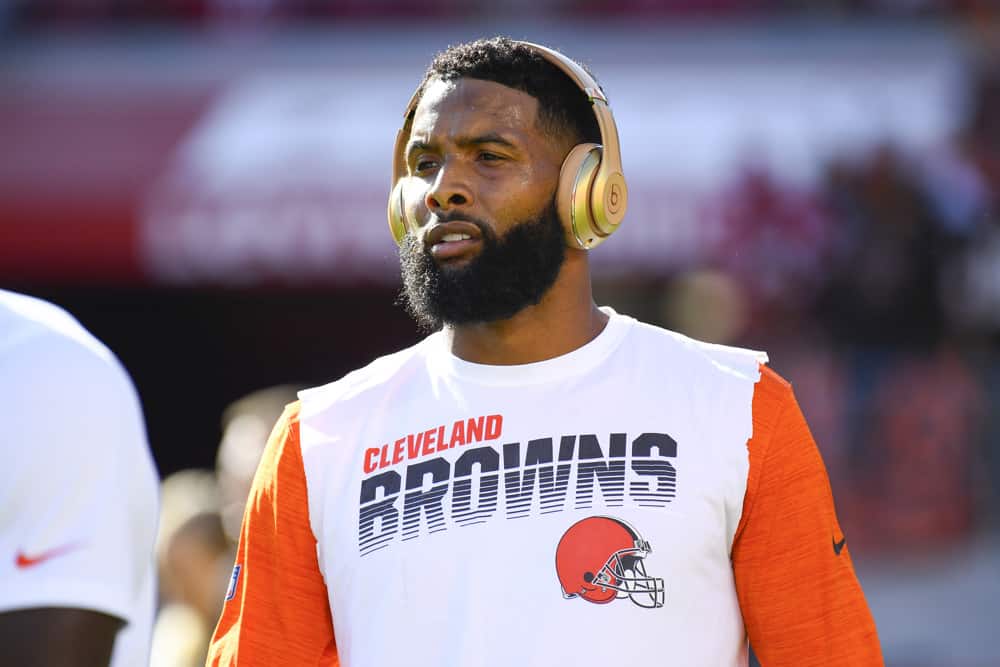 This is the calm before the storm for the Cleveland Browns (and all NFL teams) as free agent signings and the official start to the 2021 NFL year starts on March 17.
There has been much speculation about Browns WR Odell Beckham Jr.'s future with the team since he suffered the torn ACL in October that prematurely ended his season.
The Browns advanced to the playoffs without him which just fueled the rumors.
Another concern was how quickly could OBJ recover.
Would he be ready for the start of the 2021 season?
For his part, OBJ has been notably silent about all the speculation.
However, he does show us his workouts, and they are definitely hard core.
Check out the latest one.
Getting better every day 😤 @obj pic.twitter.com/U6dJaPnjag

— B/R Gridiron (@brgridiron) March 11, 2021
Though I am not a doctor or physical therapist, I will say it looks like rehab is going well.
He is only four months removed from surgery and moving very well on a treadmill.
When watching this, it is almost impossible to believe that his surgery just happened on November 10.
This is not the only sneak peak we have seen of OBJ's workouts.
OBJ – Working Hard
.@obj and @saquon on the ACL comeback trail together 🙏 pic.twitter.com/H9FKvpV97Z

— B/R Gridiron (@brgridiron) March 2, 2021
Last week, OBJ hit the gym in Arizona with former New York Giants teammate Saquon Barkley.
Both are coming back from ACL injuries and planned to do some rehab together.
OBJ is saying very little, but it appears he is embracing the journey back to full strength.
For the record, the rehab has been going extremely well from the get go.
Take a look at what he was doing less than a month after surgery.
Ima keep workin…. regardless https://t.co/4l6kI1ezxD

— Odell Beckham Jr (@obj) December 3, 2020
Odell keeping his hands fresh during rehab.

(🎥: @obj) pic.twitter.com/MLz6mArFZe

— theScore (@theScore) December 5, 2020
OBJ's Future
There has always been talk about him leaving Cleveland, practically from the moment he arrived from the Giants.
The talk was louder this year after the injury.
Then, there are the rumors that Tom Brady wants OBJ to come to Tampa Bay.
From @WEEI – Boston: Tom Brady might want OBJ but @AdamSchefter says Tampa's situation will make it tough. https://t.co/YrhD56owPu

— 92.3 The Fan (@923TheFan) March 8, 2021
The Browns have done nothing to encourage this talk.
In fact, they have been very consistent with the OBJ message.
They want a healthy OBJ back on the field for the Browns in 2021.
Every time GM Andrew Berry or Coach Kevin Stefanski are asked about OBJ, it is the same answer.
Kevin Stefanski says #Browns can keep both Odell Beckham Jr. and Jarvis Landry despite their big salaries: 'We're in a good spot' he tells @KeyJayandZ https://t.co/l43U6QwfM1

— Mary Kay Cabot (@MaryKayCabot) March 6, 2021
OBJ Has A Lot To Prove
He knows there are plenty of naysayers.
OBJ also watched his team march into the playoffs without him.
Of course, he wants to come back to the surging Browns and help the team be even more successful.
It seems silly to think otherwise for many reasons, including the financial ones that keep him in Cleveland because very few teams could afford to take on his contract in this salary cap challenged time.
Much like death and taxes, we can expect to see more crazy acts of physical conditioning during OBJ's rehab and hear more rumors that he will not be with the Cleveland Browns in 2021.