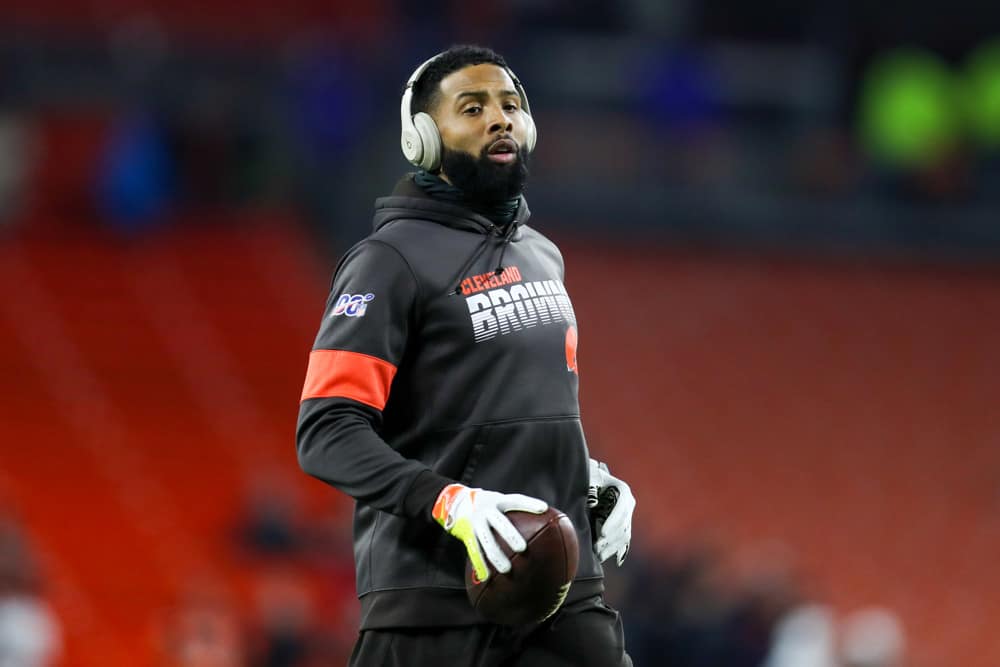 Cleveland Browns fans bid goodbye to Odell Beckham Jr. last week.
After his release, we knew there were plenty of teams calling him.
It seemed to narrow down to the Green Bay Packers and the Los Angeles Rams.
We also know that the Kansas City Chiefs, New England Patriots, Seattle Seahawks, and New Orleans Saints were interested.
It was no surprise he chose the Rams given his Los Angeles ties and the winning offense that has jumped out to a 7-2 start.
What is a slight surprise is reporting that has emerged indicating that the Pittsburgh Steelers made a last ditch effort to snag OBJ from their division rival Browns.
NFL Network's Ian Rapoport writes:
"Interestingly, when Beckham was narrowing it down, the Steelers called to make a play, too. But by then, he was on to finalists."
When Odell Beckham Jr was whittling down his choices on Thursday, the #Steelers called to make a last-ditch run at a former rival. Alas, a bit too late.

How Beckham landed in LA and what to expect on Monday night: https://t.co/ROA9s5eGvL

— Ian Rapoport (@RapSheet) November 14, 2021
Why would the Steelers be interested in OBJ?
He is a veteran presence, and their wide receivers room is young.
The Steelers lost JuJu Smith-Schuster to a season-ending shoulder surgery in Week 5.
Jumping from Cleveland to Pittsburgh seemed improbable regardless of when the Steelers joined the discussions.
It is really hard to see good chemistry occurring between Beckham and Ben Roethlisberger.
Onto Los Angeles
In the end, OBJ chose the Rams which has already proven fortuitous.
Rams wide receiver Robert Woods suffered an ACL injury at Friday's practice and is out for the season.
As a result, Beckham is expected to play on Monday when the Rams take on the San Francisco 49ers.
It will be a small package of plays with the possibility of some special teams action also.
From @NFLGameDay: The #Rams lost WR Robert Woods for the season, but will have Odell Beckham Jr for MNF; Meanwhile, it's unlikely that the #AZCardinals will have QB Kyler Murray or WR DeAndre Hopkins vs the #Panthers. pic.twitter.com/Y3kUj1yQMW

— Ian Rapoport (@RapSheet) November 14, 2021
Rams have discussed using Odell Beckham Jr. as an occasional punt returner Monday night as part of a package of plays designed for the standout wide receiver, per sources.https://t.co/ImEtAWv1HW

— Adam Schefter (@AdamSchefter) November 14, 2021
It bears mentioning that Beckham has an injured shoulder; however, the severity of his injury at this point is unknown.
He passed the physical to join the Los Angeles Rams so perhaps it is not significant.