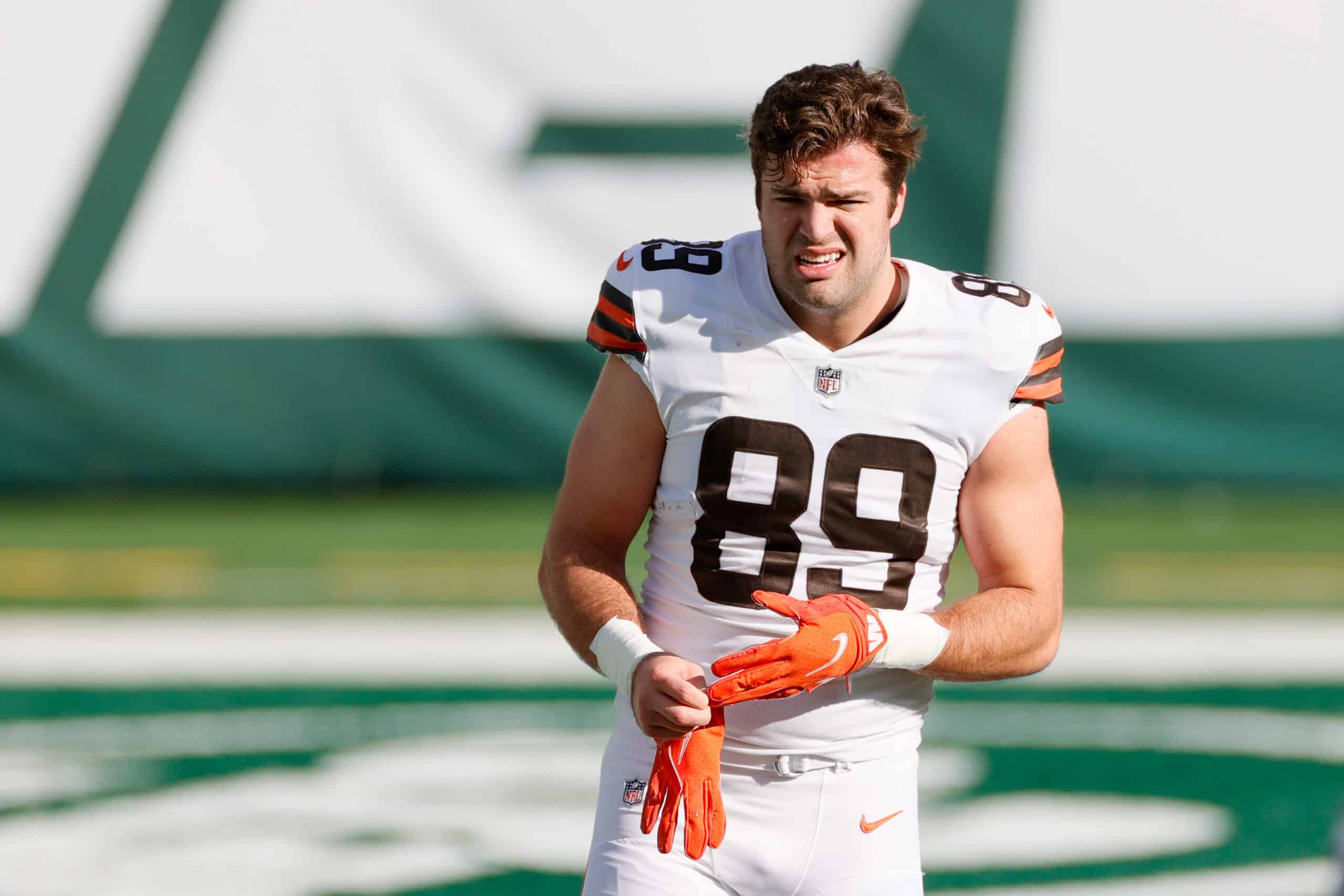 The Cleveland Browns rested the starters in their first preseason game on Saturday night against the Jacksonville Jaguars.
That has a two-fold purpose of giving reserve players valuable playing time and preventing injuries among starting players so early in the season.
Unfortunately, one of the Browns reserve players suffered a season-ending injury.
Tight end Stephen Carlson is believed to be done for the year with a knee injury.
It happened in the first half of the Jaguars game.
He reportedly has a brace on the knee and is using crutches.
#Browns TE Stephen Carlson suffered what's believed to be a season-ending knee injury vs the #Jaguars, a league source confirmed. He left the stadium in a large brace and on crutches, as reported last night.

— Mary Kay Cabot (@MaryKayCabot) August 15, 2021
There has been no firm diagnosis communicated yet though some believe surgery will be part of the recovery process.
#Browns tight end Stephen Carlson facing knee surgery and likely out for the year, a league source said.

— Jeff Schudel (@jsproinsider) August 15, 2021
Stephen Carlson
Carlson is the fourth tight end on the Browns depth chart.
He was an undrafted free agent in 2019 when he signed with the Browns.
Carlson has played in 25 career games starting in 7 of them.
He has one career touchdown scored in 2019.
In 2021, Carlson signed a one-year contract with the team for $850,000; he will be a restricted free agent at the end of the season.
Who Will Fill His Spot
Behind him on the depth chart are Jordan Franks and Connor Davis.
Both were undrafted free agents in 2018.
Franks was a member of the Cincinnati Bengals from 2018-2019, the Philadelphia Eagles (practice squad) in 2019, and the Browns practice squad since 2020.
Davis is 6'8″ and weighs 271 pounds.
He spent part of the 2020 season on the New York Jets practice squad.
Prior to that, he participated in the Alliance of American Football and the XFL.
Other Notable Injury – Mack Wilson
Carlson's injury news is terrible, but linebacker Mack Wilson's shoulder injury is not as bad.
Sources: #Browns LB Mack Wilson suffered a grade 1 shoulder sprain and avoided serious injury. He'll miss a couple days, but will be back soon.

— Brad Stainbrook (@BrownsByBrad) August 15, 2021
He left the game in the first half also and had an MRI.
Reports indicate that it is only a mild shoulder sprain so he will be sidelined just a few days.