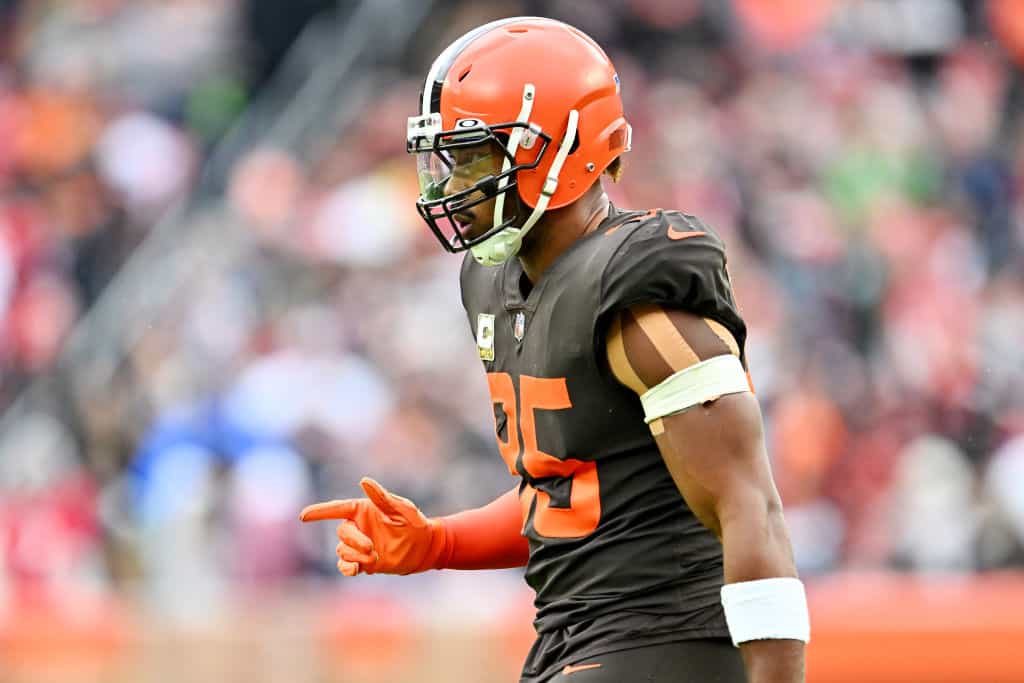 Ever since becoming a Cleveland Brown in 2017, defensive end Myles Garrett has proven to be one of the franchise's best-ever draft picks.
After racking up 32.5 sacks in three years at Texas A&M, Garrett started nine games as a rookie and bagged seven sacks.
Since then, he has tallied double-digit sacks every year including 32 in 2021 and 2022 combined.
So far this season, Garrett has 5.5 sacks, putting him at 80 in his career.
According to ESPN Cleveland's Brad Stainbrook, Garrett only needs one more sack to pass Reggie White for the most sacks by a player before his 28th birthday since 1982.
With a sack on Sunday #Browns DE Myles Garrett can surpass Pro Football Hall of Famer Reggie White (80 sacks) for the most sacks by a player prior to his 28th birthday since 1982.

— Brad Stainbrook (@StainbrookNFL) October 11, 2023
White was known as the "Minister of Defense" as a member of the Eagles, Packers, and Panthers between 1985-2000.
He ended his career with 198 total sacks which is good for second all-time.
Garrett had 16 sacks in 2021 and 2022.
Barring significant injury he should reach that mark and then some in 2023.
Except for Week 2 against Pittsburgh, Garrett has had at least one sack each game.
That includes a huge day against the Tennessee Titans when he brought down Ryan Tannehill 3.5 times.
In Week 4, Garrett dumped Baltimore Ravens quarterback Lamar Jackson once before leaving the contest with an injury.
He was in a walking boot during postgame interviews but the team expects him to play against San Francisco on Sunday.