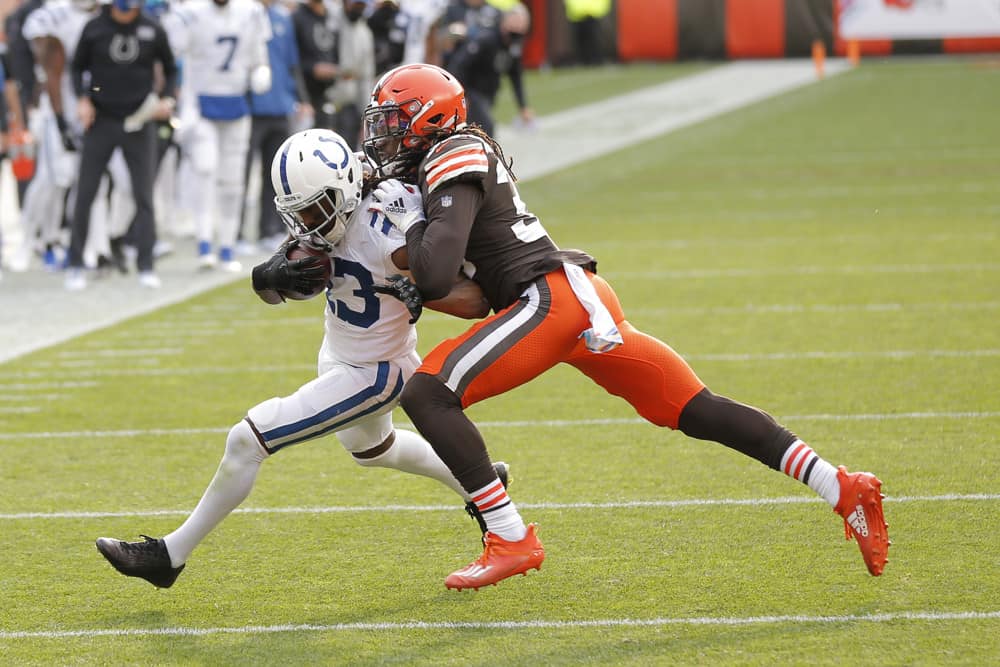 Cleveland Browns S Ronnie Harrison has been a solid performer so far in 2020.
In recent PFF rankings, he is the second-ranked overall safety in the NFL behind Cincinnati's Jessie Bates III.
His coverage grade is third behind Bates III and Detroit's Duron Harmon.
Per PFF, out of all NFL safeties with at least 102 defensive snaps, #Browns Ronnie Harrison's 79.6 overall grade ranks second, and his 78.4 coverage grade ranks third. pic.twitter.com/P4dOCpMyPL

— Sam Penix (@Sam_Penix) October 26, 2020
With that type of performance, it is easy to forget that Harrison did not start out the COVID-19 abbreviated training camp and season as a Cleveland Brown.
The Trade
Cleveland Browns GM Andrew Berry was faced with a preseason problem.
Rookie safety Grant Delpit had just gone down with a season-ending injury at training camp, so the Browns needed experienced safety help ASAP.
Berry worked a deal with the Jacksonville Jaguars who inexplicably had a preseason fire sale.
The Jaguars agreed to trade Harrison to the Browns for a fifth-round 2021 draft pick.
If that seemed like a steal at the time, it does even more so now seven weeks into the season.
The Browns gained everything and virtually gave up nothing to secure Harrison.
The Ronnie Harrison trade feels even better when you consider all the Browns had to do to acquire a 5th round pick was trade back from #41 to #44 in the draft. This move was almost free and has nothing but upside. Just a typical day at the office for Andrew Berry. pic.twitter.com/vgchcYxakk

— Nick Karns (@karnsies817) September 4, 2020
Ronnie Harrison
Harrison spent 3 seasons at Alabama before declaring for the 2018 NFL Draft.
He is a 2 time National Champion with Alabama in 2015 and 2017.
Harrison was the 7th safety drafted in 2018.
The Jaguars selected him in the third round with the 93rd pick overall.
2018 Season
Ronnie Harrison was behind Barry Church on the Jaguars depth chart for the 2018 season so his playing time was limited.
He didn't get an opportunity to start until Week 13.
Though he earned the starting job after Week 13, his tenure was short-lived.
He suffered a season-ending knee injury in Week 15.
Despite sharing time and dealing with an injury, Harrison still managed to amass 24 solo tackles in his rookie season.
2019 Season
Harrison started in 14 games in 2019 and recorded 44 solo tackles.
In spite of his performance, the Jaguars weathered a tough season, finishing with a 6-10 record.
RT @MoreForYou_CLE: Ronnie Harrison in 2 seasons in JAX:

103 combined tackles, 3 sacks, 3 INT, 12 pass deflections and 1 FR in 28 games played.

He's 6'3 207, which is pretty damn big for a safety. 😳

Welcome to Cleveland, @Rharr_15! pic.twitter.com/FZrJ6UJcBK

— THE MUSIC 👥 (@francmolica) September 5, 2020
Harrison's Contributions to the 2020 Browns
Obviously, with the PFF ranking, Harrison is off to a great start.
He also added a play to his personal highlight reel that was a game-changer against Indianapolis a few weeks ago.
Ronnie Harrison, former defensive alpha dog for Bama, with the pick 6 https://t.co/Jcc9GwT9GP

— Austin Randolph (@austinsrandolph) October 11, 2020
In a challenging season filled with injury and plenty of adversity, safety Ronnie Harrison has been a superstar and the perfect addition to the Cleveland Browns roster.
Credit to GM Andrew Berry and the front office for yet another roster move that is paying dividends.