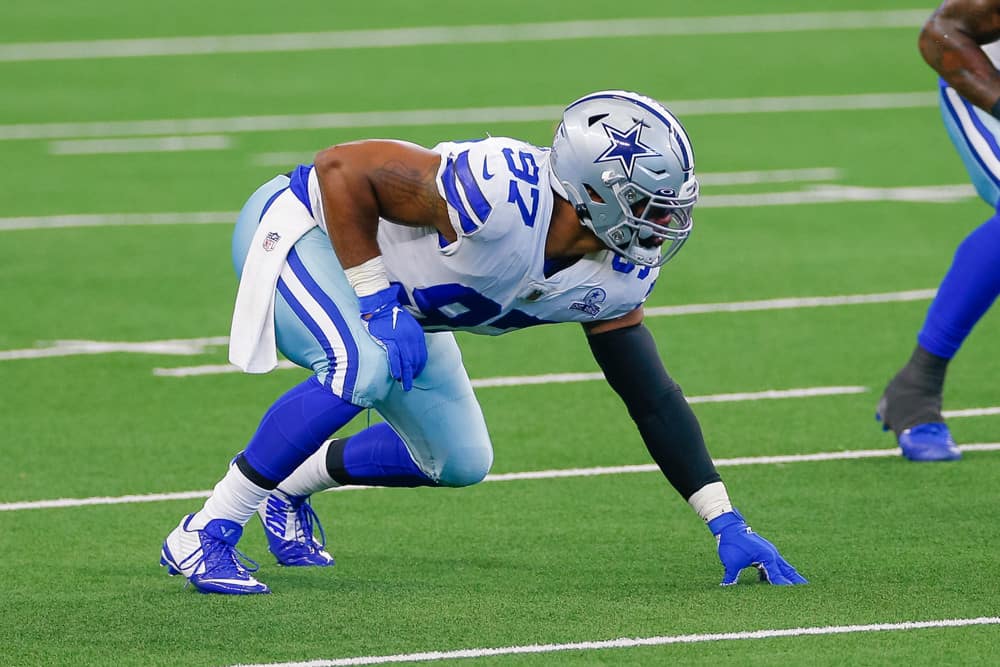 Back in June and July, there were rumblings of potential landing spots for defensive end Everson Griffen.
One of those places was Cleveland, however, as we now know, would ultimately sign with Dallas.
Sitting at 2-5 and down to their third-string quarterback, however, the Cowboys might be waiving the white flag on the season.
This is an interesting one: The #Cowboys have made it known that DE Everson Griffen is available in a trade, source says. About half of his $6M salary is left for a team looking for edge help. Makes sense with Dallas' record.

— Ian Rapoport (@RapSheet) October 26, 2020
Some of those teams that were in the running for Griffen this past summer have been brought up once again.
The Cleveland Browns are certainly included in that fan conversation.
It's no guarantee that Andrew Berry has been on the phone with Jerry Jones about a potential deal, but I'd be willing to bet they've had a Zoom call or two.
Could He Come To Cleveland?
With the Browns sitting on just over $31 million in cap space, the finances of the deal would not be the issue here.
Some fans have been critical of the fact that the Browns have so much cap room.
This could be a chance for Berry to silence some of those critics.
The only issue that could arise would be regarding the return package, but Jones can't demand a kings ransom for his defensive end.
The sheer fact that Dallas is pushing for a trade gives every other team in the league leverage in a potential deal.
They want to get rid of him, and they aren't hiding that fact.
Griffen also hasn't produced at a high level this year either.
After a tremendous 10-year stint with Minnesota, Griffen simply hasn't made an impact with the Cowboys defense this year.
In fairness, no one on that unit has, but that still doesn't help their case in trade negotiations.
After the week three loss to Seattle, the Dallas Morning News wrote this explaining how the Cowboys were not putting Griffen in any type of position to succeed.
Through the first two games, it appeared Griffen was uncomfortable playing in a two-point stance (standing up) after predominantly playing in a three-point stance while with the Vikings. But his play didn't substantially improve against Seattle, when he mostly used a three-point stance (hand in the ground).

Griffen has also spent more time playing on the left side with the Cowboys than he did for most of his Vikings career. Through three games, Griffen has aligned on the defense's left side for 65 snaps — he hasn't played more than 65 snaps on the left side in a season since 2013.
It hasn't been all bad for Griffen this year, however, as he still flashes his high-end ability from time to time.
.@EversonGriffen brings the 💥

📺 #DALvsWAS on FOX pic.twitter.com/l0dTUQOca0

— Dallas Cowboys (@dallascowboys) October 25, 2020
Would It Work?
Griffen may be struggling since his move to Texas, but another change of scenery could serve him well.
It clearly is not working in Dallas, and him leaving doesn't seem to even be up to him at this point.
The Browns could certainly use his talents.
Again, finances are of no concern for this team, especially when you consider he would only cost just north of $3 million.
The defensive end position behind Myles Garrett has also struggled to stay healthy this year.
Both Olivier Vernon and Adrian Clayborn have missed time due to injury.
The pass rush (10th in sacks per game) and rushing defense (5th best in terms of yards allowed) have been fine, but some added depth never hurts.
As long as the return request from Dallas isn't too pricey, this is absolutely a deal worth considering for Andrew Berry.
Dallas is likely looking for draft picks given how their season has gone.
Cleveland has an extra third and fourth-round pick that could allow them some flexibility with dealing picks.
I'll trust Berry to make the right decision in terms of giving up too much or not.