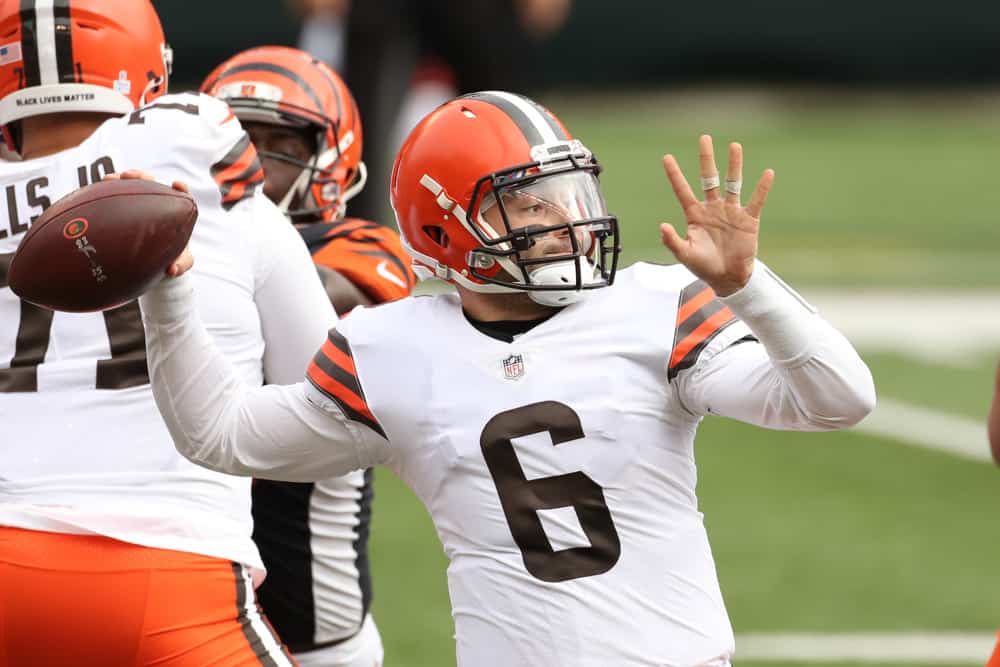 Cleveland Browns quarterback Baker Mayfield has played the best football of his NFL career since throwing an interception against the Cincinnati Bengals on Oct. 25.
Mayfield has 11 touchdowns and zero interceptions in the six-game stretch, in which the Browns have gone 5-1.
During Wednesday's edition of "Bull and Fox" on 92.3 The Fan, SportsTalk 790 host and former NFL quarterback Sean Salisbury discussed Mayfield's high level of play.
"I know Nick Chubb and he's the guy, but I'm starting to hear whispers, 'what about Baker Mayfield's MVP performance?'" Salisbury said. "Now, the numbers aren't going to be gaudy enough, but I'm just saying look how the narrative has changed over."
Mayfield, 25, is not listed among Bovada's odds for the 2020-2021 NFL regular season MVP.
As of Thursday night, Kansas City Chiefs Patrick Mahomes is considered the heavy favorite to win MVP at -450.
Salisbury said Mayfield has had great focus this season.
"I've always believed this, when you're accurate, you're always going to be accurate," Salisbury said. "You'll have some times in your ups and downs, but if stick to the mechanics that are well-coached and have weapons, and everything is starting to come together.

"So, I wasn't willing to be that, 'Oh, it's fashionable to bash Baker Mayfield.' Now, I'll be critical when he's doing something he shouldn't be doing on the field."
Salisbury said Mayfield has started to prove why he was worthy of the No. 1 overall pick in the 2018 NFL Draft.
"Now, he's got to do it in January and late December, but I'll tell you what they can beat the Steelers and Baltimore Ravens today the way those two teams are playing," Salisbury said.
The Browns (9-3) host the Ravens (7-5) on Monday Night Football.
In Week 17, the Browns host the Steelers (11-1).
The Browns lost 38-6 to the Ravens in Week 1 and lost 38-7 to the Steelers in Week 6.
"I've kind of climbed on a mountain top for [Mayfield], and I'm not opposed to being critical when necessary, but I just think we're so knee-jerk on players on good, put him in the Hall of Fame too early. And, bury him too soon as well," Salisbury said. "These guys are young because everyone is supposed to be [Patrick] Mahomes and everybody is supposed to do what Dan Marino did. That's not the norm.

"Maybe it looks like it, but it ain't supposed to be that easy. It's supposed to be tough, and he's starting to come into his own. And, it looks to me like Kevin Stefanski drew the line in the sand about how things are going to go for this team and it's working. So, I'm all about Baker Mayfield."
Salisbury said Mayfield looks less frantic in the pocket this season compared to his first two seasons in the league.
Mayfield is in his third NFL season under his fourth different head coach.
By the first week of May 2021, the Browns must decide whether to pick up the fifth-year option on Mayfield's rookie deal.
The fifth-year option is expected to be worth between $25 million and $26 million.