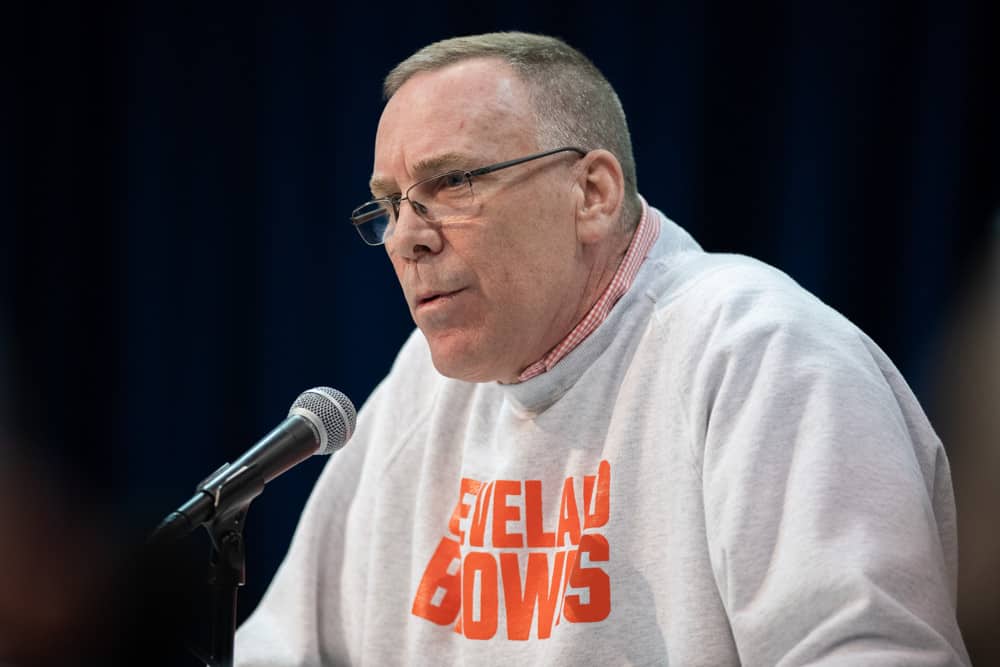 Browns general manager John Dorsey made quite a few splashes since joining the Cleveland Browns.
High-quality draft picks and flashy trades kicked off his regime in a rebuilding effort.
His choice of Baker Mayfield to lead the rebuild was questioned by many, but the rookie led a second-half charge that brought the team within a hair of their first .500 season and made the Browns a fashionable choice for AFC-North champions this season.
Dorsey landed a pair of Pro-Bowl wide receivers via trade and signed a former rushing champion in Kareem Hunt.
His acquisition of Odell Beckham Jr in the offseason was supposed to be the move that sealed a playoff run.
But the NFL is a tough business.
The Browns' 2019 season started off with a 43-13 drubbing against Tennessee and hasn't gotten much better since.
Freddie Kitchens is an easy fall guy.
Certainly, the rookie head coach isn't doing much to help his cause with his questionable in-game decision making.
But what about John Dorsey?
Should he be receiving more of the blame?
Trades can look good on paper.
Draft picks can be spent on worthy college stars.
But there is more to building a successful business, or football team, than putting good players on the roster.
To be fair, Dorsey tried to tell us to temper expectations for 2019.
Maybe its because he knows the team needs more than what he's done?
Learning To Win 
In Cleveland, building a winning culture has to be the priority.
Hiring Dorsey from the Kansas City Chiefs seemed to be a step in that direction.
Kansas City is a winning franchise and struggled before Dorsey got there.
But despite building a winning team in Kansas City, Dorsey was fired for a reason.
According to the Kansas City Star newspaper, Dorsey had communication issues and an aloof style of management.
It was reported he often made decisions no one else could understand and when pressed, Dorsey refused to explain his thinking.
He was the opposite of Andy Reid, who signed a contract extension the day Dorsey was let go.
Dorsey has a reputation for not caring much for discipline.
He consistently added players with character issues.
If he was going to change the culture in Cleveland, he needed to prove that it was a wrong image.
He didn't.
In fact, he drafted Antonio Callaway, who was recently released by the Browns.
Characters over Character 
Baker Mayfield was his first draft pick.
Mayfield was a mild surprise because of concerns about his off-field character, including an alcohol-related arrest.
Antonio Calloway's character raised a lot of alarms, as did Simeon Thomas', who was arrested for break and entry and accused of cheating on placement exams.
#Browns GM John Dorsey explains why he's "very comfortable" with his controversial decision to draft Antonio Callaway https://t.co/MQyMzL53uB

— Nate Ulrich (@ByNateUlrich) April 28, 2018
They were both Browns by the end of the draft.
In Dorsey's second draft, he added Sione Takitaki in the third round, despite four suspensions on his college record.
Even the addition of Odell Beckham Jr and Olivier Vernon brought two stars coming off confrontations with their coaching staff.
Dorsey was also questioned about his decision to draft troubled WR Tyreek Hill while with the Chiefs.
He stated their desire to find high-character players who love football, but the draft said otherwise.
Who Can Lead This Team? 
To create a winning culture with a roster full of players who haven't won and carry significant baggage requires a strong leader and personality.
Cleveland found such a candidate when Hue Jackson was let go and Gregg Williams took over.
The team went 5-3 during Williams' short tenure.
More importantly, the attitude of the team changed.
They were more focused, disciplined, and they expected to win.
Mayfield and other players cited Williams' no-nonsense, direct approach as the catalyst.
It was a harsh rebuke of the Hue Jackson era of coddling and excuse-making.
Williams' NFL resume has enough questionable entries to justify passing him up as the permanent head coach.
But finding someone with a similarly direct and disciplined approach should have been Dorsey's goal.
Instead, Dorsey went with Freddie Kitchens, the other hero of 2018's second half.
Baker Mayfield enjoyed his success over that stretch under Kitchens.
It played well enough to the fans.
Williams and Kitchens got sufficient praise during the Browns' 5-3 run.
It was a coin flip. Fans would be happy with either.
An inexperienced head coach would be a challenge, but Dorsey made the situation worse.
First, Dorsey let Ken Zampese go.
This was despite an obvious connection between Mayfield and his quarterbacks' coach and a chance to provide some consistency in Mayfield's sphere.
Todd Monken was a great hire.
Source: Former #Bucs OC Todd Monken is headed to Cleveland. He's agreed to terms with the #Browns to be their offensive coordinator. Along with the coming hire of Steve Wilks as DC, that's a high-powered staff.

— Ian Rapoport (@RapSheet) January 14, 2019
He managed to take Ryan Fitzpatrick and Jameis Winston and make the Buccaneers the top-ranked passing team in 2018.
He is a disciple of the air raid college system, something that seems destined to work well with the young Mayfield.
But Kitchens announced from day one he intended to call the offensive plays.
John Dorsey needed to talk him out of that, if not before the season, then certainly at the first sign of trouble.
Bill Parcells didn't look like a Hall of Fame coach until he handed over play-calling to his assistant, Jason Garrett.
Dorsey can step in any time and make Kitchens understand that.
Not Every Move Was A Winner 
Along with the flashy trade acquisitions, Dorsey sent away many valuable players who would have come in handy this season.
Jason McCourty, Emmanuel Ogbah, Carl Nassib, Genard Avery, Kevin Zeitler, and Jabril Peppers all start for other teams.
This is consistent with Dorsey's history of trading away players as soon as they lose their starting status, but before he knows if the replacements are going to work out.
Zeitler is the biggest example.
Dorsey thought the Browns had a plan for the offensive line.
Minor trades and several draft picks leave the team with a mish-mosh of average to below-average options across the line.
Dorsey drafted one of the best college tackles in the 2018 draft, Austin Corbett.
He immediately announced plans to play Corbett at guard, something he never did at any point in his college career.
Corbett struggled immediately and seemed to never find a place on the offensive line.
Wyatt Teller eventually won the second guard slot, but the inside linemen still can't create the pocket security Mayfield enjoyed last year.
Cleveland's tackles, Greg Robinson and Chris Hubbard, aren't improving with age either.
Dorsey drafted Drew Forbes in the later rounds of 2019.
He shows promise, but he is not ready to step in.
Corbett was traded away after failing to convert to guard.
Dorsey doesn't appear to have any new plan.
Mayfield's inability to step up has him scrambling and throwing short, which is not a recipe for success with Odell Beckham.
Cleveland's inability to run the ball in goal-to-go situations further emphasizes Dorsey's shortsightedness when it comes to the offensive line.
Antonio Calloway wound up getting cut just before the NFL announced a suspension for a failed drug test.
The #Browns just waived Antonio Callaway. In a season wherein Baker Mayfield has struggled and Austin Corbett was traded, John Dorsey's 2018 draft class has undeniably been a disappointment in Year 2.

— Zach Bush (@BushtheEnvelope) November 14, 2019
Simeon Thomas was waived before the 2018 season started.
More Disappointment To Come? 
When Myles Garrett slammed a helmet into the head of the opposing quarterback, Dorsey (and the Haslams) seemed more concerned about upsetting the rest of their players than they were with admitting Garrett's suspension was warranted.
It was another chance to show the culture is changing in Cleveland.
Except, it isn't.
John Dorsey loves to make trades and flip draft picks.
It's easy to pick out the ones that don't work and question player decisions made during the season.
But if he can't understand there is more to fielding a championship team than filling roster spots, more disappointing seasons lie ahead in Cleveland.