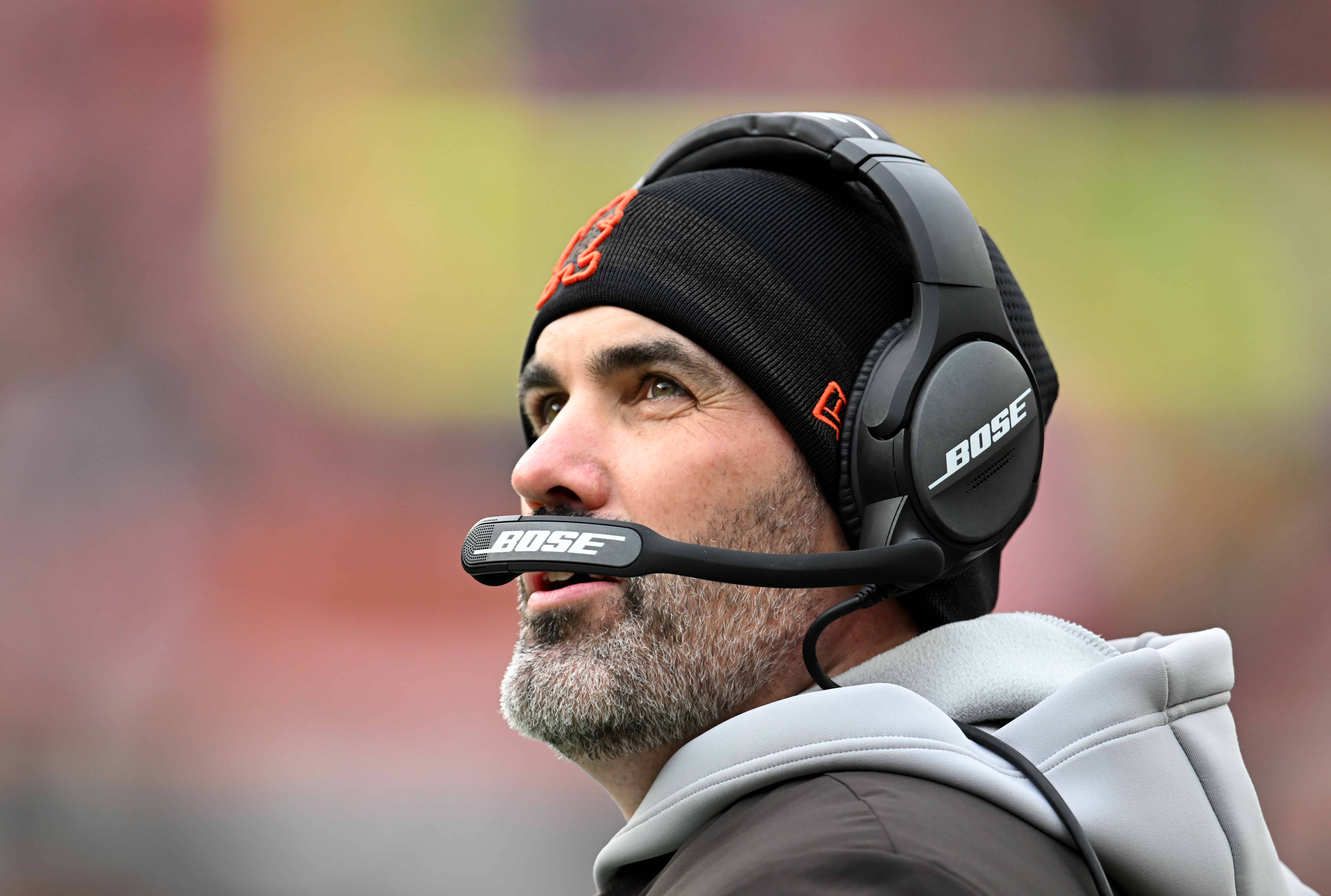 It is the offseason for the Cleveland Browns.
That is the time to evaluate and reevaluate every player and coach to make sure the person is still a good fit for the 2022 Browns.
No one is excluded from the exercise including Coach Kevin Stefanski.
Should Coach Stefanski be on the hot seat going into 2022?
The answer is no, and here is why.
1. Reigning NFL Coach Of The Year
THAT'S OUR COACH. 😤

Kevin Stefanski is the 2020 Coach of the Year! pic.twitter.com/EtY4p6ByrF

— Cleveland Browns (@Browns) February 7, 2021
Stefanski is the reigning NFL Coach of the Year.
He won that award after his rookie season.
While Stefanski had adversity in 2020 that he was able to work through while the Browns were winning, this season's adversity accompanied a losing streak.
A losing streak in his sophomore season does not warrant him to be on the hot seat or on the verge of being fired.
The Browns spent years changing coaches, and that is a painful process that should be avoided unless absolutely necessary.
Stefanski remains a good coach who had some growing pains but deserves time to right the ship.
2. Career Regular Season Record Is 19-14
As mentioned before, Coach Stefanski is finishing only his second season as an NFL coach anywhere.
His prior experience was in various staff positions with the Minnesota Vikings.
In 2020, Stefanski got a new job with a brand new team.
Through two seasons, he has managed to stay above .500 and finish 19-14.
COVID-19, injuries, and other adversity have been in the mix during these two seasons so that is commendable especially with a franchise that once went 1-31 over two seasons.
In his end-of-season press conference, Stefanski talked about debriefing everyone to learn how to get better for next season.
"Learned a lot.  I think that's what this week is about. Meeting with all the coaches…giving me their two cents on what worked, didn't work. One of my main reflections, so disappointed you win 8, you lose 9."
#Browns HC Kevin Stefanski on @CLETalkingHeads: "Learned a lot. I think that's what this week is about. Meeting with all the coaches…giving me their two cents of what worked, didn't work. One of my main reflections, so disappointed you win 8, you lose 9."

— 92.3 The Fan (@923TheFan) January 13, 2022
3. Needs More Time To Build The Team
Rarely does a rookie player peak in his first season or even his second.
It takes time to learn the role and to build and grow with it.
The same is true for head coaches and specifically Stefanski.
Though he seems to be an ultra-prepared person, nothing could prepare him for the events of this season.
The injuries and the issues with Odell Beckham Jr.
That is where the learning comes in.
Stefanski spoke of documenting the learnings in an improvement plan.
Every player and coach including himself has an improvement plan to work off of and reflect on during the offseason.
Kevin Stefanski said that the Browns will have an improvement plan for every player and every coach, including himself, to ensure that this disappointing season is a one-time occurrence. #Browns

— Hayden Grove (@H_Grove) January 10, 2022
We will never know what exactly is in Coach Stefanski's personal improvement plan, but we wonder if play-calling might be part of it.
He was challenged a lot during the season about his play calling.
Kevin Stefanski is calling plays like it's me and not Nick Chubb in his backfield. #Browns

— Jeff Schudel (@jsproinsider) January 4, 2022
Neither he nor Andrew Berry has given any indication that he will relinquish play calling.
If he does not give up playcalling, he needs to change his approach.
There were times when Stefanski abandoned the run and leaned heavily on an injured Mayfield, and those situations did not end well.
He was also accused of calling plays with the mindset of not losing instead of aggressively going for the win.
Stefanski's playcalling must improve for the Browns to be more competitive in 2022; otherwise, he may find himself on the hot seat a year from now.