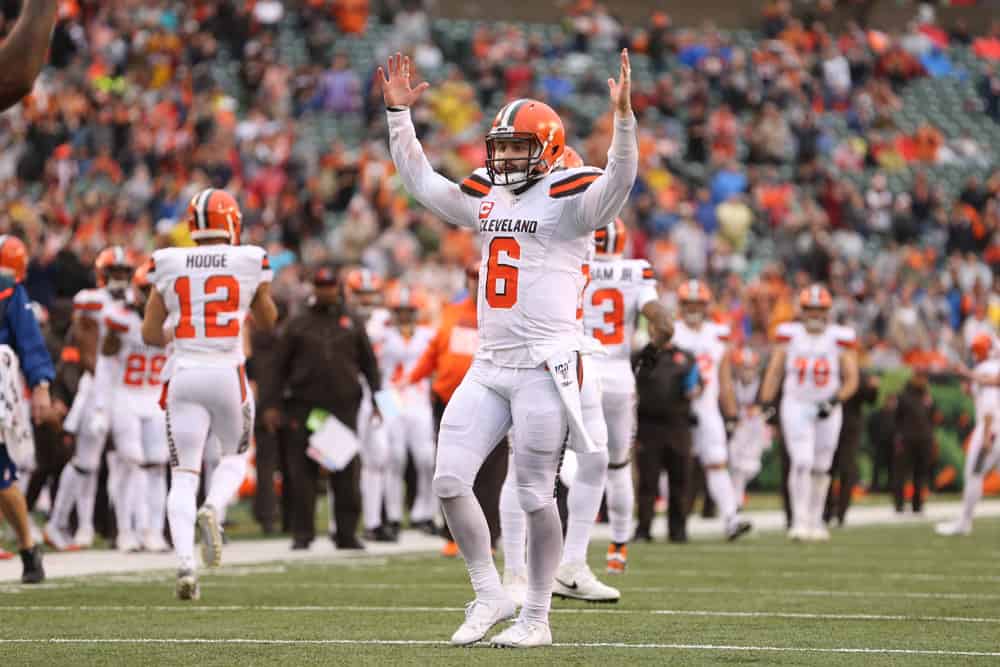 We have clarity on the season after the NFL dropped the 2020 schedule.
The Browns have an easier schedule, which means there is a real shot at claiming a winning record.
Let's see what you wanted to know.
I want to go to one Browns home game next season. What game do you think would be the best game to go to?-Keith S, Berea, Ohio
For starters, let's break down the home opponents.
Bengals (1-15)
Redskins (3-13)
Colts (7-9)
Raiders (7-9)
Texans (10-6)
Eagles (9-7)
Ravens (14-2)
Steelers (8-8)
If you are wanting to go to a game, I think there are three scenarios that you could do.
The "Feel Good" Game: Washington Redskins
This is the game in Week 3 of the season and you would get to see a Browns offense that would have two weeks of gelling before they beat the living socks off the Redskins.
The Redskins are a candidate for the No. 1 overall pick next season, so you could go watch your team likely score a win.
The "Bombs Away" Game: Houston Texans
We expect Houston to be down a lot in games.
In this game, you would get to see DeShaun Watson just throw the ball everywhere.
You could probably expect 45 pass attempts here, and you might get lucky and see an incredible play.
The "Decider" Game: Baltimore Ravens
Personally, this is my overwhelming choice to pick, and here's why.
The Browns play the Ravens on Week 14
That means that the Browns could be in a playoff push based on their record.
After this game, the Browns play the Jets, Giants, and Steelers.
This game could decide the fate of the rest of the Browns season, so the home stadium is going to be rocking if the Browns enter the contest with a winning record.
I would want to be there in that atmosphere.
With the schedule and talent that the Browns have, I think this is finally the year they break the playoff drought. What are your thoughts? -Jason M, Toledo, Ohio
When the schedule dropped, I was very open in saying that every single opponent the Browns have is beatable.
The Ravens are the only scary opponent, and rightfully so after the way they played last season.
The Browns' home opponents were previously mentioned, so let's take a look at the road opponent outside the division as well.
Dallas Cowboys (8-8)
Tennessee Titans (9-7)
Jacksonville Jaguars (6-10)
New York Giants (4-12)
New York Jets (7-9)
How favorable is their road schedule?
If you want to make the playoffs, you have to win on the road.
Somehow, the Browns get to play the Bengals, Jaguars, Giants, and Jets all on the road and that's a combined 18-46 record.
The Cleveland Browns' schedule for 2020 was released Thursday. Cleveland has the fourth-easiest strength of schedule based on its opponents' records from 2019 (.461).

🌐 https://t.co/R5u57AWwsK#pnxbet #xmaschance #slots #betting #sportsbetting #slotgames #casino #poker pic.twitter.com/pAhbevEAOZ

— PNXBET (@pnxbet_com) May 9, 2020

If the Browns can take care of those four road wins, where does the rest come from?
I'm going to be cynical and say that the Browns will lose both games to the Ravens and split with the Steelers.
They will sweep the Bengals and pummel the Redskins, so that brings their win total to seven.
That leaves the toss-up games with the Raiders, Colts, Eagles, Texans, Cowboys, and Titans.
I do not see the Browns beating the Cowboys or Titans on the road and I see the Colts and Eagles winning on the Browns' turf.
The Texans are going to be worse, so I can see the Browns winning that game.
As for the Raiders, that's a winnable game and that would get the Browns to 10-6, a winning record, and a playoff berth at least in the wild card.
I read Myles Garrett is probably going to get $25 million per season and be the highest-paid defensive end in the league. Do you think he is worth that kind of investment and taking up that much of the cap? -Jared S, Columbus, Ohio
I had to deep dive to find that report and tweet because my initial reaction is that is insane.
#Browns GM Andrew Berry told RapSheet + Friends (https://t.co/CiKkY8tVHv) that he hopes Myles Garrett is with the #Browns for years to come. Why a long-term extension makes sense 👇🏼👇🏼👇🏼 pic.twitter.com/Xfe6oebpQU

— Ian Rapoport (@RapSheet) May 5, 2020
Jadeveon Clowney is entering his 27-age season, while Garrett is entering his age-25 season.
I feel that both are very similar, given they are both former No. 1 overall picks.
For starters, we can only compare one of Garrett's seasons because he has only played a full 16 games once.
In 2018, Garrett finished with 44 combined tackles, 35 solo tackles, 13.5 sacks, 12.0 tackles for loss, and 29.0 quarterback hits.
For Clowney, his best season came in 2017, where oddly enough he was also 24 at the time.
In 2017, Clowney finished with 59 combined tackles, 41 solo tackles, 9.5 sacks, 21.0 tackles for loss, and 21 quarterback hits.
Ignore the low sack numbers for a second, Jadeveon Clowney is one of the beat DEs in the league.

-11th best overall edge grade since 2017
-3rd best edge grade against the run since 2017
-higher overall grade than Khalil Mack last year #Eagles | #NFL pic.twitter.com/6iNbH7degi

— David Esser (@phillyinsider99) May 6, 2020
Who is Clowney playing for next season?
That's right, he's still a free agent.
Clowney was reportedly wanting nearly $20 million per year and that number has dropped.
I think that teams are starting to see how paying a pass-rusher $20 million can open up holes all over the team.
According to Spotrac, the highest-paid defensive ends in the league are DeMarcus Lawrence, Frank Clark, JJ Watt, and Trey Flowers.
Garrett was on pace to become the highest-paid defensive end until he went crazy on Mason Rudolph, which drastically hurt his stock.
However, I will say that if Garrett can piece a full 16-game season, it's possible that he could ask for that kind of money.
Would it be right to pay him that much?
Absolutely not.
Baker makes me nervous next season. Everyone is saying that the offensive line is fixed and Baker will be back to the way he was in 2018. I'm not so sure. He had some really questionable decision making last year. Do you see Baker having a big year? Are we going to see the 2018 or 2019 Baker in 2020? -Tyler D, Fremont, Ohio
I 100% agree with you.
I actually wrote at one point last season that, even with a better OL, Mayfield had a very alarming statistic.
Baker Mayfield has the lowest passer rating in the NFL when not under pressure this season per @NextGenStats. He is the only QB with more INT than TD passes when not pressured. pic.twitter.com/OuFERsVDzm

— NFL Research (@NFLResearch) November 5, 2019
On the flip side, I feel really good about the 2020 season because of the trend that we have seen over the years.
Sean McVay's first year with Jared Goff and Matt Nagy's first year with Mitchell Trubisky were both very productive and Pro Bowl-like seasons.
I can't comment on what happened when teams keyed on them after that season.
Both McVay and Nagy are quarterback guys just like Kevin Stefanski.
We expect a lot from Mayfield in 2020 and I think that Stefanski is going to keep the streak of first-year coaches making the playoffs by retooling their quarterback.
It's a good time to be a first-year head coach when you have OBJ, Jarvis Landry, Nick Chubb, Kareem Hunt, Austin Hooper, and David Njoku at your disposal.
This is a big year for Mayfield because if he can't produce with those weapons, then he is going to be bagging groceries and asking Kurt Warner to be a job reference.