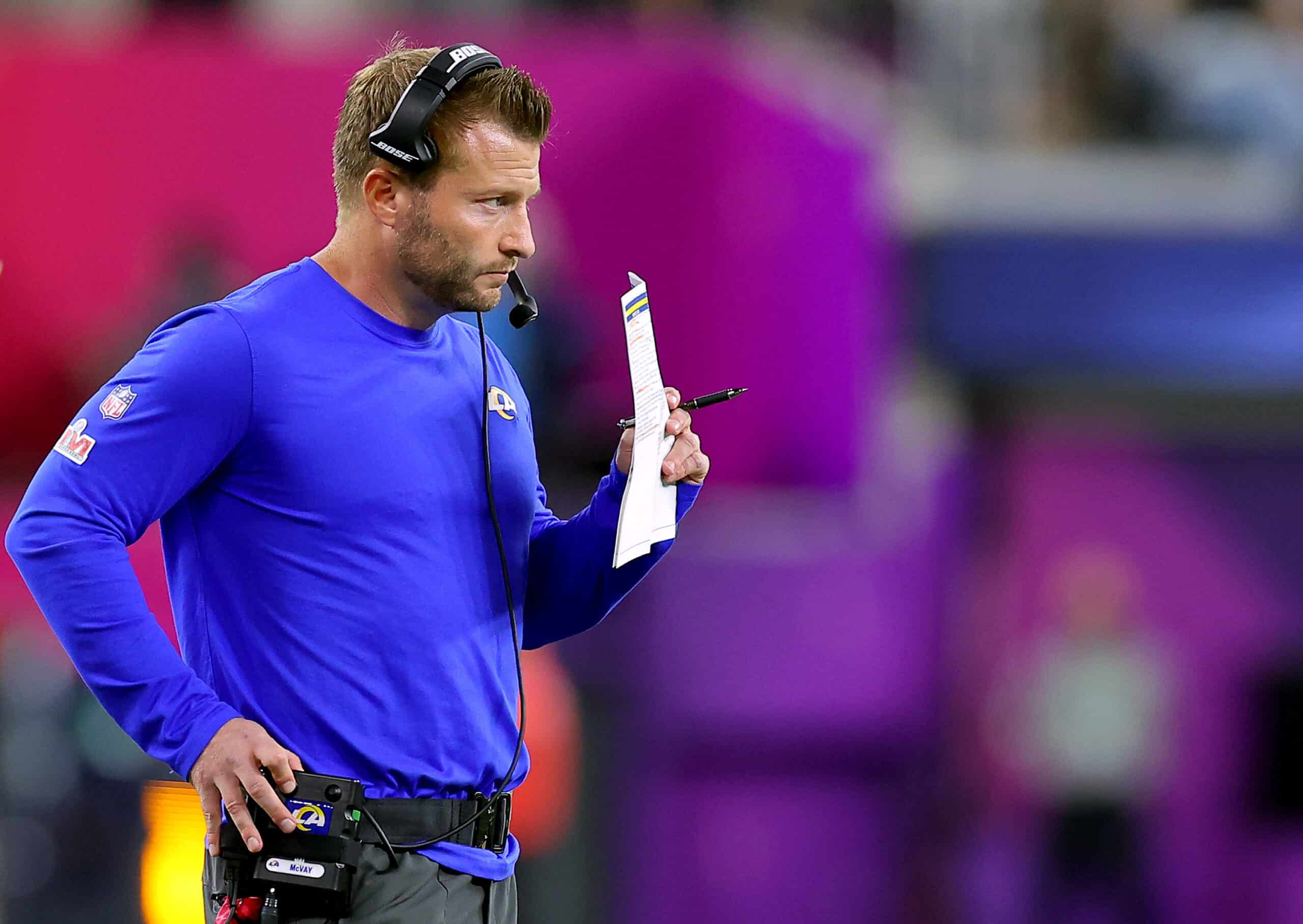 Imagine trading for a quarterback and winning the Super Bowl in his first season?
It's the stuff of NFL dreams, Hollywood movie fantasies, or the Los Angeles Rams.
So now that we know it can happen, should the Cleveland Browns follow the Rams formula?
Andrew Berry on Baker Mayfield in 2022:

"We fully expect Baker to be our starter and bounce back."

— Andrew Gribble (@Andrew_Gribble) January 11, 2022
There are a few similarities between the glamor boys from L.A. and the Browns' situation.
Both are led by alleged offensive geniuses who seemed handicapped by limited quarterback abilities.
Jared Goff was a former first-overall pick with early playoff success- rolling all the way into a Super Bowl.
But McVay clearly thought he was hamstrung with the 4th-year version of Goff running his offense.
Andrew Berry on Baker Mayfield: "We know his work ethic. We know his drive. We see him as a talented passer in this league… We expect him to bounce back next year." #Browns

— Hayden Grove (@H_Grove) January 11, 2022
Sean McVay's passing attack was reborn with Matthew Stafford behind center.
Of course, Goff wasn't playing with one arm tied up in a shoulder harness in 2020.
But it is more than Baker Mayfield's arm that could cause the Browns to consider other options for 2022.
Who Plays The Roll of Matthew Stafford? 
McVay and the Rams sent 3 draft picks and their quarterback to Detroit to obtain Matthew Stafford.
Stafford, who asked to be traded, was considered an above-average passer who never won a big game.
He was 0-3 in playoff appearances over a 12-season run in Detroit.
Browns fans immediately look at Russell Wilson, Deshaun Watson, and Aaron Rodgers as obvious trade targets.
Baker Mayfield is under contract with #Browns for next season. This is a fact. He's scheduled to undergo surgery on Jan. 19. Fact.

He had his exit meeting on Friday with coach Kevin Stefanski and they talked about ways to improve going forward.

— Tom Withers (@twithersAP) January 9, 2022
Wilson and Rodgers are proven talents but appear more likely than not to stay with their current teams.
Houston will be more motivated than last year to move Watson, as his salary rises from $10 million to $35 million.
And he fits the "talented-but-not-playoff-proven" narrative of Stafford.
#Browns Kevin Stefanski said that Baker Mayfield, like the team, was inconsistent but still believes he can play well moving forward.

"I've seen Baker play at a very high level and I'm confident he'll get this surgery and he's gonna work real hard this offseason to bounce back.

— Camryn Justice (@camijustice) January 10, 2022
But even if Watson clears up his legal situation, the NFL could make him unavailable for a good portion of 2022.
Cleveland would pay a premium for a public-relations challenge who hasn't seen the field in well over a year.
And that could cause them to look in another direction for their Hollywood Story.
What Happens in Vegas…
Derek Carr's statistics might not jump off the page as loudly as Matthew Stafford's.
But they are not bad, and for the most part, they are trending upward.
And his 8 mediocre seasons can be blamed on Raiders management as easily as Stafford's on Detroit.
Las Vegas' new leaders say they are committed to Carr moving forward.
But their words are similar to John McVay's comments just before shipping Goff to Michigan.
Andrew Berry says he'd be comfortable playing Baker Mayfield in 2022 without an extension in place. Not worried about a lame duck QB situation.

— Ben Axelrod (@BenAxelrod) January 11, 2022
Vegas wants to put on a show, and hiring a rowdy gunslinger like Baker Mayfield might be a good fit.
Carr would slide in behind the best offensive line he's ever seen, backed up by a stellar running game.
And Kevin Stefanski gets a veteran presence with good timing, who reads defenses and scans the field well.
Just like McVay, Stefanski should feel confident in opening more pages of his playbook for Carr.
And that makes Carr a better option late in close games, even if he has a quieter demeanor on and off the field.
Move Makes Sense, but…
Trading for a veteran passer means the Browns don't have to make a big move at wide receiver to attract free agents.
But Carr still needs a legitimate deep threat and veteran presence to lead the Browns to a Super Bowl.
And of course, it takes two to tango, meaning the Raiders have to be open to a change, too.
Mayfield's expiring contract might be a plus in a bad quarterback draft year and a weak free agent group.
Las Vegas risks much less money with Mayfield than Goff, but they won't get the draft bounty Detroit received.
Since he was selected by the @Browns with the No. 1 overall pick in the 2018 NFL Draft, there's been a tremendous spotlight on QB Baker Mayfield. While he's had some rough moments, Mayfield has also reminded us time & time again why he can succeed in this league. – Andrew Berry pic.twitter.com/FJIJrlZW3G

— BROWNS OR DIE 💀 (@BrownsorDie) March 4, 2021
Cleveland could also make a run at Jimmy Garoppolo but would have to lose Mayfield's contract in the process.
Perhaps a 3-way deal involving John Dorsey makes Mayfield a Lion and brings Jimmy G to Cleveland.
But Carr, Mayfield, and an exchange of draft picks best create the Rams formula in Cleveland.
Andrew Berry assembled a solid roster, but entering his third season means any honeymoon period is over.
If Cleveland is to raise a Lombardi Trophy in his tenure, it's a good time for Berry to make a bold move.