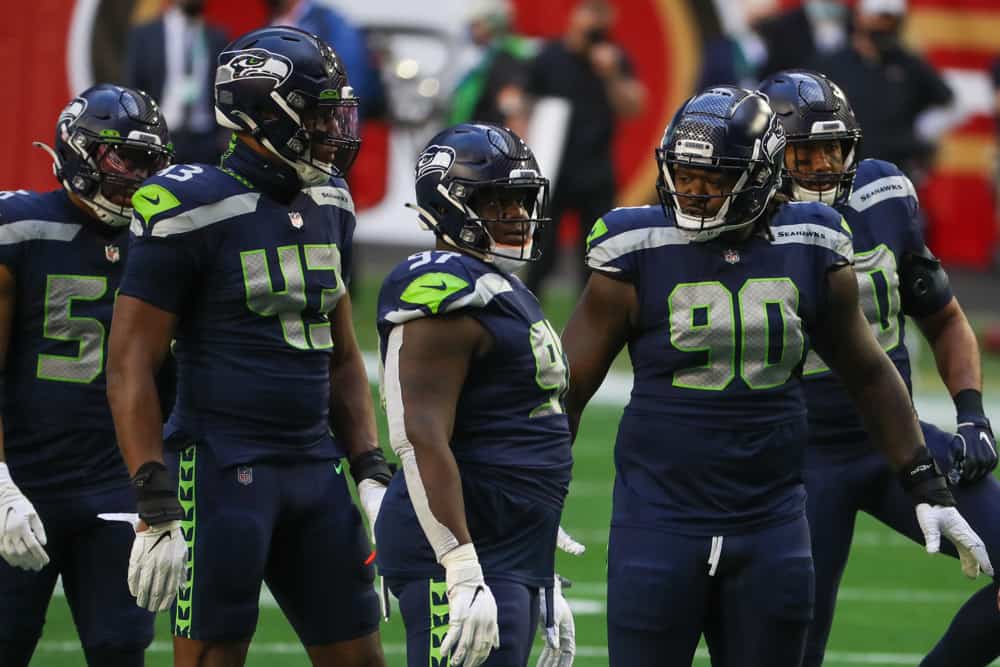 On Monday, the Seattle Seahawks announced that they've released defensive end Carlos Dunlap.
This wasn't a surprising move as Seattle will save $14.1 million in cap space by cutting him.
However, it sounds like the organization is open to a reunion and Dunlap might consider returning to Seattle.
Still Grateful. Thank You Seahawks and to the #12 's 🙌🏾!

House in Cincy is officially listed now lol, and about to lower the price.

— Carlos Dunlap (@Carlos_Dunlap) March 8, 2021
The two-time Pro Bowl defensive end had plenty of success during his short time with the Seahawks.
It appears the Seahawks want to bring back Dunlap at a discounted rate, but possibly the Cleveland Browns will be able to outbid them for the services of Dunlap.
Dunlap Destroyer
The 32-year-old pass rusher spent 10-plus years as a member of the Cincinnati Bengals.
However, the veteran defensive end grew frustrated with his role on the team.
He was eventually traded to the Seahawks in exchange for a seventh-round pick and backup offensive lineman B.J. Finney.
#Bengals released OL B.J. Finney, who came as part of the return in the midseason trade sending Carlos Dunlap to Seattle. pic.twitter.com/tj7gtGQ5kN

— Laurel Pfahler (@LaurelPfahler) March 5, 2021
Honestly, Dunlap was undervalued during his time in Cincinnati.
There was a stretch in the middle of his career where he didn't miss a game for six straight seasons.
Dunlap currently sits at 12th among active players in sacks with 87.5, according to Pro Football Reference.
He is towards the backend of his career, but Dunlap can still play at an above-average level.
Last season, he recorded five sacks and 15 quarterback hits during his nine games in Seattle.
There is definitely going to be a market for Dunlap, assuming he isn't already committed to signing with the Seahawks.
Should The Browns Make An Offer?
It appears the Cleveland front office is serious about adding another pass rusher this offseason.
Both Olivier Vernon and Larry Ogunjobi are pending free agents, which leaves a massive hole on the defensive line.
The Browns have plenty of cap space in order to add a significant contract or two on defense this offseason.
Cleveland can offer Dunlap something that many other teams cannot and that is a chance at a Super Bowl.
"My two goals are still a Super Bowl and 100 sacks, and I have not accomplished either one of them. I haven't won a playoff game," said Dunlap.
The veteran pass rusher is 0-5 in the postseason, so maybe coming to Cleveland could help change that.
There is a potential fit for Dunlap in Cleveland, but is it a financially smart move?
Dunlap just finished out a three-year deal worth $45 million that he signed in 2018.
#Bengals defensive end Carlos Dunlap (96) answer questions after signing a three-year, $45 million contract extension through 2021 with the team, Wednesday, Aug. 29, 2018, at Paul Brown Stadium in Cincinnati. @ENQSports pic.twitter.com/qt42nf2UtT

— Kareem Elgazzar (@ElgazzarBLVD) August 29, 2018
He continues to play at a consistent level, which means Dunlap is likely going to be seeking a deal around $10 million per season.
Honestly, the Browns might be able to get similar production at a cheaper price elsewhere.
The front office should not commit to anything long-term with a 32-year-old player.
It wouldn't be surprising if the Browns decide to "kick the tires" on Dunlap, but we'll see what happens.
He sounds like he's happy in Seattle and could very well return to the Seahawks at a discounted price.
Dunlap would certainly be a reliable option next to Myles Garrett, but the Browns don't need to overpay him with so many other options available this offseason.