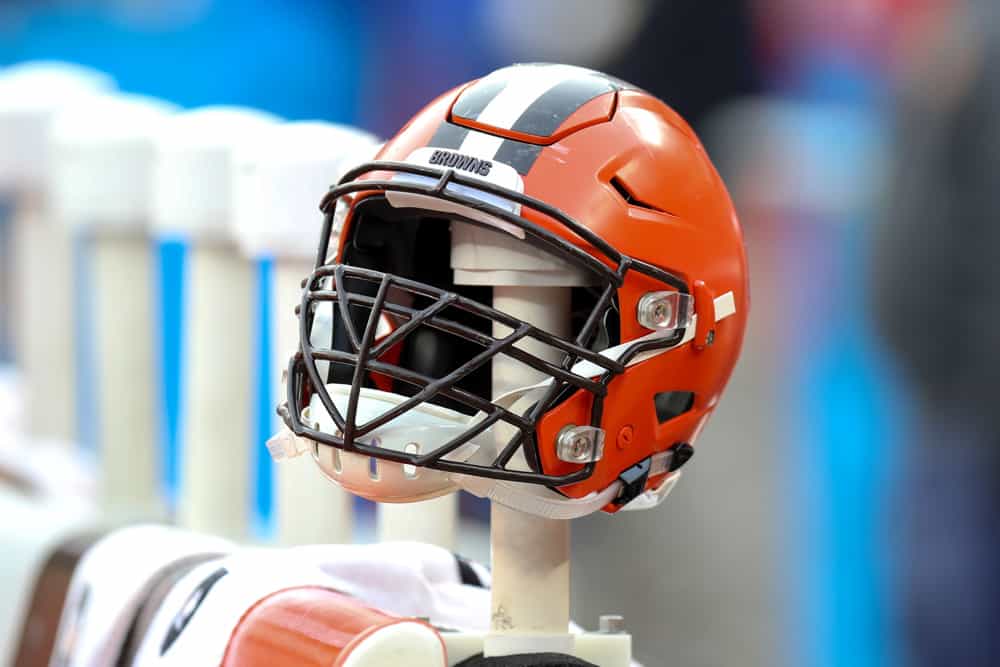 According to many NFL executives and coaches, Cleveland has one of the brightest future general managers on their payroll.
It is not Andrew Berry, although he gets rave reviews, too.
"Andrew Berry is one of the brightest young men we ever had the pleasure of working with," – Bill Polian (https://t.co/YxTESIVvDn)

Doesn't hurt to have another bright football guy in the front office.

— Brian McLaughlin (@B_McGLOCK) February 25, 2019
But when Eliot Wolf joined the Cleveland Browns front office, his stay was expected to be short.
He had already been the focus of several general manager searches.
There seemed little doubt another would present itself sooner than later.
The Cleveland Browns have an obvious candidate for GM in their ranks.

His name is Eliot Wolf. He's the son of the legendary former
Packers GM Ron Wolf.

I thought the Packers made a mistake by hiring Gutekunst over him. I was wrong on that. But Wolf is still GM material.

— Austin "BADG3RMAN" Smith (@TheBadg3rman) December 31, 2019
When Mike McCarthy interviewed for the Browns head coach opening, Wolf's name was often attached.
But Jimmy Haslam told reporters early on that Eliot Wolf was not going to be promoted.
Haslam said Wolf was doing a fine job, but the team would look outside the organization for their next GM.
Wolf's Rise Through the Ranks
Wolf boasts an impressive resume of advancement during 12 years of the most successful era in Packers history.
Wolf also has an impressive pedigree.
Ron Wolf, Eliot's father, took over the Packers' football operations in 1991.
The senior Wolf already built several Super Bowl teams in Oakland.
Happy 81st birthday to Ron Wolf. Most people remember him for what he did with the Packers. I'll always think of him for the scouting he did for Al Davis and the Raiders, bringing in such players as Art Shell, Gene Upshaw, Ken Stabler, Jack Tatum, Howie Long and Marcus Allen.

— Gil Brandt (@Gil_Brandt) December 30, 2019
When Wolf arrived in Green Bay, Wolf handed Ted Thompson film on a player he intended to trade for.
Brett Favre was soon a Packer and an era of excellence kicked off in Green Bay.
Eliot Wolf unofficially started his football scouting career at the age of 10, when he shadowed his father.
The younger Wolf attended every draft and scouting combine since.
He took part in 10 scouting internships with Green Bay, Atlanta, and Seattle.
ICYMI: #Browns hire Eliot Wolf as assistant general manager, shake up player personnel department. Hall of Fame GM Ron Wolf says it's a good step for his son who also had opportunities to stay with #Packers or join #Raiders https://t.co/5ejYPbkHSc

— Nate Ulrich (@ByNateUlrich) January 11, 2018
Ted Thompson left to join Mike Holmgren in Seattle for four seasons.
When he returned to lead the Packers' front office in 2004, Wolf was officially part of the scouting department.
Thompson promoted Wolf several times.
He landed the role of Green Bay's Director of Football Operations in 2016.
Why Wolf Left Green Bay
Wolf was largely expected to follow Thompson into his father's former role in Green Bay.
Three times Thompson blocked other teams from interviewing Wolf for GM openings.
More recently, Wolf was allowed an interview with San Francisco and Indianapolis.
When word came that Thompson was being reassigned, Wolf was the immediate front-runner for the job.
Favre and Ron Wolf were among those surprised Brian Gutekunst beat out Wolf.
Gutekunst wanted Wolf to stay on board as his chief advisor.
One last thing on Eliot Wolf – to be fair, I cant imagine anybody staying with the Packers in the same situation. He was above Gutekunst and got passed over for the GM job.

— Michael Rodney (@PackersNotes) December 31, 2019
But waiting in Green Bay for another shot was not appetizing to the young executive.
By changing teams, Wolf showed potential suitors he was open to leaving his Green Bay roots.
Why Was Wolf Passed Over in Cleveland?
It is always difficult to say which scout or director is most responsible for each signing or draft pick.
But Wolf will always be associated with John Dorsey's drafts.
That includes Baker Mayfield, Nick Chubb, Denzel Ward, and Greedy Williams.
It also links him to Antonio Calloway, Austin Corbett, and Sione Takitaki.
And the jury is still out on Mayfield.
Jimmy Haslam thought the Browns took a step back in 2019.
It matters little that talent was rarely cited as a reason for that slip.
Wolf is a John Dorsey guy.
When he was hired, he was part of a move back toward traditional football scouting.
Despite his youth, Wolf is not known as an analytics guy.
That makes him unlikely to be a Paul DePodesta guy.
Wait, what all holdovers are there from the Dorsey regime? There should be none, won't it mess up the ALIGNMENT?!?!?!?!?!?! #BROWNS

— Adamjb26 (@BrownsObsession) January 27, 2020
Wolf graduated from the University of Miami, not listed among the Ivy League members.
Every scout and coach uses analytics to some degree.
But the "shared vision" of Haslam's dreams resides in ivy-walled offices.
Should the Browns Have Promoted Eliot Wolf to GM?
Paul DePodesta says the right things when asked about his role on the team.
He claims to have no power when it comes to draft picks and trades.
However, he does own significant sway in Jimmy Haslam's vision.
DePodesta led the general manager search.
That indicates Eliot Wolf was never on his shortlist of GM candidates.
That despite the fact DePodesta doesn't want to let Wolf go.
1. Assistant GM Eliot Wolf has a good chance to remain through the next head coaching/GM hire, from what I've been told. He has a good relationship with Paul DePodesta, is low-key in the org and very smart, and will likely stay unless someone comes in and insists on his removal.

— Charles Robinson (@CharlesRobinson) January 1, 2020
One can argue that someone with Wolf's pedigree and experience should be given a chance.
He comes from a winning culture, something the Browns have to import as quickly as possible.
Andrew Berry is regarded as another up-and-comer.
But Wolf was a safer hire, someone multiple teams previously sought as their general manager.
As the search winds down though, Wolf does not seem to be in alignment with ownership's vision.
What Happens Now?
Wolf is watching and grading college players in preparation for the NFL draft.
He is still in charge of scouting and evaluating.
DePodesta says Eliot Wolf and Alonzo Highsmith were valuable in coaching search, currently preparing for draft. New GM will ultimately shape staff.

— Andrew Gribble (@Andrew_Gribble) January 14, 2020
Andrew Berry is prepared, too.
Whether he stayed in Pittsburgh or not, he was going to be in charge of a draft.
How aligned everyone is on draft day could determine Wolf's future with the Browns.
DePodesta says he values football minds.
But does the football mind value DePodesta's vision?
So if Eliot Wolf didn't to stay in GB because he was passed over for GM job there, why would he stay in Cleveland after getting passed over again. I would think he would want to step in for departed Dorsey or leave if "not the guy". Am I wrong?

— John P (@JPeanasky) January 1, 2020
Wolf is considered one of the brightest among a wealth of young, advancing NFL executives.
Rolling the dice with the 2020 Browns is a no-lose situation for Wolf.
If the Browns bounce back to hit their 2019 expectations, Wolf's reputation is intact.
If they fail, he is the outsider in a failed vision of non-football, analytic minds.
Meanwhile, Cleveland fans hope the Browns' latest rebuild brings playoff football to Ohio.