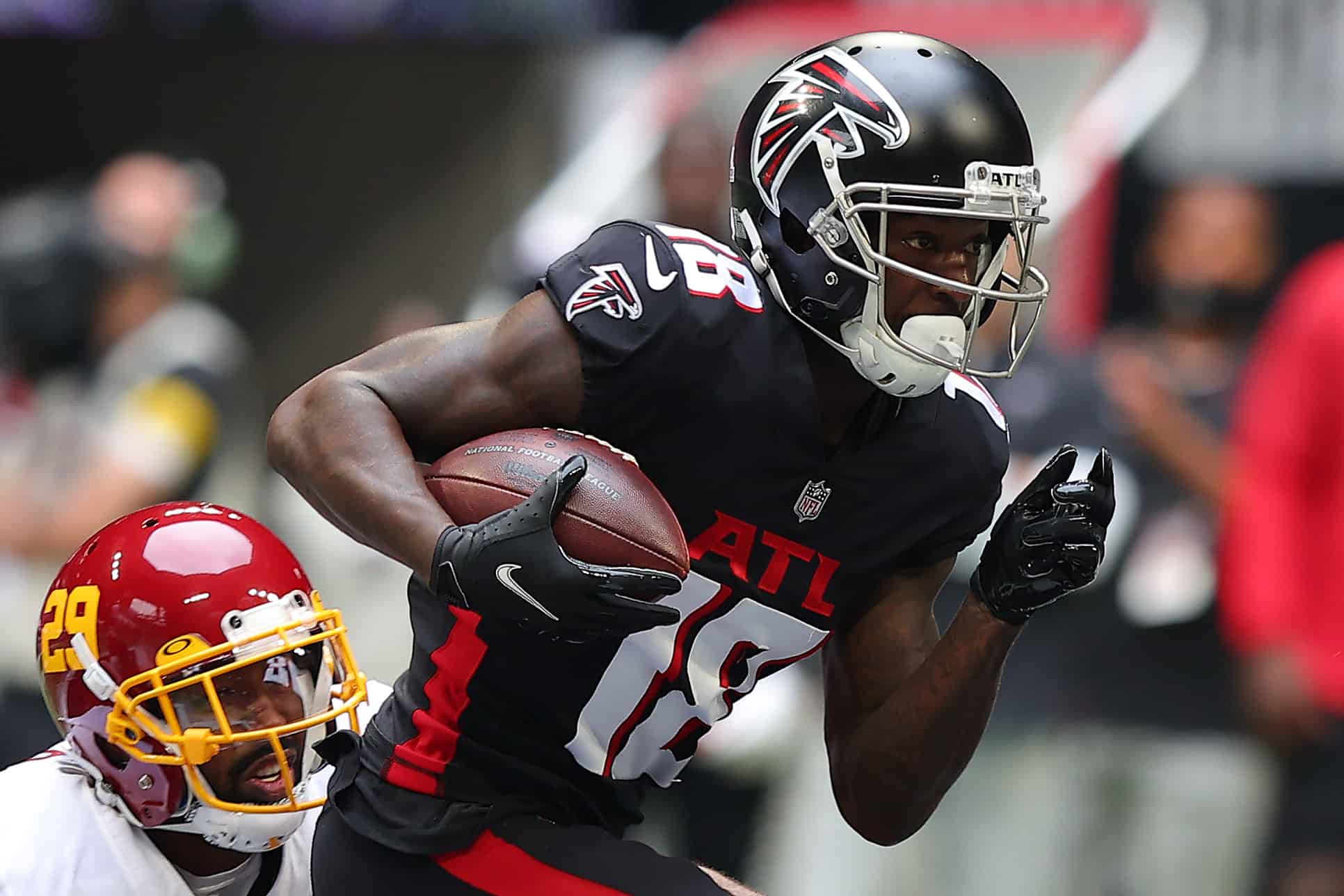 The Cleveland Browns failed to make the postseason this year, so should they try to improve their offense by bringing in wide receiver Calvin Ridley?
According to reports, there appears to be a trade looming in Atlanta:
From @gmfb Weekend on the future of #Falcons WR Calvin Ridley. My read here is a trade is a very strong possibility.

My colleague @wyche89 said recently both sides could be looking for a fresh start. I agree. pic.twitter.com/AoPy7UPHDo

— Mike Garafolo (@MikeGarafolo) January 15, 2022
Unfortunately, Ridley played just five games during the 2021 season due to personal issues.
He voluntarily stepped away from the Falcons to focus on his mental health.
For Ridley, a change of scenery may be needed, and it could be a win-win situation for the player and the franchise.
The Falcons would save $11 million if they trade their fourth-year receiver:
Trading Calvin Ridley would come with $0 in dead money and save $11M against the cap, so it's certainly an option if this is where we're at. https://t.co/sJUWo6U5ji

— Hayden Winks (@HaydenWinks) January 15, 2022
There are many reasons for the Browns to pursue Ridley:
Addressing the wide receivers is one of the three most important decisions for Andrew Berry this offseason
Rashard Higgins is one of the three Browns whose stock is down after 2021
Both Baker Mayfield and Donovan Peoples-Jones need a bounceback 2021 season
Overall, it was not a strong year for the Browns' passing game.
Here are the frustrating numbers from the offense in 2021:
20th in points scored
18th in offensive yards
27th in passing yards
20th in passing touchdowns
25th in the percentage of drives ending in an offensive score
Other than the fact that the Browns had a subpar offensive year, why specifically should Cleveland be pursuing Ridley?
His Catching Ability
Heading into the 2021 season, Ridley was ranked No. 65 on the 2021 NFL Top 100 list, and that was for good reason.
The No. 26 selection in the 2018 NFL draft had at least 63 receptions in each of his first three years:
2018: 64 receptions
2019: 63 receptions
2020: 90 receptions
In addition, his receiving yards and receptions per game increased continually from 2018 to 2020.
His 91.6 yards per game in 2020 ranked fourth in the NFL.
Despite a down year in 2021 (31 receptions for 281 yards and two touchdowns in five games), he still ranks high in career receiving yards per game.
Ridley's 68.2 receiving yards per game are 34th among NFL pass-catchers all-time.
He is 18th among active NFL players.
Not only can he catch passes, but he also can get points on the board for Cleveland.
His Scoring Ability
In 2020, his nine receiving touchdowns ranked 10th in the NFL.
It was just one touchdown away from his career-high 10 touchdowns in 2018, his rookie year.
That mark was impressively sixth in the league.
The Browns struggled to score in many games in 2021, and that kept them out of the playoffs.
A player who can score between seven and 10 touchdowns in the receiving game could be huge for the Browns moving forward.
He may soon leave Atlanta, and the Browns need to find someone who can put up a large number of touchdowns.
His Consistency, Prior to 2021
If he can stay on the field in 2022, then NFL fans could see the "old" Calvin Ridley on the field for the Browns.
During his first three seasons, he hit each of these marks:
63 receptions
821 receiving yards
Seven touchdowns
39 first downs
51.3 receiving yards per game
12.8 yards per reception
8.9 yards per target
All of those numbers would be appetizing to the Browns offense in the coming years.
With Odell Beckham Jr. now with the Rams, the Browns need receiving help, and such a young player can provide this important help.
Ridley is just 27 years old, and he will not turn 28 until next December.
The Browns should take the risk and go after acquiring Ridley.